Reginald Van Lee, Pamela Joyner, Rhonda Ross, Tamara Tumie and Gregory Generet attend Evidence, A Dance Company's 7th Annual Gala on April 12, 2011 in New York City.
Celeb Packed Crowd Gives Ronald K. Brown's Troupe Standing Ovation
By Akira Barclay, BlackGivesBackNY Contributor
On Tuesday, April 12, 2011, Ronald K. Brown's acclaimed Evidence, A Dance Company held its 7th Annual Evidence Gala…
A Breath of Spring
in The Grand Ballroom at the Manhattan Center. One of the season's most glamorous, star studded affairs, the evening began with cocktails on the mezzanine overlooking the brightly decorated ballroom. The tables, all covered in deep orange with masses of spring blooms transformed the historic ballroom visually into a field of flowers. While there was enough Moet Chandon Champagne and libations to float an ocean liner, most guests opted for the special cocktail created for the occasion by the master mixologists at sponsor Belvedere Vodka, The Belvedere Grand Cosmopolitan – a delightful mix of Belvedere Vodka, Grand Marnier Cranberry Juice and fresh lime.
Honorary Chair Pamela Joyner, a vision in a voluminous Zang Toi gown and Evidence Chairman Emeritus, the always nattily clad Reginald Van Lee, warmly greeted old friends such as Larry Satterfield, actress Rhonda Ross (daughter of Diana Ross), philanthropist Alicia Bythewood and her daughter Brie, Andrea Dubois, longtime board members Andrea Hoffman, Joanne Hill and Gail Monroe Perry; Joyce Mullins Jackson, actress and model Princess Keisha Omilana and Princess Omo Okieme.
Honorary Chair Pamela Joyner; Actress Phylicia Rashad
The crowd literally parted at the arrival of the evening's co-emcees Tamara Tunie, the beautiful and radiant star of Law and Order SVU and her handsome husband jazz vocalist Gregory Generet. The stunning couple drew admiring glances from many of the crowd. At the last moment to the guests added delight, America's favorite TV mom, Phylicia Rashad arrived looking drop dead gorgeous. Never the diva, Ms. Rashad charmed all as she signed autographs, posed with guests and answered awe struck reporters questions with a smile.
Andrea Hoffman and Felicia Daniels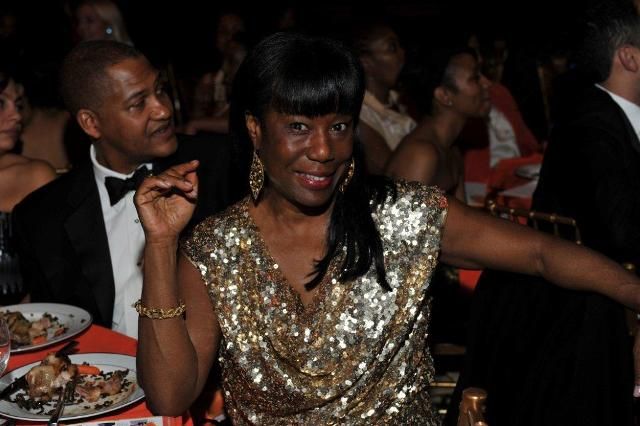 Joyce Mullins-Jackson
The extremely professional staff of renowned caterer Canard, Inc. passed delectable mini mac & cheese squares, crab cakes, tuna tartar and one of the surprise hits of the evening - Buffalo chicken wing lollipops with a celery stick.
Following cocktails guests headed down to the ballroom where Tamara Tunie and Gregory hilariously welcomed all and announced the evenings two award recipients – Janice Combs and United Airlines. Combs, who was unable to attend received the 2011 Inspiration Award. Felicia Daniels, who for many years through her position with Continental Airlines has been an ardent and valued supporter of Evidence accepted the 2011 Corporate Award for United Airlines. United Airlines recently merged as equals with Continental to create the world's leading airline. Following the awards - and in a break with tradition - for the first time there was a theater style performance by the Company of the recently premiered, critically acclaimed "On Earth Together," choreographed by Ronald K. Brown, Artistic Director and inspired by the music of Stevie Wonder. With special emphasis on Wonder's songs of social consciousness and responsibility, the movement vocabulary incorporated Afro-Cuban dances based on the Orisha deity Ogun, social dances form Zaire and the Ivory Coast and Zulu dances from South Africa all fused into the contemporary style that has become the Evidence signature.
Brown and his company – Associate Artistic Director Arcell Cabuag, Otis Donovan Herring, Maresa D'Amore-Morrison, Waldean Nelson, Annique Roberts, Lilli Ann Tai and Clarice Young soared in the powerful story telling dance. Kudos to Technical Director & Lighting Designer Dalila Kee for the magnificent mood setting light and sound design. The audience showed their love with a standing ovation and thunderous applause.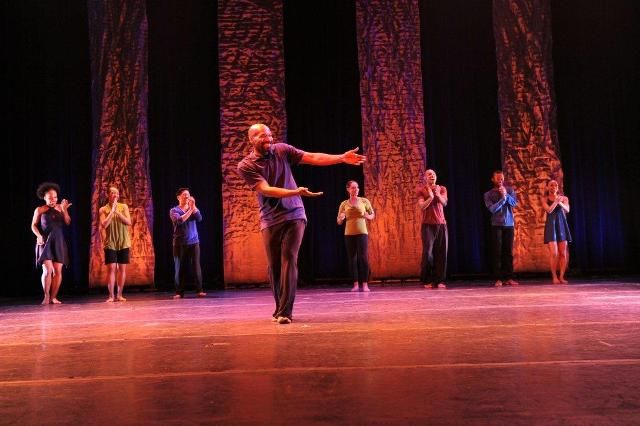 Ronald K. Brown & his dancers from Evidence
After the performance, Tamara & Generet welcomed auctioneer Patrick Tully to the stage. Tully, a master of his craft and a great wit to boot, worked his way through spectacular one -of -a -kind-experiences including fierce bidding on a trip to Hollywood and tickets to the infamous Playboy Mansion Halloween Party, a vacation stay for eight at the sumptuous Viceroy Anguilla Resort and an elegant dinner prepared by famed chef Todd English.
After the conclusion of the bidding war, Reginald Van Lee took to the microphone with an impassioned plea for "Bricks & Mortar" donations starting at $5,000 and working down as low as $25, drawing a bid for every dollar amount he called. Reggie who is a well-known arts philanthropist could clearly have a second career as an auctioneer!
Those who were not able to attend can still bid on dozens more luxury items and special one of a kind experiences at
http://www.charitybuzz.com/
- including a 6-Course Tasting Dinner with Wine at the acclaimed 5 and Diamond Restaurant in NYC, plus a private cooking class with star Chef David Martinez or 2 Tickets to The Hottest Hamptons Party, The Art For Life East Hampton Event on July 30, 2011 with a Meet and Greet with Russell Simmons and Danny Simmons.
Gala Sponsors were Belvedere Vodka; BET Networks; Booz, Allen Hamilton, Fed Ex, The Dimon Family Foundation, Bruce Gordon & Tawana Tibbs, United Airlines and Verizon. The caterer for the Gala was New York's highly regarded Canard Inc. The event was coordinated by The JFM Group.
Gala Supporters included Raven & Zaid Abdul-Aleem, Tanika Brown, Willis Burton, Deborah Chatman, T. Troy & Keisha Dixon, W. Anthony Edison, Tanesha Francis, Carla Harris & Victor Franklin, Joyce & Bruce A. Gates, Joanne E. Hill, Pamela Joyner & Alfred J. Giuffrida, Henry McGee, Gail Monroe Perry, Larry Satterfield & Michael Ward, Russell Simmons and Reginald Van Lee.
Alicia Bythewood and Brie Bythewood wearing a Zang Toi gown
The Gala Benefit Committee included Peg Alston, Dorria L. Ball, Yolanda & Alvin Brown, Susan L. Taylor & Khephra Burns, Alicia Bythewood, Nicole J. Coward, Glenn E. Davis, Sally & Mike Hipscher, Andrea Hoffman, Loida N. Lewis, Jonelle Procope, Asha Richards, Janice Savin Williams and Christopher J. Williams.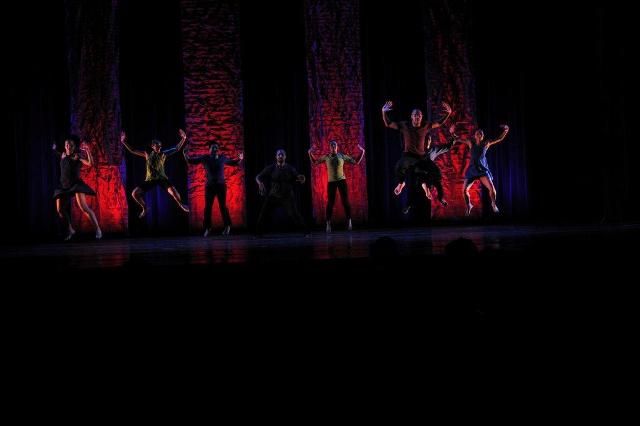 Evidence, A Dance Company performing "On Earth Together"
Evidence, A Dance Company is supported by a very involved and committed Board of Directors under the leadership of Zaid Abdul-Aleem, Chairman; Joanne E. Hill, Vice-Chairman; Gail Monroe-Perry, Secretary; and Reginald Van Lee, Chairman Emeritus. Board members include Dwayne Ashley, Monica F. Azare, Reginald Canal, Andrea Hoffman, Leslie Mays, James Sullivan, Jocelyn Taylor and Dr. Ancy Verdier.
Photo credit: Photography by Kurt Leggard