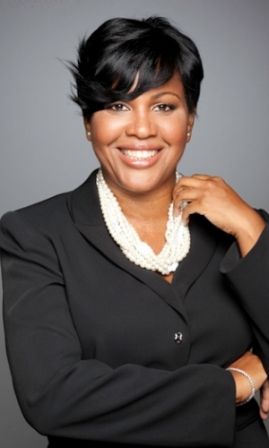 On April 4, 2011, the Steve Harvey Foundation hosted its
2nd annual gala
in New York City, raising over $600,000 to benefit its signature program, the Steve Harvey Mentoring Weekend for Young Men. Founded by author, TV/radio personality and comedian Steve Harvey, the mentoring weekend teaches the principles of manhood to young men through team building activities and workshops led by leaders in entertainment, business and the everyday man.
In 2010, the foundation held its
inaugural gala benefit
, raising an astounding $1 million dollars. So who is the person spearheading special events and collaborative partnerships for the foundation?
Our latest 'Insider' features Elisha Silvera, Executive Director of the Steve Harvey Foundation, who brings a wealth of special events and fundraising experience to her position ensuring that the foundation continues its mission to mentor young men and women for years to come.
Elisha began her nonprofit career at the American Foundation for AIDS Research (amFAR), where she led major fundraising initiatives totaling $500,000; and she has also worked with other celebrity nonprofit endeavors such as the Christopher Wallace Memorial Foundation. Prior to joining the Steve Harvey Foundation, Elisha was the Vice President for Event Services for Glow Media, where she led a team to produce events and meetings for the Thurgood Marshall Scholarship Fund and the NFL Wives Association.
Read on to learn more about Elisha, how she got her start in the nonprofit sector, her tips for ensuring a successful fundraising event, and upcoming foundation activities in your area.
Hometown:
Queens, NY
Education:
Clark Atlanta-University, Atlanta, GA
Please share your career path that led you to your current position as Executive Director of the Steve Harvey Foundation.
While working as a catering assistant at the Grand Hyatt New York, I had the opportunity to assist and serve as a liaison on major events (weddings, bar mitzvahs, conferences and meetings) held in the ballroom and conference center but it was when I was introduced to our off premise catering division that I knew THIS IS WHAT I WANT TO DO. We would go into ordinary and sometimes very unique spaces and transform them into completely different spaces to host events, dinner parties you name it. Because that division was limited, my then boss knew of my goals and referred me to an entry-level events coordinator position with the American Foundation for AIDS Research. Over a four year period I was taught and learned the business of special event fundraising, the non-profit industry and was introduced to the concept of doing good as a career. Over the past 12 years I have made a conscious decision to work for and align myself with organizations and individuals who are in the business of doing good.
What are some of the key strategies and programs you are using to fulfill the mission of the Foundation, which is to share, teach and demonstrate the principles of manhood and womanhood to young men and women?
We constantly strive to partner with individuals, corporations and organizations who recognize the gravity of what is happening to young people and are fully committed and willing to roll up their sleeves and dig in the trenches with us, or are able to invest in us financially to enable us to continue to roll out programs that are working and changing the mind sets of young people.
Our flagship program, The
Steve Harvey Mentoring Weekend for Young Men
, is a 4 day, 3 night program designed to expose young men to manhood responsibilities involving education, employment and social skills. One hundred young men, ages 13-18, from around the country, will be pre-selected to travel to Dallas, TX with a parent or guardian for a weekend of mentoring. The weekend's long term goal is to provide young African American men with role models who emphasize solid principles and inspire a bright, productive, and responsible future. Eligible participants must be from a single female head of household who is enrolled as a student in grades 8-11 as of the date of submission as well as a legal resident of the 48 contiguous United States and Washington, DC.
The foundation recently held a major fundraising event, the Foundation's 2nd Annual Gala in New York City. What are three essential things a nonprofit should do to ensure a successful fundraising event?
Know what kind of events appeal to your key donor base or target event audience, keep a realistic budget with low expenses to ensure a high profit, create a committee or chairs who are committed to helping spread the word on the event and encourage financial participation.
Not only have you had a career in special events for well-known nonprofits, but you've also worked in the area of development. How has your professional fundraising experience helped you successfully plan special events for previous organizations and clients?
It has allowed me to leverage relationships with past and/or current corporations or individuals to events where it is mutually beneficial to both parties. From a budget standpoint I know how to be strategic with expenses to create a high profit margin to ensure that the majority of the dollars raised go directly to programming and the community of boys we serve.
What is the biggest lesson you've learned in your career?
People do business with people and your word and a good reputation is EVERYTHING.
What advice do you have for someone pursuing a career in special events and/or fundraising?
Strong and lasting relationships are key. Educate yourself on the industry, learn the business of non-profits and always be fair and honest to people who you work with and/or for you.
What are the foundation's upcoming events and programs?
Steve Harvey Mentoring Weekend for Young Men – Dallas, TX – June 16-19, 2011. The Steve Harvey Mentoring Weekend for Young Men is a 4 day, 3 night program designed to expose young men to manhood responsibilities involving education, employment and social skills.
Regional Steve Harvey Mentoring Weekend Programs - The Steve Harvey Regional Mentoring Programs were created in direct response to the outcry from parents and community leaders across the country to bring our Dallas programming to their individual cities. In our first steps to expand the Mentoring Program nationwide, in February 2011 we launched our first of five regional programs to 100 young men. Hosted at the University of Southern California, the first program mentored and motivated boys from the
Los Angeles area
. The two-day program format brings abbreviated elements of Dallas' signature programming for a life-changing weekend for young men in their home communities. With the addition of the regional programs, in 2011 we will effect change in the minds of an additional 500 young men throughout the country.
Confirmed cities and dates are as follows: Chicago, September 17-18, 2011; New York, September 24-25, 2011; Atlanta and Charlotte, TBA.
To learn more about the foundation and apply for the mentoring weekend, visit
www.steveharveyfoundation.com
.