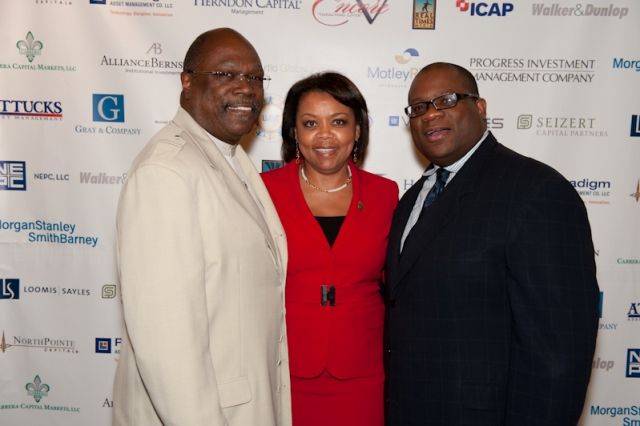 Rev. Wendell Anthony, Founder, The Freedom Institute; Cheryl Johnson, Treasurer, City of Detroit; and Hiram Jackson, "Maverick Award" Honoree and CEO of Real Times Media
By Talitha Johnson, Contributor
BlackGivesBack Detroit
The National Association of Security Professionals (NASP) recently held its annual Impacting Lives fundraiser, an awards ceremony and scholarship banquet. The event took place at the Detroit Athletic Club honoring five of Detroit's local heroes.
The annual banquet raises money for its scholarship fund, which has granted more than $140,000 to metro Detroit students since its 2007 inception. While generating cash for scholarships, the banquet also honored community leaders and professionals whose work impacted the financial service industry.
"We are also pleased to honor five of Detroit's finest men and women who contributed significant inroads towards progress in the city of Detroit and beyond," said Kathleen Colin, president of the Detroit Chapter of the National Association of Security Professionals.
The following were honored during the banquet: Charlie Harrison, Chair of the City of Pontiac Retirement System with the Ray Welborne Legend Award; Cynthia Thomas, Administrator of the City of Detroit Police & Fire Retirement System with the Unsung Hero Award; Hiram Jackson, CEO of Real Times Media with the Maverick Award; Gail Perry Mason, senior director of investments for Oppenheimer & Company with the Measure of Excellence award; and Jimmy Settles, vice president of the UAW National Ford Department with the Lifetime Achievement Award.
The NASP is comprised of finance professionals working in the field of brokerage, asset management, investment, and bond counsel commercial bank underwriting.