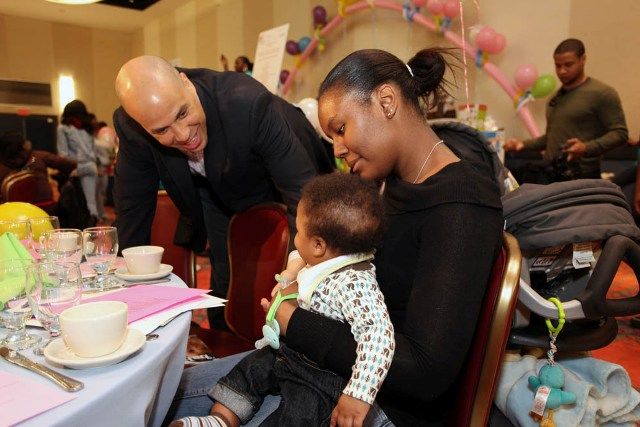 Newark, NJ mayor Cory Booker greets a new mother the 2011 Community Baby Shower hosted by the organization Newark Now earlier this month. The event brought together 300 new and expecting moms from the city who received infant and toddler clothes, bottles, strollers, cribs, educational materials and other baby products, as well as pre and postnatal information from local community organizations that specialize in child and/or mother centered services.
"There is no greater responsibility in this world than raising a child," said Mayor Booker. "Our mothers bear the future of our city, state, and nation. We must build strong families as we build a stronger, prouder, and safer Newark. I am proud of how Newark Now, Horizon NJ Health, K.I.D.S., and our other community partners have come together to support Newark's mothers with the resources they need to raise healthy and strong Newarkers."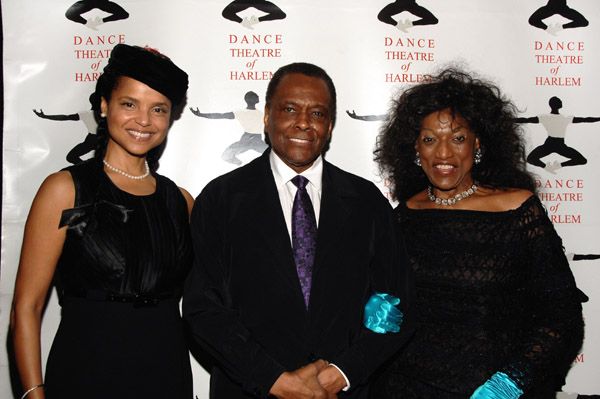 Victoria Rowell, Honoree Arthur Mitchell and Event Host Jessye Norman attend the Inaugural Dance Theatre of Harlem Vision Award Gala at the Samuel & David Rose Building on April 25, 2011 in New York City.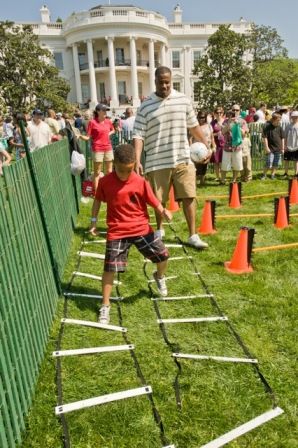 Derrick Dockery of the Washington Redskins coaches a youth at the White House Easter Egg Roll. The National Park Foundation and Coca-Cola partnered for the event to encourage attendees to live an active and healthy lifestyle at the "Egg-tivity" Zone.
The 2011 Easter Egg Roll, which took place Monday on the South Lawn of the White House, focused on promoting health and wellness with the theme, "Get Up and Go!" All of the activities encouraged children to lead healthy and active lives, which is a central part of the First Lady's 'Let's Move!' initiative, a national campaign to combat childhood obesity.
In related news, as a part of Coca-Cola's ongoing support for sustainability and healthy living, DASANI Blue Crews will be taking over Nationals Stadium in Washington, DC today (4/29) and tomorrow (4/30) to help reward eco-Samaritans. The Blue Crews appearance at Nationals Stadium also coincides with Earth Month and the national launch of DASANI's new PlantBottle™. PlantBottle™ looks and functions just like a traditional bottle, but it's made with up to 30% plants and is 100% recyclable. Those "caught" being environmental do-gooders will receive DASANI items made from recycled materials featuring messaging about the importance of sustainability and details about the new PlantBottle™. A special distribution of the DASANI PlantBottle™ product will occur following the Nationals game on Saturday, April 30. To learn more about the DASANI PlantBottle™, visit
http://www.dasani.com/
.
Actors Patina Miller, producer Whoopi Goldberg and Victoria Clark during the Broadway opening night of "Sister Act" at the Broadway Theatre on April 20, 2011 in New York City.
LOUISVILLE, KY - Drawing inspiration from Muhammad Ali's example as an Olympic hero and humanitarian, an interactive panel of national and international guests from the sporting world convened in Louisville, KY, April 13th to April 15th, to explore the transformational impact athletes and athletics can have on society. The conversations and exchanges over the three day festival examined local, national and global trends on the cutting edge of sports for peace and development.
Louisville I.D.E.A.L.S. is an initiative within the University of Louisville's Department of Health & Sport Sciences to promote the power of sports for personal development and social change. The project collaborated with the Muhammad Ali Institute for Peace & Justice to offer the Olympian IDEALS Festival. IDEALS is an acronym for Innovation, Development, Engagement and Advancement of Literacy through Sport.
Mentoring USA, a festival participant and third year grantee of the USTA Serves "Aces for Kids" initiative, partnered with Under Armour, the Rising Stars and West Louisville Tennis Clubs, and the USTA Southern-KY to demonstrate how tennis and mentoring can be combined to become an effective catalyst for change--focusing on wellness, self-esteem building, character development, after-school enrichment, and structured physical activity. In photo: Super Bowl XXXIX MVP, Deion Branch (center) poses with Charles Crawford, Bruce Stone and Robyn White of the Rising Stars Tennis Club.