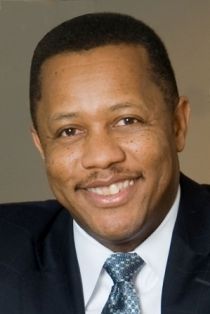 Investment Manager to Receive Prestigious Business Award on Saturday, June 25, 2011
NEW YORK (April 26, 2011) — The Reginald F. Lewis Foundation will honor Eugene A. Profit (pictured at left), CEO of Profit Investment Management, at its fourth annual Gala Luncheon on Saturday, June 25, at the Lewis Estate in East Hampton, New York.
Each year, the Foundation bestows the Reginald F. Lewis Award to an African-American entrepreneur who achieved international business success before the age of 50, as Lewis did. Lewis led the largest leveraged buyout of the 1980s to become the first African American to build a billion-dollar company.
Reginald F. Lewis was the Jackie Robinson of the finance world, breaking into the highly selective world of high finance," said Lewis's widow Loida Nicolas Lewis, legendary chair of the occasion. "His accomplishments should be a page in the financial history books of the United States."
A former NFL player with the New England Patriots and Washington Redskins, Profit started Profit Investment Management with $100,000 and has since grown the company to an impressive $2 billion in assets under management. He has been the subject of numerous profiles in financial media, including CNBC, Business Week, Smart Money, Black Enterprise, Pension & Investments, and Investors Business Daily. Active in the community, Profit started the Profit Charitable Foundation Fund, which helps minority students pay for university expenses and assists with various community causes. The Yale University graduate also advocates for financial literacy through internship programs and workshops informing African Americans about the benefits of long-term investing.
"We are thrilled this year to honor Eugene Profit, whose achievements bring the legacy of Reginald F. Lewis into the 21st century," said event Chair Leslie Lewis Sword, Lewis's daughter and foundation board member (pictured at right). "Eugene joins an elite group of African American achievers on Wall Street and in business that the Foundation has helped showcase to the world through this award." For this event, Sword has pulled together a committee consisting of a younger generation of supporters, representing a new face of philanthropy.
Profit shares, "Reginald F. Lewis was an inspiration to me as I started my entrepreneurial life and provided an example of the possibilities I could achieve. I am deeply honored to be chosen for this award and to follow in the footsteps of a man who, in addition to being a great businessman, was equally dedicated in his philanthropic work for others and to his family."
Also to be honored at the gala is Harvard Law School Bussey Professor Emeritus Frank E. A. Sander with the Millennium Member Award, recognizing the key role he played in Lewis's career. Sander was the Harvard Law School professor who, in 1965, taught a summer law program for students from historically black colleges and universities (HBCUs), attended by Lewis. Upon observing the 21-year-old's stellar performance, Sander was instrumental in persuading the director of admissions of the law school to admit Lewis even though he had not filed an application for admission or taken the Law School Admission Test (LSAT).
The event will raise funds toward a $1 million endowment challenge grant from
The Eddie C. and C. Sylvia Brown Family Foundation
designed to ensure the continuation of the vital work of a Foundation-sponsored museum in Lewis's hometown of Baltimore. An affiliate of the Smithsonian Institution, the Reginald F. Lewis Museum of African American History and Culture is the largest of its kind on the East Coast.
The event will feature the musical stylings of celebrity spinner DJ M.O.S., and for the third consecutive year, CBS2 New York News Anchor Maurice DuBois will emcee the benefit.
Tickets are $550 for the 12:30 pm fundraiser, which is produced by Sharon Lopez of Purple Giraffe Productions, with event and floral design by Jerry Sibal Design Fusion. To attend or sponsor the benefit, please visit
www.reginaldflewis.com
or contact 212-690-1363.
Related Posts:
Reginald F. Lewis Museum to Honor Maryland Legal Icons
Reginald F. Lewis Foundation Hosts 3rd Annual Gala Luncheon
Photography credit for Eugene A. Profit photo: Jim Johnson