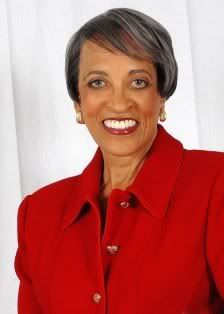 Educator Johnnetta Betsch Cole Receives the 2011 Benjamin Franklin Creativity Laureate Award at Smithsonian Event
The Smithsonian Associates and the Creativity Foundation have named Johnnetta Betsch Cole, anthropologist, author and educator, the recipient of the 10th annual Benjamin Franklin Creativity Laureate Award. Cole will discuss the role of creativity in her life and work with philanthropist, educator and documentary producer Camille Cosby, Friday, April 8 at 7 p.m. in Baird Auditorium at the Smithsonian's National Museum of Natural History. **NOTE: Venue change - the event will occur in the Ring Auditorium in the Smithsonian's Hirshhorn Museum and Sculpture Garden.
Cole is the director of the Smithsonian's National Museum of African Art, the only national museum in the United States dedicated to the collection, exhibition, conservation and study of the arts of Africa. Cole is also the founding chair of the Johnnetta B. Cole Global Diversity and Inclusion Institute, founded at Bennett College for Women in Greensboro, N.C. The mission of the nonprofit institute is to create, communicate and continuously support the case for diversity and inclusion in the workplace through education, training, research and publications.
The Benjamin Franklin Creativity Laureate Award honors and celebrates the world's most creative thinkers and innovators in the arts, sciences and humanities, in both traditional and emerging disciplines. Previous recipients were Yo-Yo Ma, Sen. Daniel Patrick Moynihan, Eric Kandel, Justice Sandra Day O'Connor, Jules Feiffer, Ted Turner, Meryl Streep, Lisa Randall and Greg Mortenson.
Tickets are $25 for general admission and $15 for Associate members. For tickets call (202) 633-3030 or visit
www.smithsonianassociates.org
. For information about the Creativity Foundation visit
http://www.creativity-found.org/
.
Upcoming Events on Black Philanthropy
Black Philanthropy Celebrates A Milestone - The Association of Black Foundation Executives (ABFE) presents its 40th Anniversary Celebration, April 8-10 in Philadelphia
For nearly four decades, ABFE has been a trailblazer for championing the interests of Black communities within the philanthropic sector. The membership organization counts among its members the most influential staff, trustees and donors of grantmaking institutions that promote effective and responsive philanthropy for African Americans.
The 2011 ABFE Annual Conference and James A. Joseph Lecture & Awards Ceremony will be held at the Philadelphia Marriott Downtown and will feature a lecture, awards ceremony, networking opportunities and more. For more information, visit
HERE
, and
http://www.abfe.org/
.
Associated Black Charities & The Nonprofit Leadership Alliance at Coppin State University present "Black Philanthropy: A Strategy for Social Change"
"There was a time when Black philanthropy did not have to be explained. What it was and its role in the African American community was enacted everyday as community members contributed their time, talent, and treasure to maintaining their communities and supporting efforts for social change. Now, when that term is mentioned, some people question whether there is such a thing."
The event will be held April 27, 2011, 5:30 pm at Coppin State University's Talon Center - 2500 West North Avenue, Baltimore, MD. RSVP to
http://www.abc-md.org/
or 410-659-0000 ext 1210.
For more events in your community, visit our Upcoming Events page
HERE
- updated every Sunday!