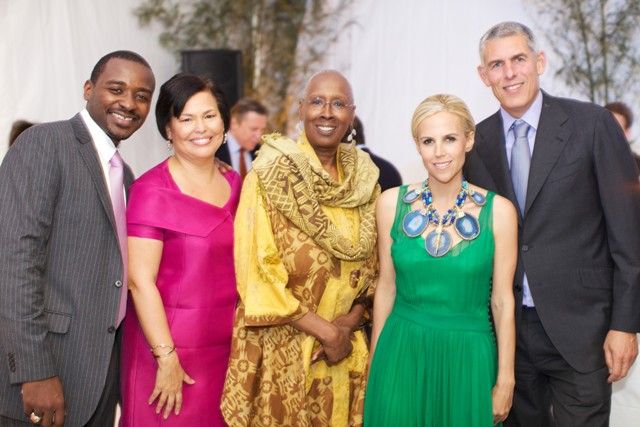 Ailey Artistic Director Designate Robert Battle, BET President and CEO Debra Lee, Ailey Artistic Director Judith Jamison, Designer Tory Burch and Lyor Cohen attend Ailey At The Apollo Gala, May 3, 2011 in New York City.
Photo by James McMenamin
On May 3rd, Ailey made a triumphant return to Harlem's world-famous Apollo Theater for a one-night-only event which featured performances by artists of the world renowned Alvin Ailey American Dance Theater, the dynamic young dancers from Ailey II and talented students of The Ailey School.
The benefit, honoring long-time board member Guido Goldman, raised funds for student scholarships to The Ailey School and the Ailey organization's Arts In Education & Community Programs, including AileyCamp Washington Heights. Artistic Director Judith Jamison and Artistic Director Designate Robert Battle welcomed Honorary Chair Courtney B. Vance and 900 guests, including Loraine Boyle, Lyor Cohen, Tory Burch, R & B singer Miguel, Blythe Danner, Linda Fargo, Naeem & Ranjana Khan, David E. Monn, Police Commissioner Ray Kelly, Debra Lee, Terry Lundgren, Henry McGee and Joan & Sandy Weill. Attendees danced the night away at the post performance party which featured music by DJ Ruckus and the shining lights of the Studio 54 mirror ball.
Dancer Hope Boykin, Joan and Sandy Weill, and dancer Rachael McLaren.
Photo by Kwame Brathwaite
Honoree Guido Goldman and Jacqueline Wolcott Goldman.
Photo by Teri Bloom
Robert Battle, Judith Jamison and Courtney B. Vance.
Photo by Teri Bloom
Gala co-chairs were Lynne & Anthony M. Carvette and Christopher J. Williams. Benefit Vice Chairs included Judith Byrd, Leslie & Tom Maheras, Celia & Henry McGee, David E. Monn, Gabriella E. Morris & Dennis J. Brownlee, Marc S. Strachan, and Pamela Zilly & John Schaefer.
Alvin Ailey American Dance Theater's 24-city tour led by the renowned Judith Jamison in her final year as Artistic Director, and joined by Artistic Director Designate Robert Battle, continues with the celebration of 50 years of Alvin Ailey's timeless masterpiece Revelations. Remaining cities include Newark, NJ, May 6-8; Providence, RI, May 10; Worcester, MA, May 11; Norfolk, VA, May 13-15; and Chicago, IL, May 18-22. Visit the website at
http://www.alvinailey.org/
for more information.
Source and photos: Alvin Ailey American Dance Theater