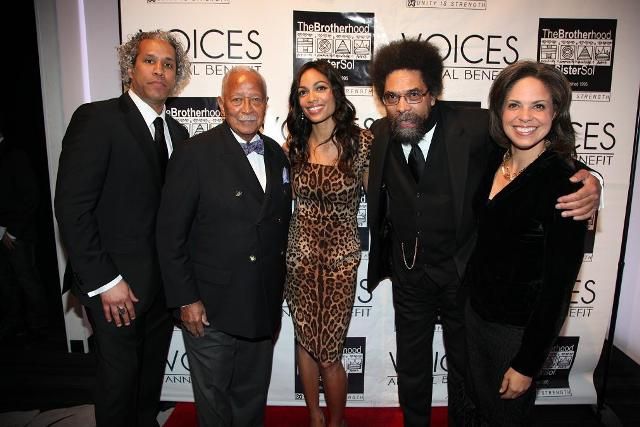 Khary Lazarre-White, Executive Director & Co-Founder of Brotherhood/Sister Sol; Honorees David N. Dinkins, Rosario Dawson and Dr. Cornel West; and event host Soledad O'Brien
Honorees include David N. Dinkins, Rosario Dawson and Dr. Cornel West
By Akira Barclay, Contributor
BlackGivesBack NY
NEW YORK - On May 5, 2011, the Brotherhood/Sister Sol (BHSS), a leading non-profit organization that empowers young Black and Latino women and men, hosted their 7th annual Voices benefit at New York City's ESPACE. The evening was hosted by CNN Anchor & Special Correspondent, Soledad O'Brien, and featured a cocktail reception, a silent auction, and performances by Lyrical Circle—an award-winning group of poets. The three celebrated honorees included: Former Mayor of New York City, David N. Dinkins who received the Ella Baker & César Chávez Award for Positive Community Development; actress and philanthropist Rosario Dawson who received the Frida Kahlo Award for Innovative Creativity; and acclaimed author Dr. Cornel West who received the Bayard Rustin Award for Social Justice.
Khary Lazarre-White, Executive Director & Co-Founder of BHSS shared, "Our honorees are all individuals who embody the ideals of The Brotherhood/Sister Sol, which are Positivity, Community, Knowledge and Future. We strive to offer long term, intensive involvement for our members and provide unique services that support their personal development and academic achievements which is why 95% of BHSS Alumni are working full time or enrolled in college."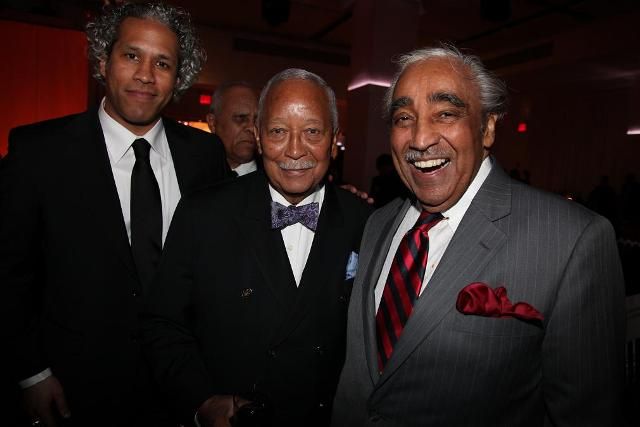 Lazarre-White; David N. Dinkins and Congressman Charles Rangel
Dr. Cornel West with Russell Simmons
About The Brotherhood-Sister Sol
: The Brotherhood/Sister Sol provides comprehensive, holistic and long-term support services to youth ages 8 to 22. BHSS focuses on issues such as leadership development and educational achievement, bias reduction, sexual responsibility, sexism and misogyny, political education and social justice, Pan African and Latino history, and global awareness. BHSS provides rites of passage programming, after school care, school and home counseling, summer camps, job training, college preparation, employment opportunities, community organizing training, a community garden stewards and environmental education program, and free legal representation.
BHSS exposes its young people to new opportunities through wilderness retreats, cultural performances, college tours, and month long intensive study programs to Africa and Latin America. Founded in 1995, BHSS has earned national recognition for its model, receiving awards that include Oprah Winfrey's Angel Network Use Your Life Award, Ford Foundation's Leadership for a Changing World Award, Abyssinian Development Corporation's Harlem Renaissance Award, Union Square Award for Grassroots Organizing and Special Achievement, and the Brown University inaugural Alumni Association Young Public Service Award.
For more information on The Brotherhood/Sister Sol organization and the Voices 7 event, please visit
http://brosisvoices.org/
.