Michael Parkins, Patrick Diamond, Tiffany Capers and Kwain Bryant—guests at the recent Project L.I.F.T. reception in Charlotte, NC.
Boosting Academic Achievement through Project L.I.F.T.
By Valaida Fullwood, Contributor
BlackGivesBack Charlotte
CHARLOTTE, North Carolina — Civic leaders in Charlotte recently launched
Project
L

.I.F.T.: Leadership and Investment for Transformation
, an initiative to improve public schools in the city's historically black neighborhoods composing the West Charlotte corridor. A concerted fundraising appeal aimed at African American residents invites 1000 donors to give $1000 and become a part of Project L.I.F.T. The goal is to raise at least $1M from black donors as an investment in educational resources for the community's lowest performing schools.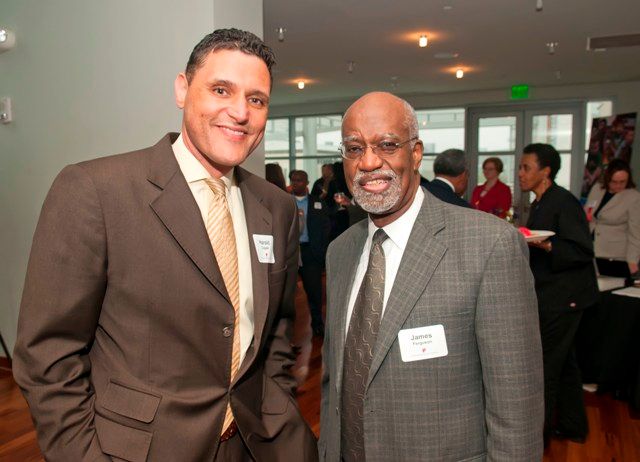 Mecklenburg County Commissioner Harold W. Cogdell, Jr. and Attorney James E. Ferguson, II
In total, the initiative seeks to generate $55M in private donations for support services and educational enhancements for Charlotte-Mecklenburg Schools (CMS) students who attend West Charlotte High School and the middle and elementary schools that feed into it. CMS data indicate only 51 percent of students assigned to West Charlotte High go on to graduate high school.
"Project L.I.F.T. represents an opportunity for African Americans to do what we have always done or to remind us of what we used to do—share our bounty of our good fortune with family members who were in need. We do give. We do contribute. This is an opportunity for us to contribute in a different, equally meaningful way," says Tiffany Capers, an organizer of the fundraising campaign.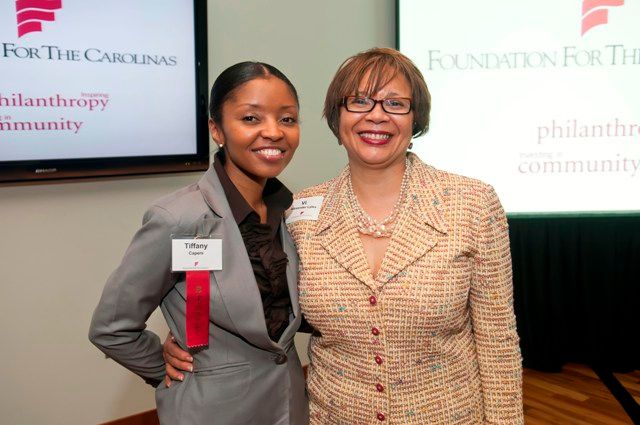 Tiffany Capers and Vi Lyles, host committee members of the Project L.I.F.T. African American fundraising campaign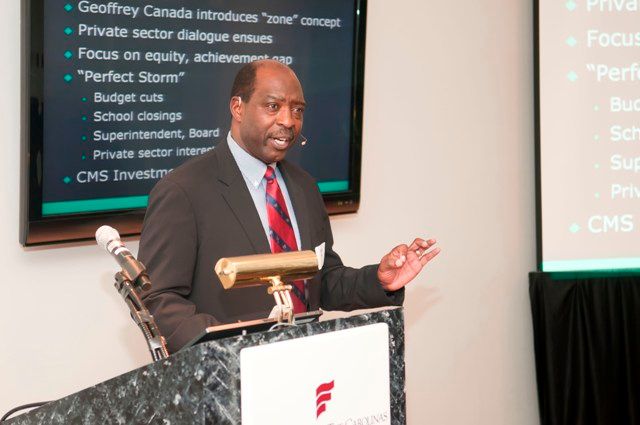 Duke Energy Foundation President Richard "Stick" Williams presents findings from a citizens' study group on local schools.
Foundation For The Carolinas
served as convener of the citizens' study group that developed Project L.I.F.T. The foundation will manage funds invested in the initiative. The African American fundraising campaign kicked off with a reception at the
Harvey B. Gantt Center for African-American Arts + Culture
in March. The event attracted over 100 guests, including educators, business and civic leaders, public officials and other community members. Speakers shared personal accounts of public education's role as the great equalizer, presented data on the challenges local schools and students face and outlined the resources and strategies needed to close the gap in student achievement.
Reception guests Kwain Bryant, Torre Jessup and Patrick Graham
Rubye Britt-Height and Eulada Watt
Research from the study group found that nearly a third of CMS students who entered 8th grade in 2009—the majority of whom are poor and/or minority students—will fail to graduate, based upon current trends. Strategic investments and community collaborations made possible through Project L.I.F.T. aim to bring innovation and a culture of achievement to schools in the West Charlotte corridor.
More than $40.5M has already come from individual donors, family foundations and corporations. The education initiative is spurring people and organizations to give and engage in new ways. During the reception a presenter noted the unprecedented amount of dollars generated for a local initiative that wasn't a capital campaign.
To learn more about Project L.I.F.T. and its African American fundraising campaign, contact Tiffany Capers of Foundation For The Carolinas at 704-973-4537 or
tcapers@fftc.org
. Click
here
to make an online donation.
Reception guests Amy Phillips, Ron and Dorothy Leeper, and Emma Allen
Story submitted by Valaida Fullwood
Described an "idea whisperer," Valaida brings a mix of unbridled imagination and a gift for harnessing wild ideas to her work as a writer, creative consultant and project strategist. She is a founding member of Charlotte's New Generation of African American Philanthropists and author of the forthcoming book "
Giving Back: A Tribute to Generations of African American Philanthropists.
" On Twitter, follow @
ValaidaF
and @
BlkGivesBackCLT
.
Photo credit: Foundation For The Carolinas