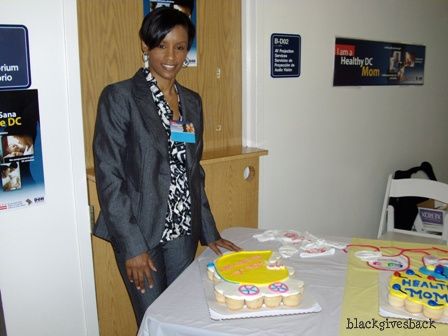 Mother of R&B Star Trey Songz Encourages At-Risk Expectant Mothers at Community Baby Shower
On Friday, May 6, 2011, the DC Department of Health's Healthy Start Project celebrated its 20th anniversary and a 50 percent drop in the city's infant mortality rate since the program's inception. The project is a federally funded program that focuses on the needs of pregnant and postpartum women and parents with infants in low-income communities in DC. In 1991, the District's infant mortality rate was one of the highest in the country at a rate of 22 deaths per 1,000 live births. Twenty years later it is now less than 11.
To celebrate this achievement, the DC Health Department hosted its 8th annual community baby shower for 250 at-risk expectant mothers at Howard University Hospital. The shower provided the mothers with the necessary knowledge and tools to ensure healthy pregnancies and babies through greater attention to maternal and infant health, breastfeeding and prenatal care.
Among the guest speakers during the event was April Tucker, former teenaged mother of Grammy Award-nominated singer Trey Songz, who encouraged the attendees with her own story of becoming a mother at the age of 17. She shared with BlackGivesBack, "I need teen moms to know it's not going to be easy, but it's definitely worthwhile and there's a whole network and support system. The stigma that used to be attached to reaching out to social services, agencies, and getting help is no longer there. I benefited from the system for 7 years and I was just telling someone just recently, I still have my last food stamp." She went on to share, "I had Trey at 17, so from over a ten year span I've gone from welfare to well off. I would have never imagined that the little baby that I almost didn't have would become the person he is now."
Tucker also shared about her son's upcoming philanthropic efforts, which include raising funds for their local recreation department, continuing his Songz for Peace campaign, and the charity efforts from his fan club,
Trey's Angels
.
She shared, "As far as philanthropy, its pretty simple - when you do better you have to give back. If my story, or rather our story, can help inspire or motivate someone I'm more than willing to tell it."
Sheila Stewart, Radio One; April Tucker; Melinda Fallen; and Sharon Brancon, DC Department of Health