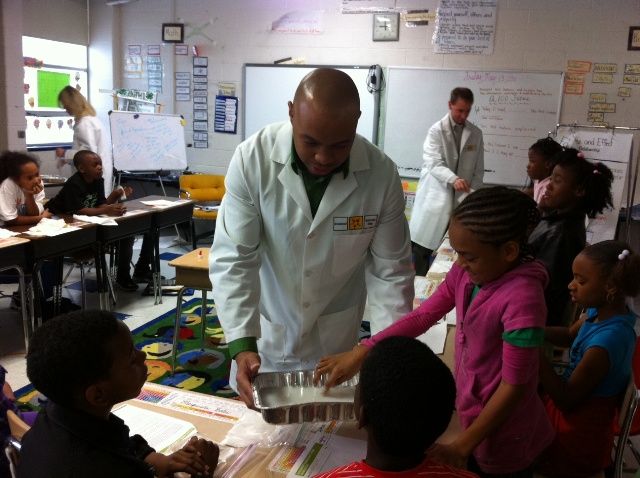 Siemens scientists and students at Malcolm X Elementary School create and explore the properties of Oobleck, a slimy cross between a liquid and solid.
ISELIN, NJ - On Friday, May 13, students at the Malcolm X Elementary School in Washington, DC, experienced a special day of hands-on science discovery during Siemens Science Day. Friday's festivities were the fourth in a series of "adopt-a-school" events at the Alabama Avenue school, all sponsored by the Siemens Foundation.
"Children are natural born scientists. At Siemens Science Day, our engineers and scientists feed the children's innate curiosity. We want them to see that a career in math and science is a path they too can pursue," said Jeniffer Harper-Taylor, President of the Siemens Foundation.
Representatives from District of Columbia Public Schools were also present at the school wide event. "Siemens Science Day provides experiential ways to get kids pumped-up about STEM and see how it can bring their world to life," said Josh Edelman, Deputy Chief of School Innovation for DC Public Schools. "We're happy to see this type of collaboration and appreciate the opportunity to work with the Siemens Foundation."
Two hundred and twenty of the schools' pre-K through 5th graders took part in the science extravaganza. The day kicked off with a science-themed musical assembly. A mini-concert was followed by Oobleck!, an interactive lab in which students created a slimy cross between a liquid and solid and explored its properties. As students learned by doing, so did their teachers. Led by Discovery Education curriculum experts, the school's teachers learned of instructional strategies that can be immediately used in the classroom and adapted to students' learning styles.
"Having hosted several events at the Malcolm X Elementary School, I can say first-hand we see the impact the program is making in the community and we are delighted," said Cathe Reams, Director of Marketing for Siemens Corporation. "Siemens Science Day gets kids talking about math and science. It is among the most important work we do."
In September, the Siemens Foundation plans to bring the program to another DC school, Emery Education Campus. During a time of shrinking school budgets, this public-private partnership is a successful example of how corporations can help our nation's education efforts.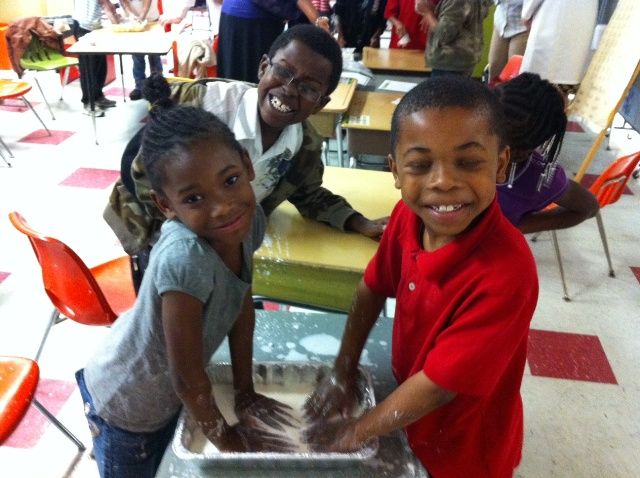 Siemens Science Day brings hands-on learning to the students of Malcolm X Elementary School.
About Siemens Science Day
Siemens Science Day was launched in 2005 and has reached well over 30,000 children nationwide. The Siemens Foundation provides more than $7 million annually in support of educational initiatives in the areas of science, technology, engineering and mathematics (STEM) in the United States. Its signature programs include the Siemens Competition in Math, Science & Technology, Siemens Awards for Advanced Placement, and The Siemens We Can Change the World Challenge, which encourages K-12 students to develop innovative green solutions for environmental issues. The Foundation's mission is based on the culture of innovation, research and educational support that is the hallmark of Siemens' U.S. companies and its parent company, Siemens AG. For more information, visit
http://www.siemens-foundation.org/
.