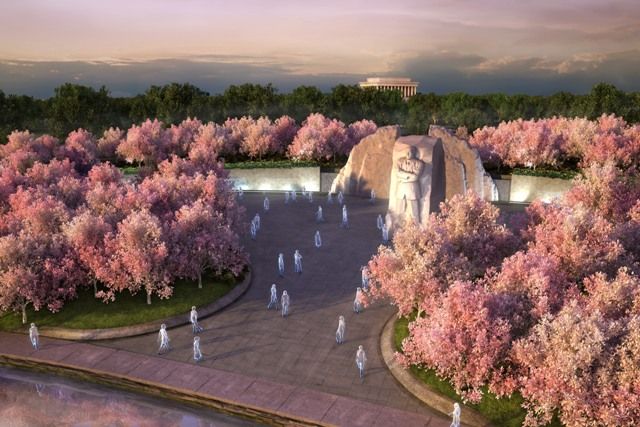 Rendering of Martin Luther King, Jr. National Memorial
Courtesy of Interface Multimedia
Located on the Tidal Basin, the Martin Luther King, Jr. National Memorial creates a visual line of leadership between the Lincoln and Jefferson Memorials in Washington, D.C. The memorial is the first on the National Mall to honor a man of hope, a man of peace, and a man of color. It will be an engaging landscape experience utilizing the natural elements of water, stone, and trees to convey four fundamental and recurring themes throughout Dr. King's universal message – democracy, justice, hope, and love. A 450-foot inscription wall will feature more than a dozen Dr. King quotes engraved into granite to serve as a lasting testament and reminder of Dr. King's humanitarian vision. The memorial will include the "Mountain of Despair" and the "Stone of Hope," which will feature a 30-foot sculpture of Dr. King.
On Sunday, August 28, 2011 in Washington, DC, a historic and momentous event will take place - the dedication of the MLK Memorial honoring the life, legacy and dream of our nation's greatest civil rights leader, Martin Luther King, Jr.
The dedication will occur on the 48th anniversary of the March on Washington and Dr. King's historic speech, I Have A Dream. The event is free and open to the public, however reserved tickets for certain areas will be required that will be distributed through an online lottery system. The public may request up to six tickets by visiting
http://www.dedicatethedream.org/
by 11:59pm EDT on May 31. Winners will be notified by June 15.
Harry E. Johnson, Sr., president and CEO of the MLK Memorial Foundation shared with BlackGivesBack, "The Martin Luther King, Jr. National Memorial Project Foundation is thrilled that we will be dedicating the Memorial to Dr. King this summer. This Memorial, this dream, is made possible by the collective efforts of many, and we proudly look forward to presenting it to the people. The Memorial will be a source of history and inspiration for people of all colors and nationalities. It will be a constant reminder of Dr. King's life, dream and legacy, and the great diversity on which our country stands."
Johnson continues, "We've worked with generous corporations, foundations, individuals, churches and grassroots supporters to raise $112 million, but we still need $8 million to reach our goal. We sincerely believe that we will achieve that $120 million goal. When asked who should pay for the Martin Luther King, Jr. National Memorial, the answer is anyone who ever benefited from anything Dr. King said or did. That includes us all. Dr. King was not just an American civil rights leader, but he was a universal, inspirational leader whose message transcends race, religion and nationality. He was a citizen of the world and every member of the global community shares a piece of this Memorial. Every dollar helps, and I sincerely encourage anyone whose life has been affected or influenced by Dr. King's life or legacy, to generously give by visiting
http://www.buildthedream.org/
or calling 888-4-THE-DREAM."
To learn more about dedication plans, including the many events that will take place earlier in Dedication Week, please visit
www.dedicatethedream.org
.