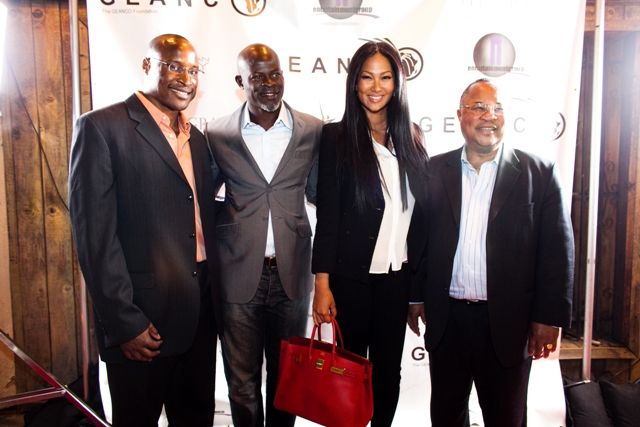 Afam Onyema, Chief Operating Officer, The GEANCO Foundation; Academy Award-nominated actor Djimon Hounsou; Fashion personality and television star Kimora Lee Simmons; and Dr. Godwin Onyema, Chief Executive Officer, The GEANCO Foundation
Los Angeles, CA – More than 375 guests packed Stevie's Creole Café in the Los Angeles-area on Friday, April 29 for an event to raise money for
The GEANCO Foundation
and its mission to save the lives of poor and vulnerable women and children in Nigeria. GEANCO is currently developing a world-class hospital in Nigeria and will lead an orthopedic medical mission to the country this September. Attendees enjoyed delicious southern-style food, and live jazz and R&B performances.
Academy Award-nominated actor Djimon Hounsou and his wife, fashion model and author Kimora Lee Simmons, were among the celebrities in attendance. Several partners and executives at Los Angeles-area law firms and corporations also took part in the festivities. American Idol finalist Syesha Mercado performed a sparkling set to cap the evening.
Afam Onyema, Syesha Mercado from American Idol; Dr. Godwin Onyema
"We are so pleased by the support we received from of so many generous members of Los Angeles' philanthropic, business, legal and entertainment elite," said Afam Onyema, GEANCO's Chief Operating Officer. "We will use the funds we raised to ensure the success of our medical mission and to develop a modern hospital in Africa's most populous country."
The event was sponsored by Stevie's Creole Café, and Stingray Management and U Can Fly Holdings, two of Southern California's hottest marketing and management companies.
The GEANCO Foundation was founded by Dr. Godwin Onyema, who was born in Nigeria but left to pursue a medical career in the United States. He started GEANCO in 2005 to give back to his country of birth. Dr. Onyema now runs the organization with his son, Afam Onyema, who is a graduate of Harvard College and Stanford Law School.
More women and children die in Nigeria than elsewhere in the world except for India. The nation has the second largest HIV positive population in the world and the largest population of AIDS orphans in Africa. Though Nigeria is the most populous nation in Africa (1 in 5 Africans is a Nigerian), its healthcare system ranks 187 out of 191 countries.
Related post -
Philanthropy in Africa Series: The GEANCO Foundation
Source: GEANCO Foundation/Photo credit: Anthony Tran Photography