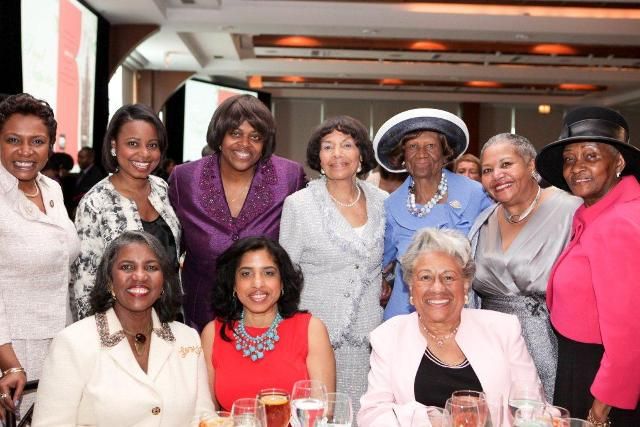 By Akira Barclay, Contributor
BlackGivesBack NY
On Saturday, April 23, Greater New York Chapter, The Links, Incorporated, presented its 2011 Women of Distinction Spirit Award Luncheon, at the scenic Pier Sixty at Chelsea Piers in New York City. The event honored Debra L. Lee, chairman and CEO of BET Networks and Rhonda Mims, president, ING Foundation and senior vice president of ING's Office of Corporate Responsibility and Multicultural Affairs.
WNBC 4 New York Reporter Tracie Strahan emceed the luncheon. Among the highlights were a fashion show featuring the lively and colorful work of legendary designer Stephen Burrows, presented by beauty and fashion industry doyenne, Mikki Garth-Taylor. A reception was held immediately following the event, featuring the Warren Daniels Band.
The luncheon was chaired by Lynn K. Law, Mignon Espy-Edwards, Donna Jones and Rhonda McLean. Wine and champagne were generously donated by Ruder Finn Multicultural & Image Marketing Group's Executive Vice President, Helen C. Shelton.
"We are delighted to present the 2011 Women of Distinction Luncheon honoring Debra Lee and Rhonda Mims – two outstanding women who exemplify what it means to pursue excellence, attain goals and positively impact those around you," says Gerri Warren-Merrick, president, Greater New York Chapter, The Links, Incorporated.
Honorees Rhonda Mims (l) and Debra Lee (r) with Congressman Charles Rangel (D-NY)
About the Greater New York Chapter
Established in 1946, The Links, Incorporated, is one of the nation's oldest and largest volunteer service organizations of women who, linked in friendship, are committed to enriching, sustaining and ensuring the culture and economic survival of African-Americans and persons of African descent. The Links, Incorporated is a not-for-profit organization, which consists of nearly 12,000 professional women of color in 272 chapters located in 42 states, the District of Columbia and the Bahamas.
Greater New York Chapter, founded in 1949, was the first chapter in New York and comprises members from all five boroughs in New York City and from Long Island. Under the leadership of President, Gerri Warren Merrick, Greater New York Chapter is committed to fostering community outreach in the New York metropolitan area through quality programs with a long-term impact on the well-being and enrichment of African-Americans. For more information log on to Greater New York Chapter's website at
http://www.greaternylinks.org/
.
Photo Credit: Regina Fleming