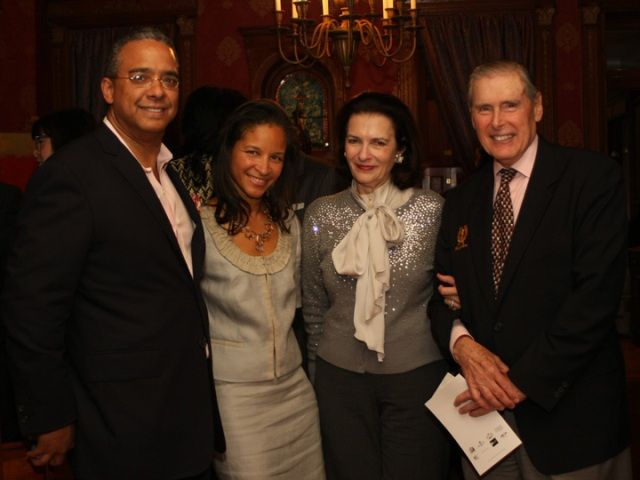 Board Member Steven P. Henry, Harlem School of the Arts President & CEO Yvette L. Campbell, Mrs. Donna Laikind and Board Member Mr. Jeffrey Laikind
New York, NY, April 27, 2011 - On Monday, April 25th the Harlem School of the Arts (HSA) presented Renaissance Envisioned hosted by Dr. William H. Cosby at the Lana Woods Gallery located at 339 Convent Avenue in Harlem. The evening was a cultivation event introducing the new President & CEO, Ms. Yvette L. Campbell, to past, present and future HSA supporters. Renaissance Envisioned guests included Robert Reffkin (Goldman Sachs), Mason and Kim Granger (The Hearst Foundation), Commissioner Kate Levin (Department of Cultural Affairs), Barry Mayo (Radio One), Peter and Jill Kraus and other devotees of HSA. Delicious hors d'oeuvres were served by Marcus Samuelsson's Red Rooster with Tonnie's Minis providing famous mini cupcakes. Guests sipped on wine from Harlem Vintage around an exquisite floral centerpiece by Harlem Flor. The evening's photos were taken by Kwame Brathwaite.
Ms. Woods opened the evening welcoming guests to her gallery and home. Performances were heard through the foyer by the newly formed HSA Children's Choir, Soprano singer Busisiwe Zamisa and eleven year-old protégé pianist Matthew Whitaker. An untitled painting by former HSA student Steven Mejia was the primary focus in the gallery and raised $750 during the evening's silent auction.
HSA Student Soprano Busisiwe Zamisa
All were at attention as Dr. William H. Cosby spoke of how vital the Harlem School of the Arts is to Harlem and New York City, how important it is to support the organization, both financially and spreading the word to friends and family about its programs and events, and his backing of Ms. Campbell's vision for the organization. Dr. Cosby reminisced about his exposure to the arts in his childhood and how it impacted him even as an adult. He says "Ms. Campbell is very capable of leading HSA, she passed my radar and she has my full support."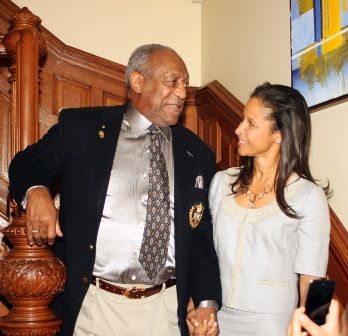 Dr. William H. Cosby and HSA President & CEO Yvette L. Campbell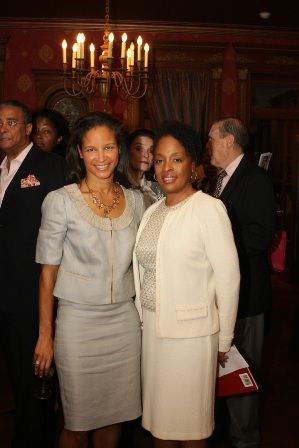 Ms. Campbell and Gallery Owner Ms. Lana Woods
"I envision a future of partnerships, community programs, collaborations, special events, new and diverse programming and affordability for all students," says Ms. Campbell. Since taking the helm at HSA in January, Ms. Campbell has given no hint of slowing down with partnerships with the Lana Woods Gallery, the Wagner Project, the Harlem Children's Zone, the Gordon Parks Foundation and the City College of New York. She is already planning for the organization's 50th anniversary in 2014. She encouraged guests to join HSA's Legacy Circle, a select group donors who are privy to event previews, VIP receptions and special invitations.
The evening closed with HSA's Board Chairman Mr. Charles J. Hamilton Jr. Esq. expressing the board's unwavering commitment to the vision and future of HSA as set forth by its new and dynamic President & CEO. Guests received Mizani tote bags featuring items provided by Aloft Harlem, books provided by publisher Amistad Books, BBraxton Men's Grooming, Essence Magazine, Harlem Flor, Tonnie's Minis, and The Time Value of Life by author Tisa Silver.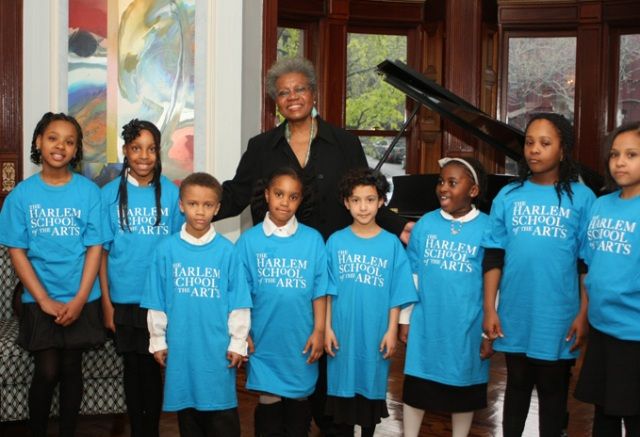 HSA Children's Choir and Choirmaster Patrica Eaton
About The Harlem School of the Arts
The Harlem School of the Arts offers children and young adults in Harlem and beyond the freedom to find and develop the artist, student, and citizens within themselves in an environment that emphasizes rigorous arts training, stimulates creativity, builds self-confidence, and adds a dimension of beauty to their lives.
http://www.hsanyc.org/
Source and photos: HSA