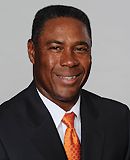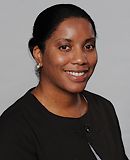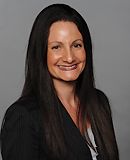 Many youth dream of playing for a professional sports team, but the odds of becoming a professional athlete is strikingly low. So how's this for a professional sports career - working behind the scenes as a vice president, manager, or director for a professional sports team? Our latest Insiders do just that. As executives of the Miami Dolphins' NFL organization responsible for community outreach efforts, they coordinate the team's activities and initiatives that focus on four cornerstones: education, youth programs/athletics, volunteerism and health.
The team includes several African American executives and two former Miami dolphins players. They are (left to right): Gordon "Eric" Knowles, Senior Director of Government Affairs; Nat Moore, Vice President/Special Advisor; Leslie Nixon, Manager of Volunteer Programs; Twan Russell, Director of Youth Programs; and Ilona Wolpin, Senior Director of Community Relations. Let's meet each of them below:
Eric Knowles
, Senior Director of Government Affairs, is responsible for communicating the team's mission to the public and governmental agencies. He interfaces with local government and various municipalities throughout South Florida ensuring that the organization is engaged in local communities with events such as an annual sickle cell walk and a partnership with an African American church for a fall family festival.
Knowles is also active in the local community, presently serving as a Bethune-Cookman University Trustee, Chairman of the M. Athalie Range Cultural Arts Foundation; the immediate past Chairman of the Miami-Dade Chamber of Commerce; and is a member of 100 Black Men of South Florida and 5000 Role Models of Excellence, a scholarship program for young black males. A recipient of numerous awards and recognitions for community service throughout South Florida, he developed the Dolphin Stadium Reads To The Community program addressing literacy with elementary school aged students.
Eric Knowles often speaks to youth in the community as shown in the photo above.
He shared that he is especially proud of his role because it allows him to positively impact young men and women in the African American community:
"Obviously a lot of our young men think they're going to grow up to be football players, basketball players and baseball players, and for whatever reason that opportunity never presents itself. I did not know there was an ability to be an executive for a sports organization. We didn't have directors or vice presidents of football teams coming into schools saying there's an opportunity that you can do this one day because not all of you will have the ability to be on the playing field. There is a great opportunity for young black men and women to find a great career in professional sports, but not just in professional sports, but sports in general."
Nat Moore
is a standout in the South Florida community, widely known for his community work. As the team's Vice President/Special Advisor, his role is to serve as a liaison between the organization and the players with community relations, youth football and other special events and projects. A former wide receiver for the Dolphins, Moore's positive reputation on and off the field led him to be named the 1984 NFL "Man of the Year," an honor bestowed on a player who gives outstanding service to his community. In 1998, he founded the Nat Moore Foundation to improve the quality of life for disadvantaged Miami Dade County youth and their communities, awarding over $1,800,000 to South Florida-based programs and initiatives. In recognition of Moore's impact in South Florida, the Dolphins renamed their community service award to The Nat Moore Community Service Award. This award is given each year to a Miami Dolphins player recognized for his involvement in the South Florida community.
Nat Moore at Project Medishare Field Hospital in Haiti.
Learn more about the work of the Nat Moore Foundation by visiting
http://www.natmoorefoundation.net/
.
Coordinating the volunteer efforts for the team is
Leslie Nixon
, serving as Manager of the Special Teams Volunteer Program. The program offers hands-on services to communities and families in need, and partners with existing organizations to support community efforts in times of emergency in South Florida.
Prior to the Dolphins, Leslie served as the Director of Volunteer Services for Super Bowl XLIV and Pro Bowl 2010 for the South Florida Super Bowl Host Committee, that recruited and successfully activated more than 6,000 volunteers. Building on this success and to continue leveraging the service of those volunteers after these events, Nixon coordinates the efforts of thousands of volunteers who help local organizations.
This is a notable accomplishment, as in 2009, the city of Miami ranked last in the nation in the percentage of volunteers and volunteer hours. To date, the program has served 3,120 volunteers that have logged 41,509 of community service, making them the most impactful group of its kind. She shares, "Through this program it allows us to continuously on a day to day basis to be out there, reaching and impacting people and fulfilling the needs of the community whereas staff are not always available to go out there and answer the call."
Leslie Nixon (at left) graduated cum laude from St. Thomas University School of Law and is member of the Florida Bar. She is pictured with Special Teams Award Winners Sheldon Porter, Sunrise Resident Andy Weisenborn, Miami Dade Resident Ron Hatchett, and Sergio Xiques.
Another former Dolphins player,
Twan Russell
, serves as Director of Youth Programs, overseeing the team's youth programs including school programs, football clinics and camps and its field grant program, one of the organization's signature programs that has refurbished five football fields totaling a quarter of a million dollars.
Russell joined the Dolphins in 2000 and made an immediate impact both on and off the field. In 2001, Russell was named special teams captain and won the prestigious Nat Moore Community Service award. Upon his retirement from the NFL, Russell quickly made his mark in community service. He created and serves as Chairman of the
Russell Life Skills and Reading Foundation, Inc

.
The Foundation currently serves more than 1,000 youth in Broward and Miami-Dade Counties annually and is dedicated to providing young people with the fundamental tools essential to success.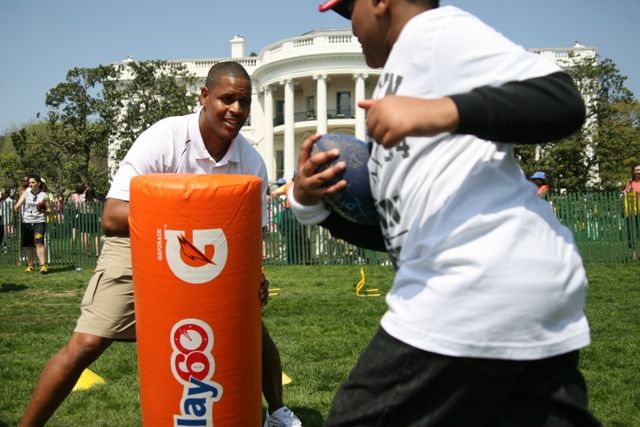 Russell (left) participates in a NFL Play 60 event at the White House.
He shares about working for the team, "It's awesome that I can have a job that I get to serve the community and that allows me to be the man that I am. It's great to have an owner that gets it when we say there's a need in the community and he doesn't bat an eye to say how can we help, whether it be youth football or volunteerism, or all the things we do in the community. He gets it and he gives us the latitude not to just support the community but be a part of the community and help the community where the need is."
Entering her 13th season with the organization,
Ilona Wolpin
is responsible for the daily community outreach, fundraising and charitable giving of the organization as the Senior Director of Community Relations. A native of South Florida, Wolpin graduated from the University of Florida's College of Journalism and Communications.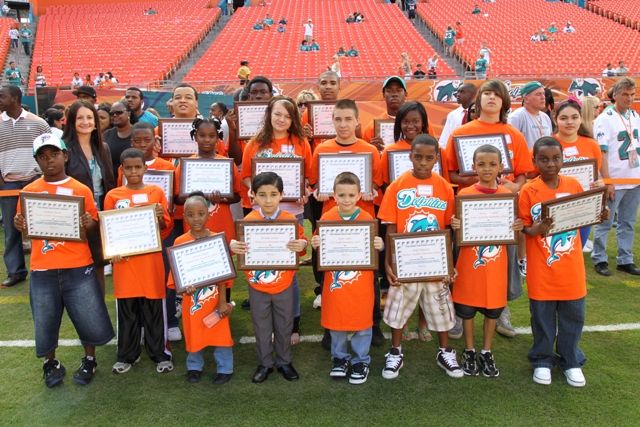 Wolpin (left) with students before a Dolphins game at Sun Life Stadium.
She implemented the Foundation's award-winning Most Valuable Reader program, which is a statewide partnership with local libraries, and manages a number of other community events, including School Programs (Student of Week, Backpack Giveaway), Holiday Toy Event, Food Giveaways (Team Thanksgiving Meal Giveaway) as well as Player Ticket Programs. Ilona summed up the experience of working for the team, "It's nice to see how we can make a difference in the position that we're in to give back when we work together with our players, our alumni, members of the organization and our sponsors to help people in the community. It's a special thing to be in this position to be able to do that."
For more information on the Miami Dolphins' community outreach projects, visit
HERE
.