Event Honors Celebrity Chef Marcus Samuelsson, Peace Activist Cora Weiss and Former NYC Mayor David Dinkins
By Akira Barclay, Contributor
BlackGivesBack NY
New York, NY (May 17, 2011) – More than 340 guests came out last Thursday evening in support of the New York Urban League's 46th Annual Frederick Douglass Awards dinner. The event was a who's who of prominent New Yorkers including Mayor Bloomberg, former Governor David Paterson, New York City Schools Chancellor Dennis Walcott, businesswoman and philanthropist Loida Lewis, previous FDD recipient Frank Thomas, real estate mogul Daniel Rose, SNY Sportscaster Brian Custer and NY1 Anchor Errol Louis.
Named in honor of the former slave who rose to prominence as one of the nation's most influential abolitionists, the black-tie affair took place at the Mandarin Oriental Hotel in Manhattan, with WNBC-TV News Anchor David Ushery as master of ceremonies. Honors were bestowed upon former New York City Mayor David Dinkins, celebrity chef Marcus Samuelsson and peace activist Cora Weiss in recognition of their efforts to promote equal opportunity and civil rights.
The Honorable David Dinkins is the first and only African-American to date to serve as New York City mayor, and currently he is a professor at Columbia University's School of International and Public Affairs, chairs the Earth Institute's NYC Sustainable Development Initiative and hosts the annual Dinkins Leadership and Public Policy Forum. Marcus Samuelsson is a chef, cookbook author, TV personality, restaurant owner and philanthropist. He presided over the Obama administration's very first State Dinner in 2010, and restored and renovated the legendary Harlem hot spot The Red Rooster to its former glory. Cora Weiss, president of The Hague Appeal for Peace, was honored with the Ann S. Kheel Award that recognizes individuals who, in the spirit of the late Kheel, founder of the Frederick Douglass Awards Dinner and longtime member of the NYUL Board of Directors, that have made charitable causes part of their life's work.
First held in 1965, the NYUL's Frederick Douglass Awards dinner has recognized a wide range of private and public-sector leaders including Ossie Davis and Ruby Dee, Dr. Betty Shabazz, Russell Simmons and Bud Selig, whose contributions have helped break down racial obstacles and promote opportunities for the less fortunate.
NYUL President and CEO Arva Rice told the audience the story of how Frederick Douglass' slave owner unsuccessfully tried to halt his efforts to learn to read to show how far African-Americans have progressed since his time:
"Clearly, over 150 years, one African-American president and a billionaire media mogul later, we can say that African-Americans are free. But it is through the continued access to and mastery of reading that our young people will be dissatisfied with their positions and seek to do more," she said. "It was Frederick Douglass who provided us with this year's theme, 'Once You Learn To Read, You Will Be Forever Free.' It is our role to provide young people with education and adults with job training and placement so that they can be free to live up to their true potential."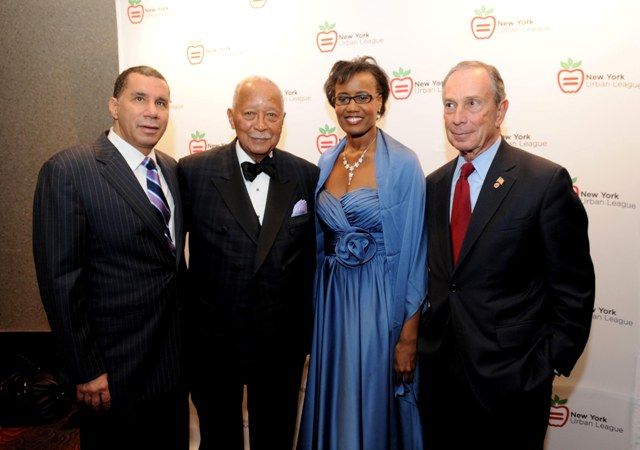 Former NY governor David Paterson, former NYC Mayor David Dinkins, NYUL President & CEO Arva R. Rice, and NYC Mayor Michael Bloomberg
Proceeds from the evening supported the League's core programs in education and employment.
About NYUL:
The New York Urban League was founded by a group of prominent New Yorkers concerned with the poor state of blacks migrating to New York City from the south. From its inception it provided employment and connections for migrating blacks bridging the adjustment from the agricultural/rural life to the industrial urban center. Each decade following, "The League" provided critical services such as emergency aid for the unemployed during the Great Depression; formed the Committee for Interracial Voluntary Hospitals to provide care and work in local hospitals; negotiated the opening of employment for blacks in the airline, brewing, and baking industries; created "Street Academies" which became a national model for high school students; published the first State of Black New York report; and created its signature events including Frederick Douglass Dinner, Whitney M. Young Jr. Classic, and Champion of Diversity Breakfast among many other milestones.