Drs. Sampson Davis, George Jenkins and Rameck Hunt host the Three Doctors Foundation's 11th Annual Gala with Alan Houston (3rd from left) and Judith J. Pickens M.Ed., (2nd from left) on May 5, 2011 in Newark, NJ. Pickens, Senior Vice President of Program and Youth Development Services, Boys & Girls Clubs of America accepted the Community Care Award on behalf of the Boys & Girls Clubs who work with the Three Doctors Foundation to better communities on a local and national level.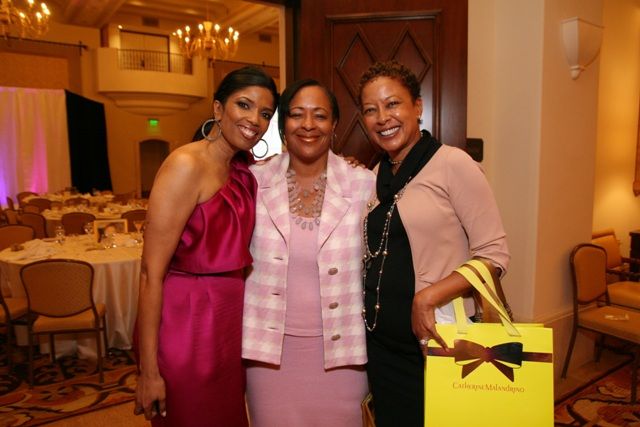 Areva D. Martin, Stasia Washington of Union Bank of California and Monica Holt attend the Special Needs Network Inc.'s (SNN) sold-out third annual "Pink Pump Affair" in Beverly Hills on Sunday, May 1. The event is the brainchild of SNN's co-founder and president, Areva Martin Esq. that is designed to bring together powerful women from different backgrounds and to garner their support for more autism research and resources. The organization was formed to respond to the lack of representation of the underserved segment in special needs populations.
Women of Distinction Honorees: Monica Holloway, Denita Willoughby and Denise Hunter with SNN President Areva D. Martin, Esq.; Alva Mason, Toyota; Areva D. Martin, Esq., & Deborah Senior, Toyota.
The event was sponsored by Toyota, Broadway Federal Bank, Chase, Union Bank of California and Martin & Martin, LLP, and produced by Todd Hawkins of the Todd Group.
Jacques-Philippe Piverger (4th from left) and members of the Global Syndicate visit Michel Martelly, President-elect of Haiti (3rd from left). The Global Syndicate's Haiti Project is a nationwide fundraising and awareness campaign that supports humanitarian efforts in Haiti.