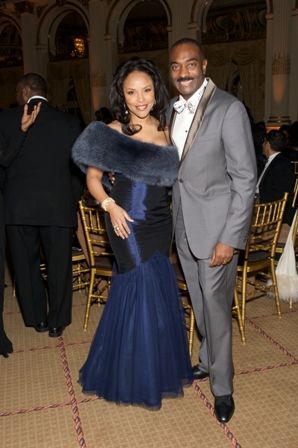 Sinbad to Host; Special Performances by Wyclef Jean, Yolanda Adams, Melanie Fiona and Raphael Saadiq
Benefit Will Honor Philanthropist Reginald Van Lee, Supports the Legendary Non-Profit Theater's Education and Community Programs
HARLEM, NY – June 6, 2011 – The Apollo Theater today announced the complete lineup for its sixth Annual Spring Gala Benefit Concert honoring cultural icon Stevie Wonder, who will be inducted into the Apollo Legends Hall of Fame. The Benefit supports the preservation of the non-profit Theater's unparalleled legacy, its current initiatives for emerging artists, and community and educational programs in New York City and beyond.
Wyclef Jean, Yolanda Adams, Melanie Fiona, Raphael Saadiq, Paul Schaffer, and Chick Corea, as well as other surprise guests, will perform during this special evening dedicated to Mr. Wonder's legacy as an artist and philanthropist. The program will be hosted by celebrated comedian and former host of Showtime at the Apollo, Sinbad.
"I am proud to be hosting this outstanding evening honoring two 'Wonders of the World': the great Stevie Wonder and the legendary Apollo Theater," said Sinbad. "In many ways, hosting this event is like going full circle in my career. There isn't a person in my time up to now that didn't want to be Stevie Wonder. Getting to meet and hang with Stevie over the years—as well as hosting Showtime at the Apollo for two years—were milestones in my life."
Stevie Wonder joins other iconic performers in the Apollo Legends Hall of Fame—musicians, artists, and entertainers whose path to fame included the Apollo—including Michael Jackson, Aretha Franklin, Quincy Jones, Patti LaBelle, Smokey Robinson, James Brown, Gladys Knight, Little Richard, and Ella Fitzgerald. Each Apollo Legends Hall of Fame inductee is honored with a plaque on the Apollo Walk of Fame, installed under the Theater's iconic marquee on 125th Street in Harlem.
Additionally, The Apollo will present cosmetics giant Revlon with its Corporate Award, accepted by Chairman, Ronald O. Perelman, in recognition of Revlon's support of the Apollo. Philanthropist Reginald Van Lee (pictured with actress Lynn Whitfield) will receive The Percy E. Sutton Civic Leadership Award, named in honor of one of New York City's legendary leaders and a champion of Harlem and its cultural institutions. Lee supports many arts organizations and serves on the advisory board of Diversity Affluence.
Produced by Ron Weisner for Ron Weisner Entertainment with events management services provided by JKS Events, the benefit concert will be under the musical direction of Ray Chew, whose credits include Musical Director for American Idol, NBC's The Singing Bee, Showtime at the Apollo as well as the Apollo's weekly Amateur Night show. Following the performance, the event will conclude with the Apollo Supper Club—a stylish lounge atmosphere created by David Monn featuring spectacular gourmet creations prepared by Great Performances. The world renowned DJ D-Nice will provide music for late-night dancing.
Tickets for the 2011 Spring Gala and after-party are on sale now. To purchase benefit tickets to the event or to make a donation to the Apollo Theater Foundation, Inc., email
ApolloSpringGala@jksevents.com
or call 212-380-8946.
About the Percy E. Sutton Civic Leadership Award
: The award is named for Percy E. Sutton, a distinguished community leader, entrepreneur, and long-time advocate for Harlem, and is a testament to his longstanding relationship and devotion to the Apollo and the City of New York. Mr. Sutton was Manhattan borough president for three terms, and at the time, was New York State's highest ranking African-American elected official. After retiring from politics, he built a media empire, founding the Inner City Broadcasting Corporation in 1971, which became the second largest black owned radio broadcasting company in the United States. In 1981, Mr. Sutton purchased the world famous Apollo Theater and made pivotal contributions toward the efforts to revitalize and restore the Apollo. Percy E. Sutton graduated from Prairie View A&M University, Tuskegee Institute, and Hampton Institute. After serving as an intelligence officer in World War II with the Tuskegee Airmen, he earned a law degree from Brooklyn College and became one of America's best-known lawyers, fighting for civil rights and representing many African-American activists, including Malcolm X. Mr. Sutton has received many honors, including the renaming of the 125th Street Manhattanville Post Office and Fifth Avenue from 124th to 142nd Street in his name.
The Apollo's annual season is made possible by lead support from The Coca-Cola Company, the Edward and Leslye Phillips Family Foundation, the Upper Manhattan Empowerment Zone, Reggie Van Lee, The Ford Foundation, JPMorgan Chase & Co., Bloomberg, and the Neuberger Berman Foundation. Lead annual support is also provided by public funds from the City of New York Theater Subdistrict Council; with additional funding from the National Endowment for the Arts; the New York City Department of Cultural Affairs in partnership with the City Council; New York State funding from Senator Bill Perkins, Assemblyman Keith L.T. Wright, and the Office of Parks, Recreation and Historic Preservation; and the New York State Council for the Arts. Visit
www.apollotheater.org
to learn more.
Photo credit: Julie Skarratt