By Tokiwa T. Smith
San Francisco/Oakland Contributor
Class of 2011 Celebrated In Unique Graduation Ceremony
On Wednesday, June 8, 2011 at the Oakland Museum of California, The Mitchell Kapor Foundation hosted a graduation ceremony honoring African American male students from throughout the San Francisco Bay Area. The event is part of the Foundation's College Bound Brotherhood program, which aims to change a grim statistic - only about 11 percent of Black male students who graduate from high school in the San Francisco Bay Area have the courses and grades required to attend a California university. Cedric Brown, CEO of the Kapor Foundation states, "Our goal is to reinforce a college-going culture among young black male students. College education is a crucial vehicle for economic and social mobility. We are celebrating the achievements of young black men who are defying the odds and are on their way toward creating change for themselves, their families, and our communities."
At the event, 65 males from area high schools and programs of the foundation's grant recipients, such as Student Program for Academic and Athletic Transitioning (SPAAT), Young Scholars Program, 100 Black Men of the Bay Area, and Greene Scholars Program among others, were honored. This was an evening in which the students were encouraged by their peers and an inspirational keynote speech from Mr. Lloyd Pierce, Assistant Coach of the Golden State Warriors. "You can't make up your own rules to someone else's game and expect to be successful," says David Thomas, a graduating senior at Saint Mary's College High School, explaining the value of getting into and attending college. "Without a college education, my chances of success in today's economy and workforce are very slim. I must follow the rules to be successful by obtaining a college degree and beyond."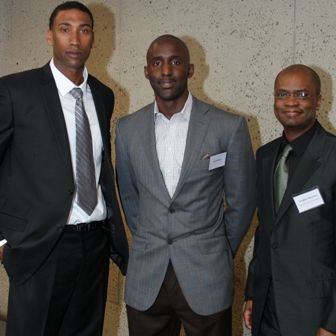 Most of the honorees were accepted into several colleges across the country including Historically Black Colleges and Universities (HBCUs) such as Howard University, Morehouse College and Texas Southern University. The young men will be majoring in a diversity of disciplines including Science, Technology, Engineering and Mathematics (STEM) disciplines such as microbiology, engineering and fire science. The honorees will be eligible to receive a $100 book stipend from the foundation. (In photo: Mitchell Kapor Foundation's College Bound Brotherhood coordinator Justin Davis; Golden State Warriors Assistant Coach Lloyd Pierce; and Cedric Brown, CEO of the Kapor Foundation).
The College Bound Brotherhood is a program of the Mitchell Kapor Foundation,
www.mkf.org
, that seeks to expand the number of young black men in the Bay Area who are prepared for a college education. The program works to strengthen the college-going culture for young black men; build a college access movement for organizations focused on the enrichment of black male youth; and provide resources to build stronger, more effective organizations. Since the founding of the Brotherhood program in 2008, the Kapor Foundation has distributed nearly $1 million in grants to 25 San Francisco Bay Area organizations.
Photo credit: Derek Lassiter