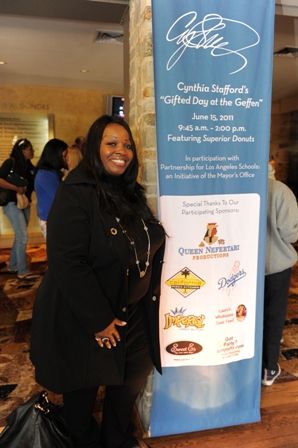 Philanthropist hosts an inspirational day at the Geffen Playhouse for LA students
On Mother's Day in 2007, Cynthia Stafford received a windfall of a gift - $112 million dollars courtesy of the California Lottery. She split her winnings with her father and brother, and today, she is one of LA's top philanthropists investing in the arts, women, and children through the Cynthia P. Stafford Foundation. Her $1 million dollar donation to the Geffen Playhouse put her among the ranks with entertainment mogul David Geffen and Oprah, two philanthropists she admires the most. She shares, "They both live by the principle that when you give, it comes back." It's important to note that Stafford's giving didn't start when she won the lottery, she often gave to charities while growing up, a trait instilled by her mother who stressed the importance of giving and supporting the arts.
On June 15, 2011, Stafford hosted the 1st Annual "Cynthia Stafford's Gifted Day at the Geffen" that brought over 300 youth to the Geffen Playhouse in Westwood, CA for a day of theater arts and education. She teamed up with Partnership for Los Angeles Schools, an initiative of the Mayor's office and the Geffen Playhouse for educational workshops and a private showing of the play
Superior Donuts
. She shared about the event, "Everyone deserves the opportunity to experience the theater and I wanted to introduce students to a world they may not know much about. This day honored LA students for their hard work in school and hopefully added to their already existing drive."
In addition to her philanthropy, Stafford is also an entrepreneur, as the founder of Queen Nefertari Productions, a production company and film fund. Ms. Stafford spoke with BlackGivesBack recently about her highlights from the Gifted Day at the Geffen event, why its important for youth to be exposed to the arts, and her charitable foundation.
Share about your first annual Gifted Day at the Geffen. What were your highlights?
The event served to highlight and focus the attention on kids who are gifted in underserved areas of the community, and to bring them to the theater so they can experience it. For many of them, I think there was close to 300 kids, not one of them had ever been to the Geffen or pretty much any theater. For them it was an experience and they were all thrilled.
Why is it important that youth, particularly underserved youth, be exposed to the arts?
They are always the ones that are overlooked. My kids went to schools in these same areas. A lot of people tend to overlook the kids in these areas and I see that from where I live now, and where I used to live. There are so many opportunities available for the kids in the more affluent areas because they have the money and the resources. Those that don't have it, they're left behind and to me, I don't think that's something that should happen. I'm looking to do something different and I hope to inspire others to do the same.
Stafford (second from right) with celebrities that participated in the event that included "Greek" stars Jacob Zachar and Gregory Michael, "Wizards of Waverly Place" star Jennifer Stone, "That's So Raven" star Orlando Brown, and John Marshall Jones of Nickelodeon's "The Troop." Each guest celebrity shared an inspiring story to the students during the post-show. Students also had the opportunity participate in a Q & A with the guest celebrities and Cynthia.
Your donation of one million dollars to the Geffen Playhouse made you one of LA's top philanthropists. As a major donor, what is your giving strategy?
My choosing to give to them [the Geffen] - they actually asked. And when I found out what it was for, which is pretty much like the type of kids we brought to the theater, kids from underserved communities, that struck home with me because I'm an African American woman, raised in a middle class neighborhood. I was able to go to the theater when I was younger. I did a number of things that many times I didn't see African Americans in attendance..so that's why I gave back to the Geffen. They are about giving back to the community. And I became a board member shortly after my gift. They asked and I said, why not?
What are the focus areas for funding of the Cynthia P. Stafford Foundation?
My foundation is to monitor the donations I'm giving and I'm also accepting donations. The main focus is women and children. At the top of the list are children who are underserved, deaf and hard of hearing, and those who are gifted but don't have the resources to fulfill their goals.
Please share more about your film fund and production company, Queen Nefertari Productions.
We currently have a film out on DVD and Blueray called
The Inheritance
, an African American supernatural thriller distributed by Image Entertainment (starring Golden Brooks and Rochelle Aytes). We have another film titled
Polish Bar
, that won Best Feature Film and Best Actor at the Beverly Hills Film Festival, a multicultural coming of age tale about a young jewish youth who wants to be a hip hop DJ. We're also in post production on a documentary about the Haiti earthquake and aftermath with Haitian actor Jimmy Jean-Louis. And we just shot a reality pilot involving professional athletes. We're staying busy!
Cynthia shares her story on AOL.com
HERE
, and to learn more about her philanthropy and film projects, please visit
http://cynthiapstafford.com/
.