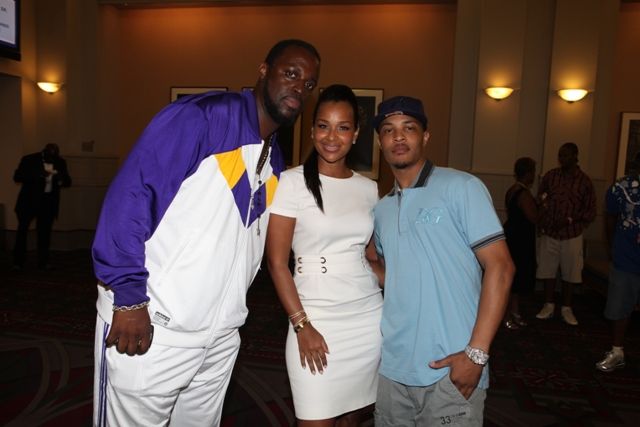 Charles 'Charlie Mack' Alston, actress Lisa Raye and hip hop artist/actor T.I. attend the Charlie Mack Party for Peace Weekend in 2010.
Tyrese Gibson, LisaRaye McCoy, Kevin Hart, Tocarra Jones, Terry Crews and Michael Vick Among Esteemed Public Figures Spreading Message of "There Is A Better Way" At Annual 3-Day Community-Focused Gathering Presented by Hometown Activist, Charles "Charlie Mack" Alston
Philadelphia, PA – A bevy of celebrities from stage, screen and beyond will join Will Smith's long time aide and confidante, Charles "Charlie Mack" Alston, for the 8th Annual Charlie Mack Celebrity Weekend, a highly anticipated series of star-studded charity events. This year's weekend takes place July 22 -24, 2011 in Philadelphia, PA. Appropriately titled the "Charlie Mack Party 4 Peace Celebrity Weekend," a portion of the proceeds raised during the weekend will benefit local non-profit, the Charlie Mack Cares Center, a place of refuge for inner-city children found by Mack.
Started in 1990 solely as a celebrity basketball game, The Charlie Mack Party 4 Peace Celebrity Weekend has evolved into a charitable benefit to raise awareness and money for organizations that work tirelessly to eradicate violence in Philadelphia. "As a native Philadelphian, I wanted to provide young people with a vehicle to interact with today's entertainment industry actors/actresses and professional athletes. It was after the loss of my two brothers that I came to know my true calling in life, and recognized an even greater need to create a fundraising vehicle to assist anti-violence organizations," states Mack. Since the inception of Party 4 Peace, homicide rates in the city of Philadelphia dropped by 10% each month after Celebrity Weekend. This sends a message that celebrities can make a difference," adds Mack.
Academy Award nominee, philanthropist and Philadelphia native, Will Smith joined Charlie Mack at the weekend events that took place in 2006. Smith was visibly stunned and disturbed by the obscene level of crime plaguing the city where he was born and raised. "It is hard for me to get a grip on what is happening in the streets of Philadelphia; the same streets that I grew up in and walk through everyday. However, I do understand there is a different mindset today than when I was raised, so I feel compelled to do something and join my friend, Charlie Mack in curtailing the violence," Smith stated.
For a schedule of events during the weekend and for more information, please visit
www.charliemacksparty4peacecelebrityweekend.com
.