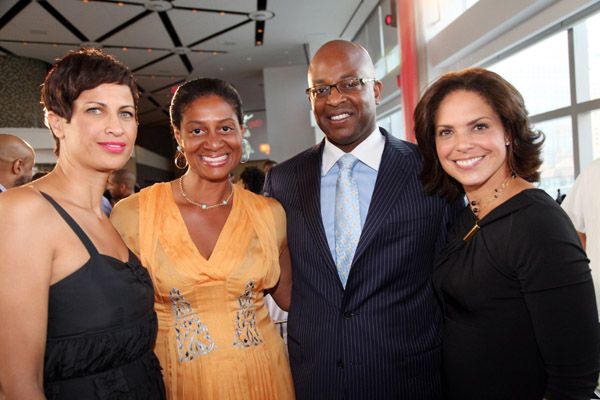 CNN Director of Multi-Cultural Sales and AdColor honoree Michele Thornton; Nina Cooper, PepsiCo Chief Consumer Engagement Officer; Frank Cooper III, Chief Marketing Officer, Sparkling Beverages at PepsiCo; and TV personality and CNN host Soledad O'Brien attend ADCOLOR Live! on July 21, 2011 in New York City. Photo: Nunez/Wireimage
By Akira Barclay, Contributor
BlackGivesBack.com
On Thursday, July 21st, The ADCOLOR® Industry Coalition announced the 2011 ADCOLOR Industry Awards Honorees at ADCOLOR Live! in New York City. The event, held at Time Warner Center's Park Café, brought together nearly 200 industry influencers and rising stars. Among the 2011 honorees are actress and activist Rosario Dawson, who will receive ADCOLOR's All-Star Award presented by Omnicom Group, and for the first time, GLAAD (the Gay and Lesbian Alliance Against Defamation) will present an ADCOLOR Advocate Award in recognition of industry influencers from the LGBT community.
Founded by Tiffany R. Warren, Senior Vice President and Chief Diversity Officer at the Omnicom Group, Inc., the ADCOLOR® Industry Coalition (AIC) is the advertising industry's premier organization dedicated to fostering and promoting increased diversity in the advertising, marketing and media industries. A historic collaboration between The Advertising Club of New York, The American Advertising Federation (AAF), The American Association of Advertising Agencies (4A's) and Arnold Worldwide and Omnicom Group, its mission is to support and inspire professionals of color while championing diversity within the industry.
CNN's Soledad O'Brien hosted ADCOLOR® Live! along with Frank Cooper, Chief Marketing Officer of Sparkling Beverages at PepsiCo. When asked why she chose to get involved with ADCOLOR, the popular anchor said she when she's presented with an opportunity to work with good people doing good things that can really move the needle, she's more than happy to help. Media, marketing and advertising play a huge part in helping to move the needle in social change underscoring ADCOLOR's impact in bringing more diverse faces around the table.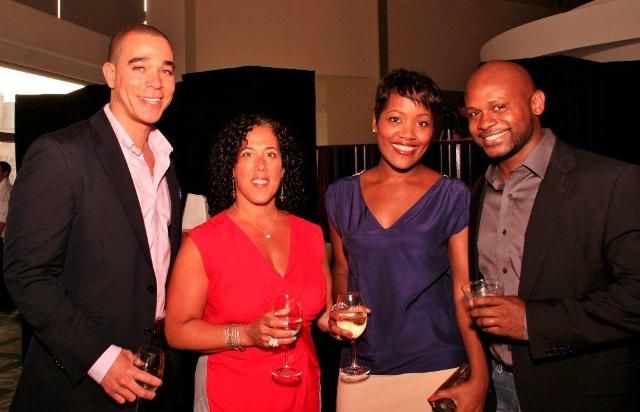 Jose Fernandez, ESPN Customer Sales and Marketing; Felicia Geiger, Deutsch, Inc.; Nicole Hall, Draftfcb; Akintayo Adewole, Akande Music + Publishing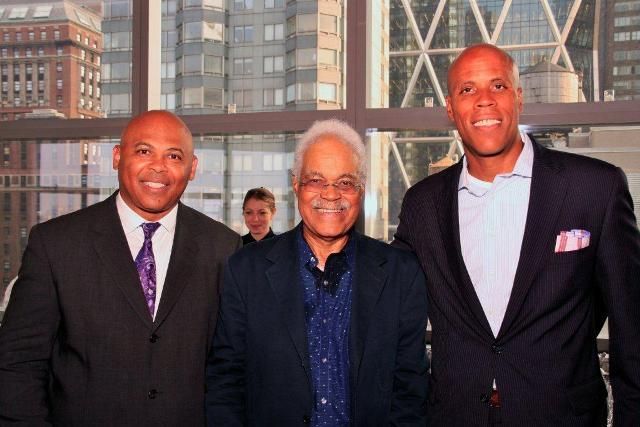 James Ebron, ESPN; Doug Alligood, BBDO; Wendell Scott, ESPN
Michele Thornton; Greg D'Alba, COO/EVP Sales & Marketing, CNN; Tiffany R. Warren, Founder, ADCOLOR Industry Coalition and SVP, Chief Diversity Officer, Omnicom; Frank Cooper; Soledad O'Brien
The ADCOLOR Industry Coalition will host the 2011 ADCOLOR Awards and Industry Conference at the Beverly Hilton in Los Angeles, September 16-17. Celebrating its fifth anniversary, AIC's annual ADCOLOR Awards and Industry Conference has become one of the industry's most coveted and notable events. "ADCOLOR is pleased to honor and recognize this year's outstanding group of honorees whose work has influenced the industry, while positively impacting the lives of people across the country and globally," says Tiffany R. Warren. "We look forward to honoring them at the ADCOLOR Industry Awards this September and to welcoming the hundreds of industry professionals who plan to attend the Conference."
For more ADCOLOR® Awards & Industry Conference information, please visit ADCOLOR's microsite, designed by SBS Studios LLC, at
www.adcolor.org
.
Photo Credit: Alex Lipowec 2011