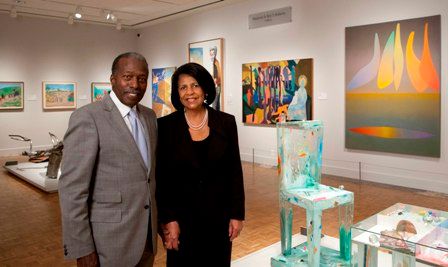 (Detroit)—The Detroit Institute of Arts (DIA) auxiliary, Friends of African and African American Art (FAAAA) present the annual gala fundraiser Bal Africain® on July 16 from 6 to 11 p.m. Huel Perkins of WJBK-TV FOX2 will serve as master of ceremonies and Roxane Whitter Thomas is this year's Bal Africain® chair.
This year's honorary guests are
Maureen and Roy S. Roberts
, for whom the DIA recently named a gallery.
"We are delighted to welcome Maureen and Roy Roberts as our special guests at this year's Bal Africain," said Graham W. J. Beal, DIA director. "We recently named a gallery of contemporary African American art in recognition of their very generous gift to the museum. Their support affirms the role art plays in enhancing the quality of life and the named gallery is a wonderful legacy for their family."
Roy and Maureen Roberts are well-known philanthropists in the areas of the arts, culture and education. Mr. Roberts, who achieved many firsts for African Americans in the automotive industry, retired from General Motors as a group vice president. For more than 20 years, Ms. Roberts' career focused on nursing and health care, and she served on the boards of St. Joseph Mercy Hospital and Visiting Nurses Association.
Bal African's® theme this year is "Caribbean Splendor." Guests will feel as if they have walked into an island paradise, with tropical trees, plants and flowers arranged by the DIA auxiliary support group Friends of Art and Flowers. Ambassadors from Jamaica, Barbados and the Republics of Trinidad and Tobago will be among the distinguished guests.
The evening begins with a VIP cocktail reception from 6–7 p.m., followed by a strolling dinner featuring Caribbean cuisine. Guests will be treated to the sounds of a steel band and can dance to the sounds of Juan Portillo/DJ Sabor.
This year there will also be a film festival in conjunction with Bal Africain®. On July 14 at 7 p.m., Senegalese filmmaker Ousmane Sembène's 2000 movie FAAT-KINE, is featured. Set in present-day Dakar, it provides a critical look at modern, post-colonial Senegal and the place of women in that society. It gives a clear glimpse into life of the Senegalese middle-class and presents present-day Dakar in all of its contradictions of poverty and wealth, tradition and modernity. July 15 features Africa United, the extraordinary story of three Rwandan children who walk 3000 miles to South Africa, hoping to attend the World Cup. Both films are free with Bal Africain® tickets.
Bal African's® sponsors include Ford Motor Company Fund, DTE Energy Foundation, General Motors Corporation, Delta Air Lines, Comerica Bank, Blue Cross Blue Shield of Michigan, Blue Care Network and the Richard and Jane Manoogian Foundation. Proceeds support educational programs and art acquisitions for the African and General Motors Center for African American Art departments.
Tickets are $200, and $350 for the VIP cocktail reception. For tickets, call 313-833-4005 or go to
www.dia.org/balafricain2011
.
To learn more about Maureen and Roy S. Roberts and their gift to the museum, see our previous post
HERE
.
Source: Detroit Institute of Arts