This week, the National Urban League is hosting its annual conference with the theme, "Jobs Rebuild America," in Boston, MA. Among the many featured speakers who are national leaders in business, government, academia and the arts is Arva R. Rice, President and CEO of the New York Urban League (NYUL). Since 1919, NYUL has provided programs to New York's underserved residents to ensure they receive the necessary education and employment opportunities. Rice took the helm in April 2009, and since then, she has made significant strides in furthering the organization's mission.
She has aligned an impressive string of successes in a relatively short period of time, including forging a partnership with music titan Mary J. Blige's Foundation For the Advancement of Women Now (FFAWN) that resulted in establishing the inaugural Girls Empowerment Day and a 4-year $50,000 scholarship for an outstanding college-bound young woman.
Under her leadership, the NYUL has also allied with Jordan Fundamentals, the nonprofit organization run by basketball great Michael Jordan, giving deserving students the opportunity to be trained as Team Jordan athletes through a 10-week sportsmanship program. Rice is keenly aware of the legacy of the NYUL and has vowed to advocate on behalf of New Yorkers on issues of equality specifically related to education and employment. To guide her in her advocacy efforts, she has brought together senior executives from leading Fortune 500 companies such as the New York Daily News, AT&T New York, Morgan Stanley and Macy's.
Her previous positions include serving as Executive Director of Project Enterprise, founding Executive Director of Public Allies New York, and Program Director of Economic Literacy for Girls Incorporated, where she forged a strategic alliance with American Express that brought about the publication of 'Money Matters: An Economic Literacy Action Kit for Girls.'
A graduate of Northwestern University in Evanston, Ill., and current resident of Harlem, Rice currently serves on the Advisory Board for FFAWN, and as a Commissioner for the NYC Equal Employment Practices Commission. She is a recipient of The Network Journal's "Forty under 40" Black Achiever's Award, NV Magazine's Community Award and the National Urban League's Centennial Newcomer CEO of the Year Award.
Ms. Rice talks to BlackGivesBack about her three strategies for forming a successful nonprofit partnership, fundraising tips, her greatest career lesson, advice for those wishing to enter the nonprofit sector, and more:
You've formed impressive partnerships during your tenure with NYUL, collaborating with celebrities and their foundations such as Mary J. Blige and sports legend Michael Jordan, to help advance the organization's mission. What are 3 key strategies a nonprofit can use to form a successful partnership?
There are three key things I try to keep in mind when pursuing any potential partnership:
First, establish clear goals for the partnership and make sure all parties understand and agree upon these goals. Signing a Memorandum of Understanding is key to ensuring the partnership's success.
Second, identify more than one potential partner to help you reach your goals. Multiple partnerships (ie. a celebrity, a sports figure, a corporate leader) are beneficial in not only reaching a much broader audience, but also key if one partner cannot participate.
Third, you have to accept that not every partnership will work. For every successful partnership we have at least twice as many that didn't pan out. But we keep identifying and nurturing relationships with potential and future partners so that when the time is right we will be ready.
While at your previous positions with Project Enterprise and Public Allies New York, you increased funding from board members, foundations, government and individuals. How did you accomplish this?
The key element in fund-raising and sponsorship is to raise your organization's visibility. Once you let people know who you are and what you do, they recognize your mission, understand your need, and feel more compelled to help.
At Public Allies New York we connected young people directly with corporate leaders through Leadership Luncheons, which not only gave young people direct access to the executives they admired, but also brought the Public Allies mission to life for these executives. We have been able to replicate this success at the NYUL with the Girls' Empowerment Day and
Young Men's Empowerment Day
events.
At Project Enterprise we charged the annual fundraising event host committee members with helping to select the Entrepreneur of the Year. They were not just planning another fundraising evening, but were tasked with helping choose the winner, video-taping the person being told, and presenting this video at the annual fundraising dinner.
Anything you can do to make more people aware of and involved in your causes will help in securing support.
Why is it important that we as a community ensure equality in education, employment, and financial literacy, particularly in the African American community? How is the NYUL providing support in these areas?
As the gap between the rich and the poor continues to widen in this country it is vitally important that we push for equality in education, employment, and financial literacy, particularly in the African American community.
At the NYUL we host a number of events and programs to promote quality education for all, including:
The HBCU College Fair, The Whitney M. Young, Jr. Scholarship Fund (over $20M awarded to date), The NYUL College Readiness Program in Staten Island and Harlem, a Financial Literacy Program, Making Your Money Go Farther in partnership with Master Card, and The NYUL Technology & Education Center at Harlem Renaissance High School.
In addition, we are committed to helping everyone in our community find meaningful work that pays a living wage. The NYUL's training and apprentice programs for the construction and dental assistant fields have helped thousands of New Yorkers find good jobs. The NYUL also provides workshops on resume writing and job search & interviewing techniques, as well as offering technology, language and other free classes at the NYUL Technology & Education Center.
With the national unemployment rate for African-American men almost double the national average and youth unemployment at 24%, it is critical that the NYUL and others do everything they can to help.
The Whitney M. Young, Jr. Scholarship Fund Award ceremony, held last month, awarded 43 New York City students $131,500 in scholarships. In photo: Keynote Speaker Raymond McGuire, Head, Global Banking, Citi, Arva R. Rice, Marilyn F. Booker, Morgan Stanley, Managing Director, Vice Chairperson for the New York Urban League; and Quincy Dunlap, Director of College Access, New York Urban League.
Share a success story.
I have been blessed to meet many of the NYUL's "Success Stories," but one who springs to mind is Charity Nicole Fisher, a 2010 recipient of the NYUL Whitney M. Young, Jr. Scholarship.
In September 2009, Charity's mother's position at a non-profit organization was eliminated and despite her desire and her talent, Charity did not have the resources to attend college. Thanks to the scholarship funds, she is currently attending Sophie Davis School of Biomedical Education, an eight-year program leading to an M.D. After completing the program Charity has committed to working for at least two years in an under-resourced community within New York as a doctor providing care to those in need.
In addition to school, part-time work, and tutoring high school students in mathematics, Charity volunteers at a non-profit organization that provides children of incarcerated parents with mentors. At the Frederick Douglass Awards she said, "Because of non-profit organizations like the New York Urban League, events like tonight, supporting people like you, and ambitious young adults like me and the rest of the scholarship recipients, I can honestly tell my mentee that she can achieve whatever she wants to achieve in life as long as she has the will and the drive to make her aspirations come true."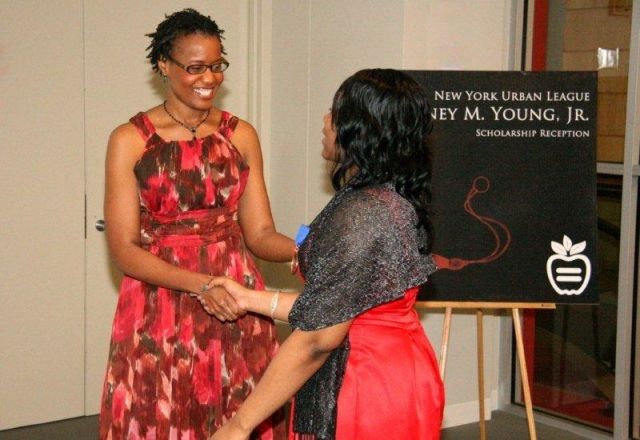 Rice with 2011 Whitney M. Young, Jr scholar Trishorn Plummer
What is one of the greatest career lessons that you've learned?
One key lesson I learned when I first came to New York as an Urban Fellow is to be connected and to stay connected. Be connected to the opportunity and to the people you meet on your journey. I am still in touch with the people I met on my fellowship and they have been instrumental in my success. Keep in touch with people in your network and remember - no one gets anywhere alone.
You've had a successful 20 year nonprofit career. What advice do you have for someone wishing to enter the field? And for those currently working in the sector?
My advice to anyone wishing to enter this field is to volunteer. Get to know the sector through volunteering. If there is a wrong you desperately want to right, then focus on that area of non-profit work.
I think the best training for the Executive Director of a non-profit is being on the Board of a non-profit organization.
While rewarding, working in the non-profit sector is not easy and it requires a broad skill set. Take courses in management, fundraising, and accounting (to name a few) to ensure you are successful.
What's next for NYUL?
It is an exciting time for the NYUL. This Fall the NYUL, in conjunction with the New York Daily News, U.S. News and World Report, and the NYC Department of Education, will publish "A Parent's Guide to College." The guide will examine all facets of college preparation and is specifically designed for parents of students who are the first generation in their family to attend college.
The parent guide will be released in conjunction with the 40th Annual NYUL Football Classic, which will be held September 24 at the New Meadowlands Stadium. More than 40,000 NYUL supporters will watch Howard University take on Morgan State University. Proceeds from the Football Classic benefit the Whitney M. Young, Jr. Scholarship fund. Tickets can be purchased at
http://www.ticketmaster.com/
.
For more information about the New York Urban League, please visit
http://www.nyul.org/
or call 212-926-8000.