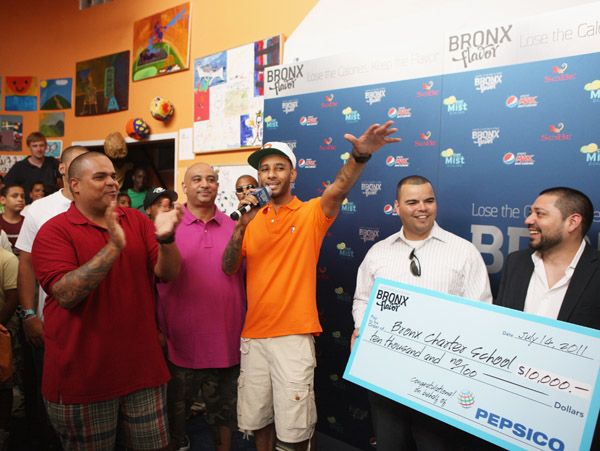 Pepsi-Cola North America Beverages' (PCNAB) zero calorie beverage line-up teamed up with Bronx community natives, Grammy Award winning producer, rapper and artist Swizz Beatz (3rd from left), renowned graffiti artist Cope 2, Bronx Borough President Ruben Diaz Jr. and Assemblyman Carl Heastie to launch the Bronx Flavor campaign at THE POINT in the South Bronx, NY on July 14, 2011. This summer, PCNAB is celebrating the Bronx community by providing residents with activities and education to help them make healthy lifestyle decisions.
"Being a father and also being involved with The Bronx Charter School for the Arts, I understand even more how important it is to stay healthy," said Swizz Beatz. "The Bronx Flavor initiative shows Pepsi-Cola North America's commitment to the well-being of our community." The Bronx Flavor campaign stretches throughout the summer with interactive activities. To stay in the know, follow @bxflavor on Twitter.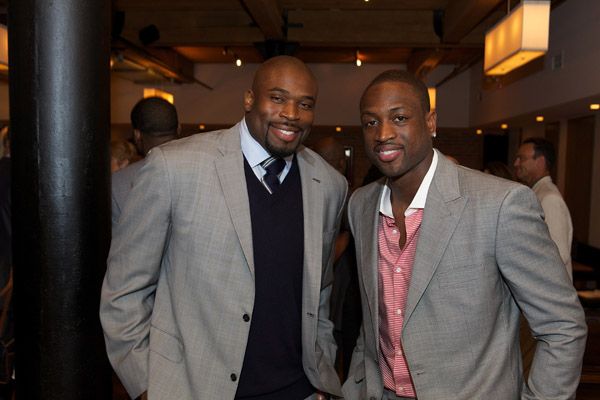 NFLer Israel Idonije and NBA star Dwyane Wade attend Michigan Avenue Magazine and Dwyane Wade's kick-off of the 4th Annual Wade's World Weekend on July 6, 2011 in Chicago. Wade will host his annual Wade's World Weekend on August 25-28 in Chicago benefiting his foundation that provides support to community-based organizations that promote education, health and social skills for children in at-risk situations. Visit Wade's foundation site at
www.wadesworldfoundation.org
and Idonije's foundation website at
www.israelidonije.org
.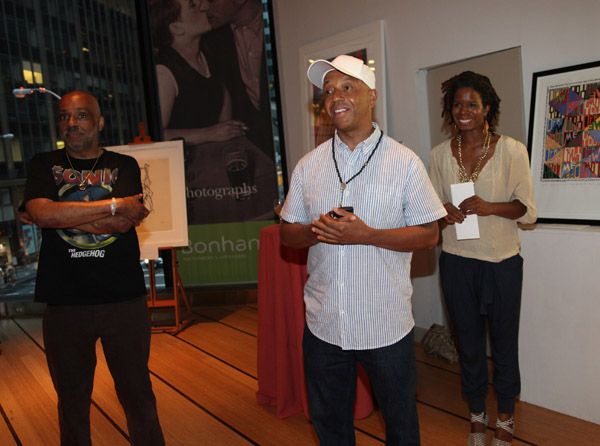 Danny Simmons, Russell Simmons and Tangie Murray attend the 12th Annual Art For Life art auction preview at Bonhams on July 13, 2011 in New York City.
Rush Philanthropic Arts Foundation will host their 12th annual Art For Life event on July 30, 2011 at the estate of Russell Simmons in Easthampton, NY. For over a decade, hundreds of friends and supporters have joined Russell Simmons, Danny Simmons, Joseph "Rev. Run" Simmons and the foundation to celebrate the creative energy of New York City youth and honor exemplary individuals for success in their respective fields and good works to better the community.
Among the honorees this year are Mary J. Blige and
Kimberly B. Davis
, President of JPMorgan Chase Foundation. The event will be hosted by Soledad O'Brien with a special performance by Jennifer Hudson. For more information, visit
HERE
.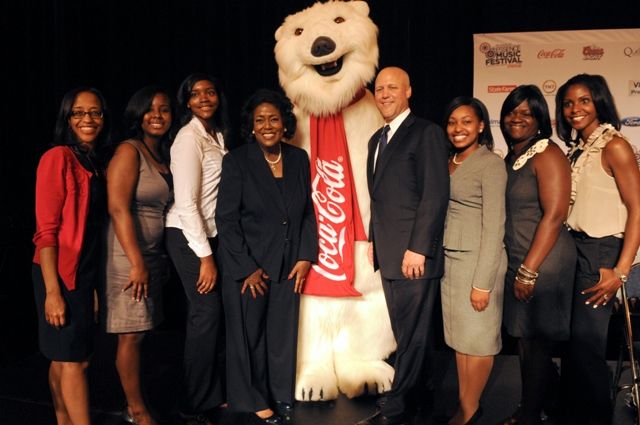 The Coca-Cola Foundation recently awarded $125,000 to five Louisiana historically black colleges and universities during the 2011 Essence Music Festival in New Orleans to help empower women scholars to complete their education.
In photo: Lori George Billingsley, vice president, Community Connections, Coca-Cola Refreshments; Shakiyah Huston and Nikita Peter; Ingrid Saunders Jones, chairperson, The Coca-Cola Foundation; Coca-Cola Polar Bear; New Orleans Mayor Mitch Landrieu; scholarship students Alexandria Packer, Southern University-Baton Rouge; and Cybil Mashia, Southern University - New Orleans, and Kimberly Evans Paige, Assistant Vice President, African American Marketing, Coca-Cola North America. (Photo credit: Margot Jordan)
Photos: Wireimage