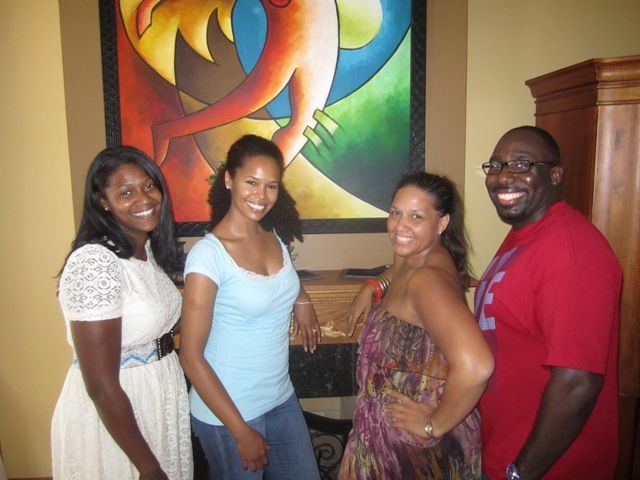 Co-Founders and Executive Board Members of The Concerned Citizens of Bronzeville: Dhyia Thompson, Damaris Walker, Phaedra M. Leslie and Akari Muhisani
By Sandra Davis, Guest Contributor
BlackGivesBack.com
CHICAGO - The Concerned Citizens of Bronzeville (CCoB), a group of young professionals committed to economic development and safety in the Bronzeville community of Chicago, hosted their first fundraiser on August 13, 2011, flanking the 82nd Annual Bud Billiken Parade.
The group of successful professionals and entrepreneurs founded the group in response to a growing negative element by seven frustrated Bronzeville residents along with Alderwoman Pat Dowell and local police leadership. "[This event provides] an opportunity to enjoy one the most historic parades in the country as well as get to know our neighbors and raise money for the work the CCoB members contribute [to] the community," says Dhyia Thompson, Co-Founder and Executive Board Member of CCoB. As one of America's most culturally rich African American communities, Bronzeville is often referred to as the "Black Metropolis" or "Chicago's Harlem."
Bronzeville is the home of many black icons: Nate King Cole, Gwendolyn Brooks, Ida B. Wells, Margaret Burroughs, John H. Johnson, Lorraine Hansberry, Muddy Waters, Bessie Coleman, Richard Wright and many other important past and current black luminaries. The DuSable Museum of African-American History, South Side Community Art Center, Wabash Avenue YMCA, Ida B. Wells House and the Sunset Café are just a few of the hundreds of black philanthropic organizations and landmarks within the community.
The group members of CCoB want to use their knowledge and skill sets to create a "thriving community" where residents feel safe and the streets are clean and walkable, there are diverse shopping options, the environment is conducive to socializing; children are happy, healthy and receive a quality education from public schools; seniors are supported and engaged, and visitors feel welcomed and view it as a destination.
Each member has their own unique ties to the historic Bronzeville community: "I bought my house in the 90's; this house is for my children. I have seen this area change so much. Bronzeville is not a [homogeneous] area, every block is different," states Phil Beckham, business man and host of the Concerned Citizens of Bronzeville Bud Billiken Fundraiser.
Throughout the fundraiser, CCoB members, neighbors and fellow community members were involved in conversations about mentorship, supporting strong marriages, the economic downturn, education, and enjoyed the festivities of the Bud Billiken Parade. For the past 82 years, the annual parade is a signature event for Chicago's black community, and is the longest-running and biggest African American parade in the country. Produced by the Chicago Defender Charities, it has become a perennial summer event that ushers students back to school, promotes student achievement and promotes community togetherness.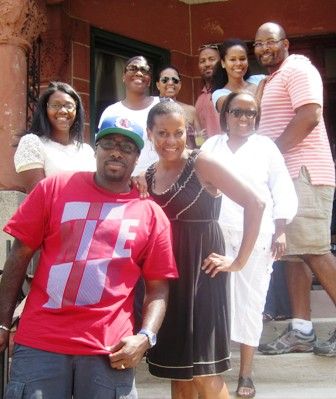 In photo: Starting from the back row left are Dhyia Thompson, Co-Founder and Executive Board Member; Keesha Smith; Phaedra M. Leslie, Co-Founder and Executive Board Member of CCoB; Kevin Johnson; Damaris Walker, Co-Founder and Executive Board Member of CCoB; Airron Walker, (front row left to right) Akari Muhisani, Co-Founder and Executive Board Member of CCoB; Sheila Lewis, and Kim Crawford at the home of Phil Beckham in Chicago, IL.
The Concerned Citizens of Bronzeville has many initiatives on the horizon, for additional information and to learn how to participate, please visit:
http://ccobronzeville.tumblr.com/
.