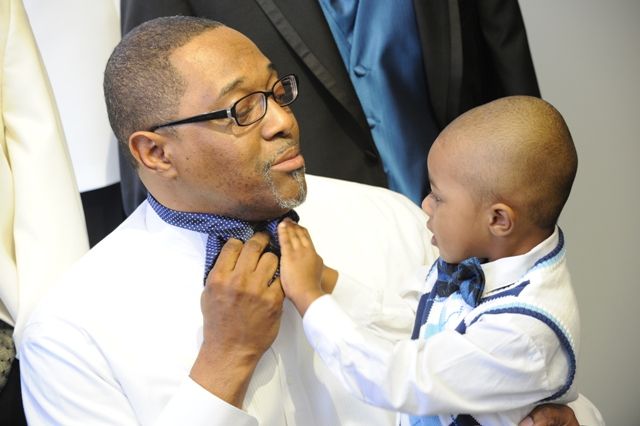 Executive Director of Fathers Incorporated, Kenneth Braswell Sr. with son KJ preparing for 'Ties Never Broken' campaign to address fatherlessness of black boys
PSAs part of the "Ties Never Broken" Blue Bow Tie Campaign
Via Press Release: Inspired by President Obama and White House efforts to raise awareness of the effects of fatherlessness and in support of the recent multi-million dollar donations by New York City Mayor Michael Bloomberg and philanthropist George Soros for programs designed to help young black and Latino men, Fathers Incorporated has released the first of several public service announcements to address the issue of fatherlessness and black boys.
"Our community must see tougher and more focused messages about our children growing up without fathers and positive male role models," says Kenneth Braswell, Executive Director of Fathers Incorporated. "The impact of fatherlessness on African American communities is devastating; our children are losing this battle, moms are beyond stressed and willing fathers/men are being pulled in multiple directions of need."
The numbers speak for themselves:
About 80% of African American children can expect to spend "a significant" portion of their childhood living without their biological father;
The 4.5 million African American men ages 15 to 29 represent 14% of the U.S. male population of that age and 12% of all African Americans in the country. Their high rates of death, incarceration, unemployment, and relatively low levels of college graduation rates raise concerns for African American families and the nation's economy. (Kaiser Family Foundation)
The above statistics speak only to a minute portion of problems confronting today's fathers, particularly African and Latino American men. In addition with the unemployment rate skyrocketing, it is our younger population of men who struggle the most. "Too many children are growing up without the positive guidance and support of fathers," said Shawn Dove, Manager of the Open Society Institute's Campaign for Black Male Achievement. "Fathers Incorporated's public service announcements can go a long way toward piercing the hearts and minds of dads to take the steps to re-engage in the lives of their children."
Produced by GradyGirl Productions Inc., the first two videos entitled, "
Tough Guy
" and "
Faces of Despair
" speaks from the voices of young African American males, speaking directly from their hearts about how they feel about not having an active and involved father in their lives.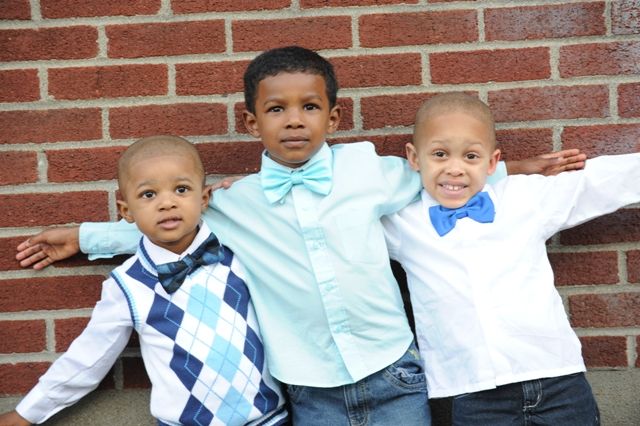 Kenneth Braswell Jr., JoJo Guthrie and Andrew Brown. Young men pose at photo shoot for Ties Never Broken Campaign
In the recently released report the "
Young Men's Initiative
," it describes five steps to mount a bold attack on the disparities that are crippling New York City's population of young men of color. One action plan addresses the issue of fatherlessness by challenging society to "improve the health of young men by encouraging more fathers to be involved in the lives of their children, and by breaking the cycle of premature fathering." Through the TIES NEVER BROKEN campaign, Fathers Incorporated's website will host tips for fathers looking to reconnect with their children as well as resource links to services and support.
In the coming months, the agency will release other public service announcements, posters, blue bow tie lapel pins, issue focused campaigns and partnerships to engage and assist in furthering messages of responsible fatherhood and mentoring. For additional information and updates on the campaign, please visit
www.fathersincorporated.com
. To receive a copy of the PSAs call 518-227-6161 or email
fathersincorporated@gmail.com
.
Other Resources:
Campaign for Black Male Achievement,
http://www.soros.org/initiatives/usprograms/focus/cbma
National Fatherhood Clearing House,
http://www.fatherhood.gov/
Urban Leadership Institute,
http://www.urbanyouth.org/
|
http://www.raisinghimalone.org/
|
http://www.changingfatherhood.com/