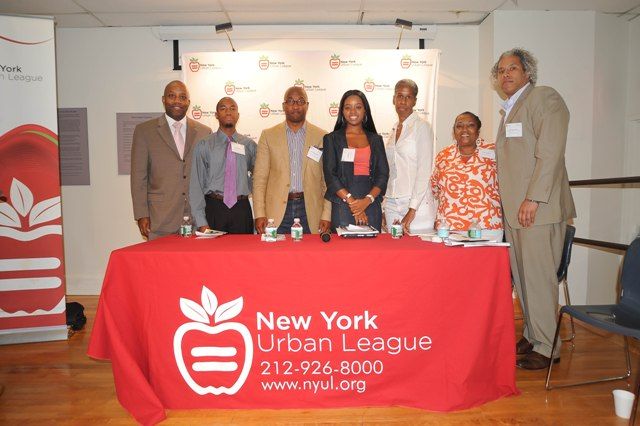 By Akira Barclay, Contributor
BlackGivesBack.com
New York, NY (August 3, 2011) With an increase in gun violence in recent weeks, the New York Urban League (NYUL) called upon the community to come together to create an action plan. They responded in force. Scores of residents descended on Harlem's Schomburg Library for a private discussion with community leaders and elected officials to discuss violence in Harlem.
Among those in attendance at the event were NYPD Commissioner Raymond Kelly, NYC Schools Chancellor Dennis Walcott, District Attorney Cyrus Vance, who noted that 30% of loaded weapons charges in NYC last year were for individuals 18 years old or younger, NYCHA Chairman John Rhea, Assemblyman Keith Wright, Senator Bill Perkins, Councilmember Gale Brewer, representatives from Senator Gillibrand, Assemblyman Denny Farrell, Congressman Charlie Rangel and Senator Bill Perkins, and many others, including community and faith-based organizations.
Attendees spoke about ways to improve the relationship between the community and police, and how to engage with youth in an effort to deter youth violence. Present at the dialogues were teens from organizations such as Minisink, LIFE Camp and the New York Urban League. The NYUL believes that by letting young people have a seat at the table, they will be invested in finding solutions to violence in their community. "Our children respond to our reaction to violence," reminded Geoff Canada, President & CEO of the Harlem Children's Zone. "I see violence everywhere, every day," said Tyliek Paul, a member of LIFE Camp. He believes to solve the problem of violence, people need to dedicate themselves and support the young people.
Arva Rice
, President and CEO of the New York Urban League (pictured above at left), was pleased with interest in the event and noted, "Somewhere between the new and old Harlem, young people need to have positive activities to engage in, jobs for the summer, and a safe walk to school and down the halls of their schools. Both old and new Harlem share a concern and commitment to save Harlem block by block. This is a beginning." She continued, "The NYUL has been part of the fabric of the Harlem community for more than 90 years. We are hosting these dialogues to make all stakeholders accountable for bringing about change. Today, in front of a standing-room-only crowd, NYPD Commissioner Raymond Kelly pledged to work closely with the NYUL to find solutions. The community is in dire need of immediate and successful anti-violence programs. This was the first in a series of dialogues and much came out of this first conversation. In the near future, the NYUL will bring together a wide variety of expertise to work toward broadening capacity, developing funding streams, and first and foremost engaging young people on their own turf. The New York Urban League is committed to doing that in the ongoing campaign against violence."
The second dialogue is set for October and will be open to the public. For information about how you can participate please visit
www.nyul.org
or call 212-926-8000.
Source: Press release