Bernice King, daughter of Rev. Martin Luther King, Jr., makes remarks at the Women Who Dare to Dream Luncheon in celebration of the Martin Luther King, Jr. Memorial dedication on August 26, 2011 in Washington, DC.
WASHINGTON, DC - On August 26, 2011 at the Washington Convention Center, members of Dr. King's family, corporate leaders, and influential artists and women paid tribute to our nation's unsung heroes of the Civil Rights Movement. The 'Women Who Dare to Dream Luncheon' celebrated the legacy of strength and dignity of our civil rights heroines that continue to inspire hope.
Alexis Herman, former Secretary of Labor served as the mistress of ceremonies, and the event featured special remarks by 'sheroes' Xernona Clayton, Founder, President and CEO of the Trumpet Awards Foundation; Delores Huerta, co-founder and first vice-president of the United Farm Workers of America; and the Honorable Connie Morella and Myrlie Evers-Williams.
Also providing special remarks were Sheila C. Johnson, Founder and CEO, Salamander Farms, LLC; Guy Vickers, President of the Tommy Hilfiger Foundation; Vivian Pickard, President of the General Motors Foundation; Rosalind Hudreil, Chief Diversity Officer of the Intel Corporation; Gina F. Adams, Senior VP, Government Affairs of the FedEx Corporation; the Honorable Emanuel Cleaver, Congressman representing Missouri's fifth district; Daphne Maxwell Reid, actress; Dr. Christine King Farris, sister of Martin Luther King, Jr.; Lisa P. Jackson, Administrator, Environmental Protection Agency; and Debra Lee, Chairman and CEO, BET.
Among the event highlights were a poetry reading by Dr. Maya Angelou and musical selections by India Arie, Ledisi, and Lalah Hathaway.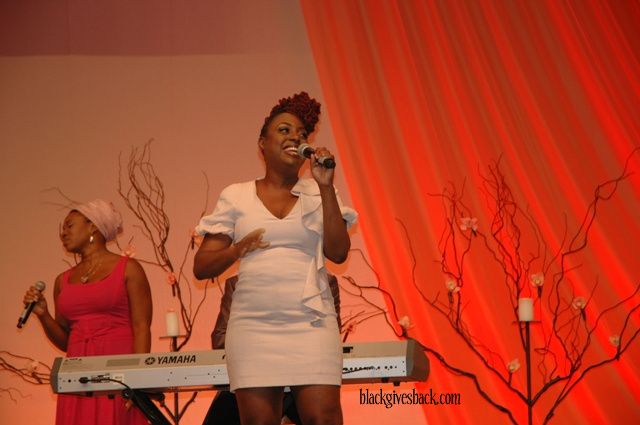 R&B singer Ledisi and India Arie perform special musical selections.
Debra Lee, Chairman and CEO of BET, shared a video produced by BET employees featuring the many women of the civil rights movement, and announced that despite the postponement of the MLK Memorial dedication, the network would continue with their plans to air special programming dedicated to Martin Luther King on August 28th.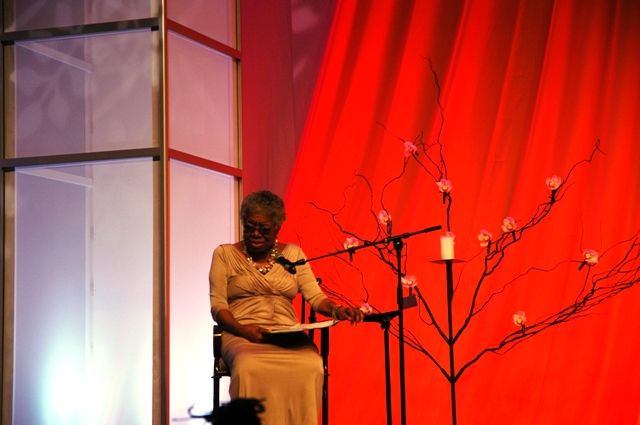 Dr. Maya Angelou reads "Abundant Hope" a poem she wrote in honor of the Martin Luther King Memorial dedication.
Myrlie Evers-Williams provides remarks, and shared that she's 78 years young!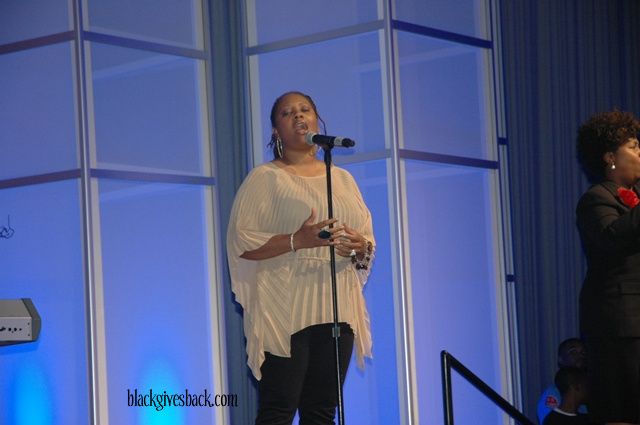 R&B and jazz singer Lalah Hathaway sang a stirring rendention of 'Someday, We'll All Be Free,' a song originally sung by her father, the late Donnie Hathaway.
For information about the rescheduled date for the Martin Luther King Memorial dedication, please visit
http://www.dedicatethedream.org/
.
Photos by Stacey Trammel