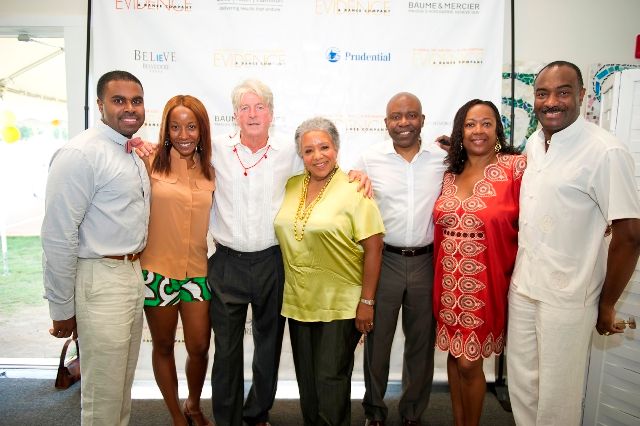 Dr. Ancy Verdier, Joanne Hill, honorees Jon Snow and Lola C. West, Larry Satterfield, Gail Monroe-Perry, and Reginald Van Lee attend the 8th annual 'On Our Toes in the Hamptons' benefiting Evidence, A Dance Company on August 20, 2011 in Bridgehampton, New York.
Ronald K. Brown's Evidence, A Dance Company Electrifies with Stunning Performance at the Premier African American Cultural Event of the Hamptons Season
BRIDGEHAMPTON, NY - One of the most eagerly anticipated galas of summer is also one that heralds the coming end of the Hamptons social season, the annual visit of Ronald K. Brown's internationally acclaimed On Our Toes in the Hamptons benefit. This year's event was held on the sprawling grounds of the Hayground School in Bridgehampton and once again drew supporters from across the country for a festive afternoon to raise funds for Brown's much loved dance troupe.
Despite predictions of thunderstorms, it was a picture perfect summer day as guests flowed into the renowned schools culinary, education and community center, Jeff's Kitchen, for late afternoon cocktails. Chef David Martinez and his team at Harlem's critically acclaimed 5 and Diamond Restaurant offered up platters of delectable hors d'oeuvres including mini dogs in puff pastry, mac & cheese bites and Scottish smoked salmon on black bread with Citrus crème fraiche. To complement the tasty treats there were specialty cocktails from Belvedere and guests immediately got into their party mode.
Event Chair Dr. Ancy Verdier, Board Chairman Emeritus Reginald Van Lee, Vice-Chair Joanne Hill and Board Secretary Gail Monroe-Perry warmly welcomed guests to what has become the premier African-American cultural and social event of the Hamptons season and an annual reunion of dance patrons.
Among the guests were Alicia and Dan Bythewood, Peg Alston and Burton Willis, Board members Dwayne Ashley and Monica F. Azare; Reginald Canal, Andrea Hoffman, Leslie Mays, Larry Satterfield and Jocelyn Taylor, Young Professionals Committee Chair Jenna Bond-Louden, Law & Order SVU star Tamara Tunie with husband jazz vocalist Gregory Generet, Essence Magazine Editor Emerita Susan L. Taylor with husband, filmmaker and producer Khephra Burns; model Marco Candini, designer Berry Brown, Solonje Burnett-Loucas, Christopher Harvell & Dr. Lezli Levene Harvell, Kelly Mitchell, Obi Onyeagoro and Erin L. Patten, Omar Karriem, Nicholas Anderson, Corey McCathern, Jon Snow and wife Kathy Engel, Clint Taylor, Tia Walker and scores more.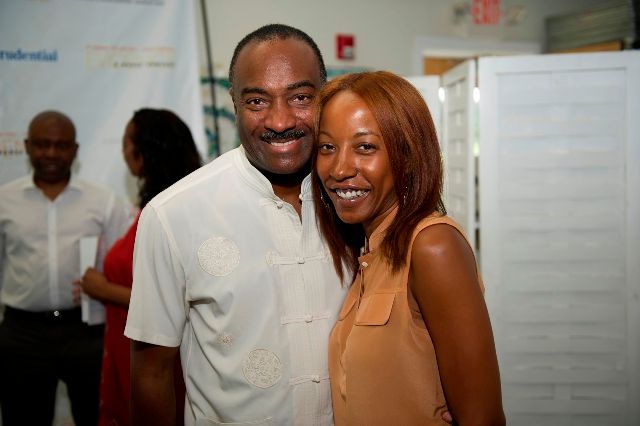 Evidence Board Chairman Emeritus Reginald Van Lee and Vice-Chair Joanne Hill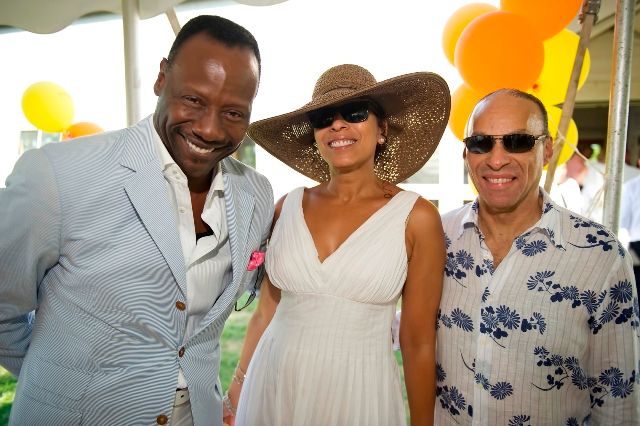 Gregory Generet, Tamara Tunie and Dan Bythewood
Dr Ancy Verdier and Hayground School co-founder Toni Ross
After cocktails, throbbing drums signaled a call to the main tent for dinner and the start of the evening's program. Guests quickly flooded the tent that was set up as an outdoor living room with bright white canvas sofas and lounges strewn around the spacious tent. Tabletops were adorned with masses of summer flowers by Bridgehampton Florist Michael Grim. Locally grown dahlias, cosmos, zinnias and sunflowers in vibrant hues added the right punch of color to the all white décor. Numerous food stations decorated by Chef Martinez with tropical fish, exotic birds and fairy tale horses and carriages carved from fruit lent a fanciful Midsummer Night's Dream effect. Martinez and his professional staff offered a carving station featuring New York Strip Steak and grilled seasonal local vegetable platters, tomato vinaigrette, herb roasted red bliss potatoes and brussels sprouts with applewood smoked bacon.
Following the bountiful dinner, Gail Monroe-Perry welcomed guests and thanked them for their longtime commitment to Evidence, A Dance Company. She then introduced Dr. Ancy Verdier, this year's Event Chair, to present awards to two dynamic individuals who have effected great change in their respective professions: artist, educator and activist Jon Snow, co-founder of the Hayground School, and renowned financial advisor Lola C. West, Managing Director, WestFuller Advisors LLC. Both made gracious speeches and cited the enormous gift of Evidence in chronicling the African Diaspora through storytelling and dance.
Honorees Jon Snow and Lola C. West
Honoree Lola C. West and Joyce Mullins-Jackson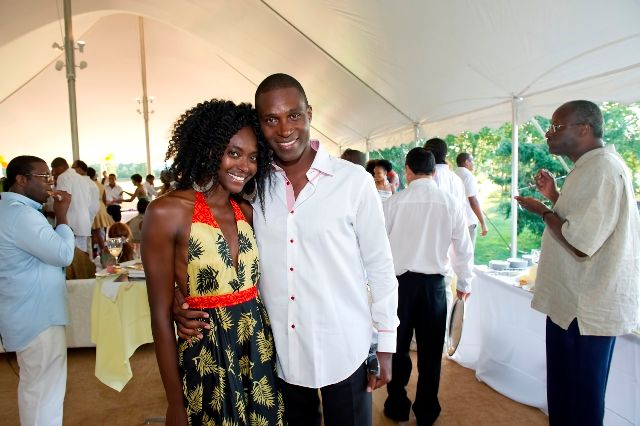 Princess Keisha & Prince Kunle Omilana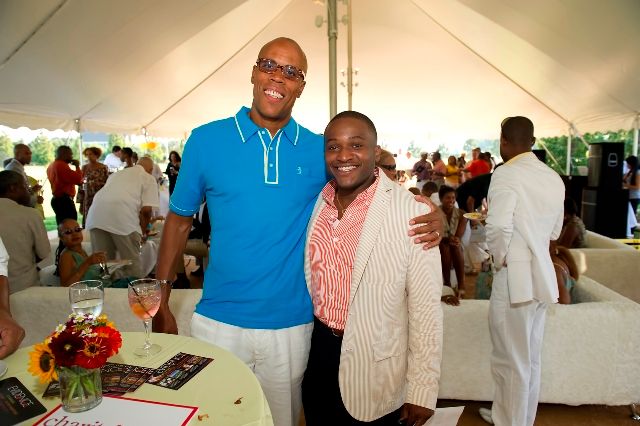 Wendall Scott and Fabrice Armand
Within moments, the audience witnessed first-hand the amazing talents of Brown and his dance troupe as they performed the electrifying "Ife My Heart," a signature piece for the company which was built as the journey of three families to one destination: a place where the heart was open. Ife My Heart was originally commissioned and performed by the Alvin Ailey American Dance Theater in 2005.
Evidence Dancers perform 'Ife My Heart'
Susan L. Taylor embraces Ronald K. Brown after the performance.
The conclusion of the 15 minute piece was met with thunderous applause and a standing ovation. A smiling but breathless Brown, humbly thanked the assembled guests and introduced the company including Waldean Nelson, Lilli Anne Tai, Clarice Young, Annique Roberts, Tislarm Bouie and Associate Artistic Director Arcell Cabuag.
Fabrice Armand then took to the stage to begin the spirited live auction. Bidding was feverish for two extraordinary lifestyle experiences. Sonya Pankey snared the week at the exclusive Palmas del Mar in Puerto Rico donated by Lawrence S. Campbell, San Juan, P.R. & Ethan Shapiro & Associates LLC. Annette Mitchell scored the extraordinary lifestyle experience which included his and hers Baume Mercier watches and Rebecca Minkoff travel bags as well as four days in Barbados at the exquisite Crane Residential Resort, with airfare and tickets to the international Food Rum and Wine Festival courtesy of Barbados Tourism Authority. An online auction of luxury goods and one-of-a-kind experiences organized by Tybie Etoy Dotson was featured on CharityBuzz.com.
As is tradition and in keeping with their sense of giving back to the community, Ronald K. Brown and members of his troupe will conduct a master class for the students of the Hayground School this fall. Brown's technique master class draws on the Evidence vocabulary, which is a fusion of dance forms from the U.S., the Caribbean, and West Africa. The students will learn exercises that focus on alignment and increasing ones' physical range.
In just a few years, On Our Toes in The Hamptons, the dream of Susan L. Taylor and Reginald Van Lee Sr., V.P., Booz Allen Hamilton to bring Black culture to the Hamptons, has evolved to become the only continuous, major African-American cultural event of the Hamptons summer season.
Corporate sponsors included Belvedere Vodka, Booz Allen Hamilton, FedEx and Prudential. Sponsors included Zaid Abdul-Aleem, Monica Azare, Khephra Burns and Susan L. Taylor, Dr. Jeanine Downie and Michael Heningburg, Joanne E. Hill, Loida N. Lewis, Gail Monroe-Perry, Larry Satterfield, Jennifer Streaks, Reginald Van Lee, Dr. Ancy Verdier and Verizon.
Event sponsors included Peg Alston & Burton Willis, Chandra Anderson, Twenty-First Century Foundation, Monica Azare, Darria L. Ball, Tinika M. Brown, Esq., Valerie S. Brown, Alicia Bythewood, Judy Chambers, Doreen Chambers-Monrougie, Glenn E. Davis, Allen Harvey, Luisa Herrera & Manny Garcia, Shaun Massiah & Deirdre Stanley, Leila Schultz & Jack Walsh of BRIC Arts Media Bklyn, and Paula Taylor and Joseph Welsh. The Business Development Committee included Fabrice Armand, Christy Bareijsza, Tina Bernard, Keenan Davis, Dr. Erika Faust, Latoya Henry, Demetria Lucas, Ron Myers, and James Nixon.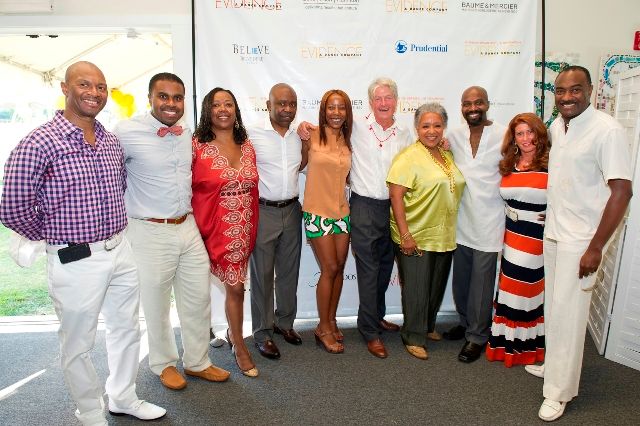 Elliot Satterfield, Dr. Ancy Verdier, Gail Monroe-Perry, Larry Satterfield, Joanne Hill, Honoree Jon Snow, Honoree Lola C. West, Ronald K. Brown, Andrea Hoffman and Reginald Van Lee.
For more information about Evidence, A Dance Company visit
www.evidencedance.com
.
Photos by Kurt Leggard