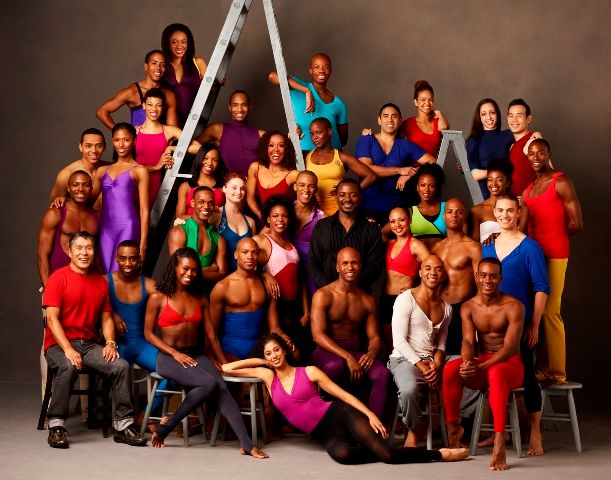 Alvin Ailey American Dance Theater's Artistic Director Robert Battle, Associate Artistic Director Masazumy Chaya and Company members. Photo by Andrew Eccles
Tickets Now on Sale for Five-Week Series of Performances that Reach Back into Ailey Tradition and Stretch Out in New Directions with a Diverse Array of Premieres and New Productions
September 6, 2011 — Led by Robert Battle in his inaugural season as Artistic Director, Alvin Ailey American Dance Theater will return to the New York City Center stage from November 30, 2011 to January 1, 2012 for the 40th consecutive year, following a historic restoration and modernization of the landmarked building. Today, the full schedule was announced for a five-week series of performances that will showcase the brilliant artistry and passionate spirit of Ailey's extraordinary dancers in a series of premieres and new productions that extend the vital legacy of Alvin Ailey (1931-1989) in exciting new directions.
The November 30th Opening Night Gala Benefit, with proceeds going to support Ailey's innovative educational and training programs for young people, will kick off the season with the company premiere of Paul Taylor's classic Arden Court (1981), marking the first time a work by this American modern dance master joins the Ailey repertory.
Bold hip-hop choreographer Rennie Harris will debut Home, a new work set to a soul-lifting score of gospel house music. The work is inspired by stories submitted to the "Fight HIV Your Way" contest of people living with or affected by HIV, an initiative of Bristol-Myers Squibb. Alvin Ailey American Dance Theater will present the world premiere on a day of major significance, December 1st, both World AIDS Day and the day Alvin Ailey passed away from the disease 22 years ago.
Over 20 works will be presented during the five-week season, including classics and favorites such as Robert Battle's The Hunt, Ulysses Dove's Urban Folk Dance, and Alvin Ailey's Cry. Mr. Ailey's beloved masterpiece Revelations, an American classic acclaimed as a must-see for all and recognized by a U.S. Senate resolution, will be performed with live music, including New Year's Eve, and with an expanded cast of 50 on other select dates. A special 2011 season highlights finale program will bring an exciting finish to the season on January 1st.
"This is the beginning of a new adventure—for the company, for me and for our audiences around the world," stated Robert Battle, who became Artistic Director on July 1, 2011. In addition to the season, Mr. Battle also previously announced the inauguration of a major new program of the Ailey organization, the New Directions Choreography Lab, designed to serve the entire field of dance. Assisting choreographers in developing their work, the program will grant resident fellowships to four emerging and mid-career artists each year, offering a stipend, the use of gifted dancers from The Ailey School, creative mentorships and rehearsal time at The Joan Weill Center for Dance. Unlike other programs that require the production and presentation of a final performance or commission, Ailey's new lab will enable choreographers to focus solely on the process of choreography as a creative experience, free from all restricting expectations or deadlines.
Amplifying his plans for the Company, Mr. Battle emphasized, "We are going to reach back and try to touch some of the vital sources of Alvin Ailey's creativity, but also stretch forward into new possibilities that develop his legacy. For the millions of people who love Alvin Ailey's work and have been inspired by the great achievements of Judith Jamison and our unsurpassed dancers, I hope this season will be just what the company has always delivered: a revelation."
Tickets starting at $25 go on sale September 6th and can be purchased at the New York City Center Box Office, through CityTix® at (212) 581-1212 or online at
http://www.alvinailey.org/
or
http://www.nycitycenter.org/
. Prudential Financial and Wells Fargo are co-sponsors of Alvin Ailey American Dance Theater's New York Season.