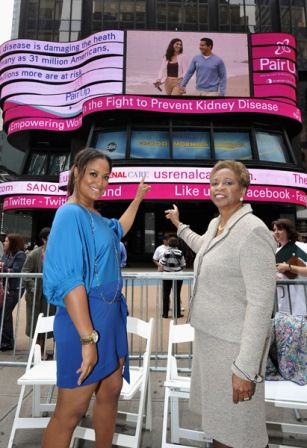 Campaign Empowers Women in the Fight to Prevent Kidney Disease
NEW YORK - On September 22, 2011, Laila Ali lit up the ABC Billboard in Times Square to announce the launch of a new campaign with the American Kidney Fund called Pair Up. The campaign empowers women to protect themselves and their loved ones from kidney disease. Pictured with Laila is American Kidney Fund President and CEO LaVarne A. Burton who shares, "Women are critically important in the fight against kidney disease because they tend to be the primary healthcare decision-makers for their families. Through the Pair Up campaign, we hope to empower women to become more effective drivers of kidney disease awareness and prevention for themselves and their loved ones who may be at risk."
African Americans are four times more likely to develop kidney failure than Caucasians.* This can be attributed to being diagnosed with kidney disease too late, when treatment is not as effective.
Laila's family, like millions of others, has dealt with the leading causes of kidney disease – high blood pressure and diabetes. That's why Laila joined the campaign – because kidney disease has impacted her family and she wants to help spread the word. Awareness and education are key in the fight against this disease.
Among the organizational partners with Pair Up is the Alpha Kappa Alpha Sorority, Inc. To learn more about the campaign, view Laila's PSA
HERE
, and visit the website at
www.PairUpNow.org
to take the Pair Up Challenge.
*National Institutes of Health
Source: Press release/Photo: Wireimage