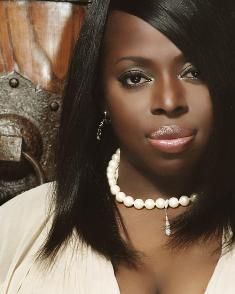 The Black is Beautiful Tour featuring Grammy-award winning songstress Angie Stone along with singing sensation Raheem DeVaughn, will serve as the official concert for the 23rd Annual Bank of America Football Classic weekend in Atlanta on September 23, 2011. A portion of the concert proceeds will be donated to the 100 Black Men of Atlanta to support Project Success.
Angie Stone, who has recorded with everyone from Lenny Kravitz, to Musiq Soulchild and Prince, is excited to be a part of this legendary weekend. "I love what the Bank of America Atlanta Football Classic represents," says Stone. "I welcome the opportunity to use my gifts to benefit the 100 Black Men of Atlanta's Project Success Program." Raheem DeVaughn had an epiphany early in his college career at Historically Black College Coppin State University about the power of music. "I am thrilled to be part of a weekend that raises money to inspire young people to pursue their dreams; something that I always want my music to do," says DeVaughn.
This year's football classic matches up the FAMU Rattlers against the Southern University Jaguars and will kick off on Saturday, September 24, 2011 at the Georgia Dome at 3:30 pm. Due to the historical popularity of the game as well as the number of FAMU and Southern University alumni in the Cascade area, the game is expected to have significant support from Cascade residents.
The concert, which will be hosted by comedian Lightfoot, starts at the Atlanta Civic Center at 8 PM. Ticket prices are $80 (sold out), $55, $45 and $25. Tickets may be purchased at the following Ticketmaster link:
http://bit.ly/lOx5w4
. As part of the concert promotion, the Islands of the Bahamas will be presenting one lucky concert winner with a 4 day/3 night trip to the Paradise Island. For group ticket discounts, call 770- 881-8500 or email:
mstix@bellsouth.com
.
The mission of 100 Black Men of Atlanta, Inc. is to provide support and improve the quality of life for African Americans. It is one of the city's strongest African American volunteer organizations focused on education, enrichment and empowerment. The organization's community work is performed through its flagship program, Project Success, a mentoring and academic support initiative with the following components: The 100 Academy, Mentoring, the 100 Resource Learning Center, the Collegiate 100, The Best Academy at Benjamin S. Carson, the Project Success Robotics Alliance, Family & Youth Empowerment Programs and Health & Wellness Initiatives. To learn more about Project Success visit
http://www.100blackmen-atlanta.org/
.
Source: Press release