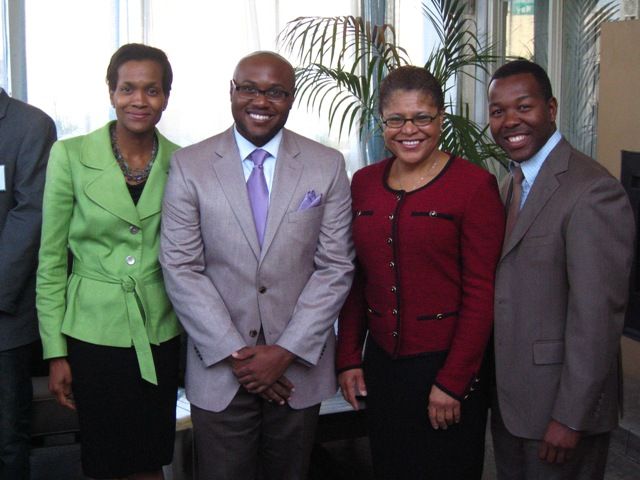 Pictured: Kafi D. Blumenfield, President & CEO of the Liberty Hill Foundation; Nii-Quartelai Quartey, Principal Consultant/CEO of The Sankofa Group for Civic Engagement; The Honorable Karen Bass, Congresswoman and Liberty Hill Board member; and Darryn A. Harris, Managing Partner of The Sankofa Group for Civic Engagement
Event to Benefit Liberty Hill Foundation's Uplifting Change Initiative; Co-chaired by Fran Jemmott, Principle & CEO of Jemmott Rollins Group and Amelia Williamson, Interim President of Magic Johnson Foundation
LOS ANGELES - On Sunday, October 9, 2011, Congresswoman and Liberty Hill Foundation Board Member Karen Bass will host
'Uplifting Change
,' a fundraiser for the foundation's Uplifting Change Initiative that was created in 2009 to grow African-Americans' tradition of giving, and to inspire current and new philanthropic leaders in Los Angeles to support social justice. The initiative launched with a series of salons and conversations followed by a transformative summit in February 2010, that convened 150 African-American leaders including a rich cross-section of African-American L.A.
The goal of the summit was simple: to inspire local African-American leaders to harness their power. The result was strong - individuals who had never considered themselves philanthropists developed their first strategic giving plans. Other participants organized "giving circles." Pastors led conversations about how to be more strategic with their resources to address the problems in our communities. The 2nd annual summit took place in February of 2011 and deepened their focus on implementing practical philanthropic strategies. Planning is currently underway for the 3rd summit, that will take place in February 2012.
Tickets for 'Uplifting Change' are $75 for individuals and $100 for couples. The event is also supported by a host committee of Liberty Hill's Uplifting Change supporters: Tanya Acker, Kibi Anderson, Judy Belk, Charisse Bermond, Shawna Charles, Brickson Diamond, Willis Edwards, Ange-Marie Hancock, Marqueece Harris-Dawson, Yvette & Reggie Ingram, Vincent Jones, Monique Kelly, Assemblymember Holly Mitchell, Connie Parker, Nii-Quartelia Quartey, Dawn Randall, Brenda & Virgil Roberts, Effie & Ed Sanders, and Susan Sandler & Steve Phillips.
For more information and to purchase tickets, visit
https://www.libertyhill.org/upliftingevent
.
About the Liberty Hill Foundation:
Over the last 35 years, Liberty Hill Foundation has invested more than $41 million in community organizing at the frontlines of change in Los Angeles, including early investments in some of South L.A.'s most important community organizing and advocacy groups including FAME Renaissance, the Community Coalition and SCOPE. Currently, Black Women for Wellness, The Black Worker Center, Peace4Kids and other organizations serving L.A.'s African-American community are being strengthened by Liberty Hill grants and training. Visit the website at
http://www.libertyhill.org/
.
Photo courtesy of Liberty Hill Foundation