By Stacey Trammel
Guest Contributor, BlackGivesBack.com
John Bankston. Barkley L. Hendricks. Shinique Smith. Hank Willis Thomas. These names may not be recognizable yet to those outside of the African American art world like Jacob Lawrence, Gordon Parks, and Romare Bearden, but
30 Americans
, the traveling exhibit premiering at the Corcoran Gallery of Art in Washington, DC on October 1, 2011, seeks to give these contemporary artists an even wider audience.
A total of thirty-one Black artists whose works are owned by the Rubell Family Collection in Miami are showcased, including "emerging" and "rockstar" names such as Jean-Michel Basquiat, Nina Chanel Abney, David Hammons, Lorna Simpson, Carrie Mae Weems, and Kehinde Wiley. The show, a visual array of paintings, photography, sculptures, and mixed media, seeks to explore "how each artist reckons with the notion of black identity in America, navigating such concerns as the struggle for civil rights, popular culture, and media imagery" says Corcoran curator Sarah Newman.
Don and Mera Rubell, world renown art collectors, envisioned the concept of
30 Americans
in 2008 after being influenced by input from curators and generations of Black artists, as well as exhibitions including
Freestyle
at the Studio Museum in Harlem and
Black Is, Black Ain't
at The Renaissance Society, The University of Chicago.
During the exhibit's press preview on September 28th, Fred Bollerer, director and president of the Corcoran, highlighted the importance of this showing to the gallery, and that bringing
30 Americans
took 18 months of planning. It will also set a precedence at the museum in its amount of special programming and events.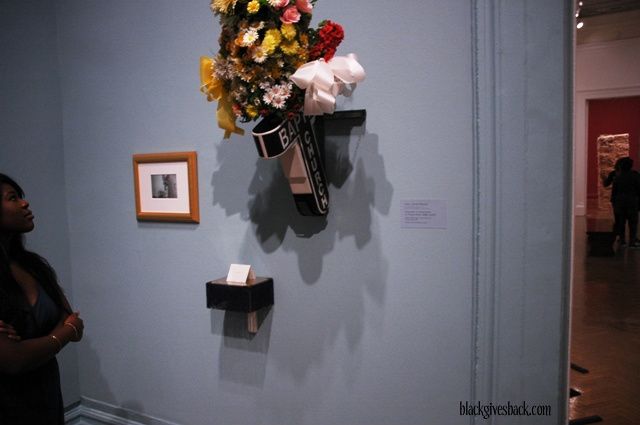 Kerry James Marshall, Souvenir: Composition in Three Parts, 1998-2000. Plastic, glass, paper, wood, steel and framed video still.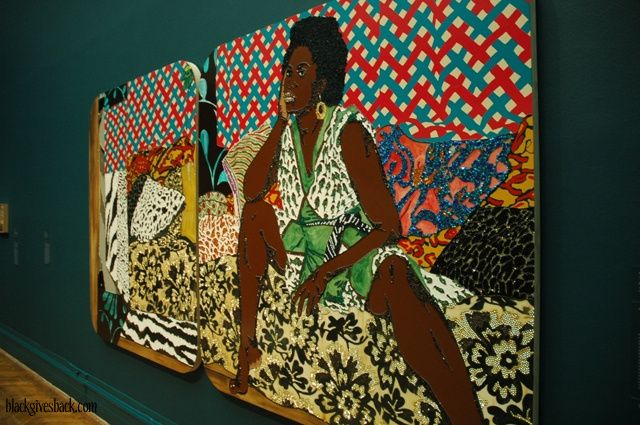 Mickalene Thomas, Baby I Am Ready Now, 2007. Acrylic, rhinestone and enamel on wooden panel.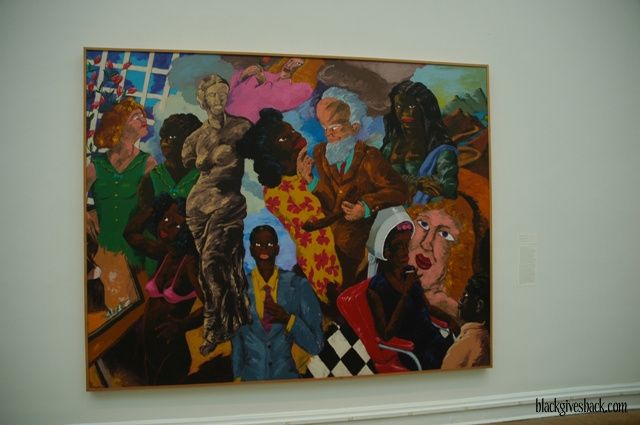 Robert Colescott, Pygmalion, 1987. Acrylic on canvas.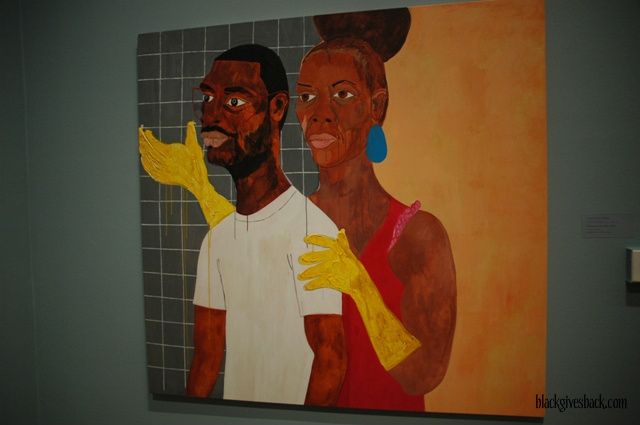 Nina Chanel Abney, Khaaliqua & Jeff, 2007. Acrylic on canvas.
Speaking on some of the exhibit's themes, Henry Thaggert, chairman of the
30 Americans
Advisory Committee and recently appointed Corcoran board member, shared with Black GivesBack (BGB) that the works are not just "about our own struggles, African American struggles, but incorporate everyday (concepts) about romantic love and pride."
Thaggert, a well known art aficionado who gained an appreciation of the arts at a very early age, went on to say it is "unusual to see high quality work by African Americans in a major museum that is not just photographs or paintings…materials that people may never have thought of as art objects that are packed with conceptual and intellectual ideas" such as Leonardo Drew's towering "Untitled #25" cotton and wax display.
John Bankston, whose oil paintings hang in the San Francisco Museum of Modern Art and the Studio Museum in Harlem, was one of the artists attending the press preview. He shared with BGB that he hopes through the exhibit "people can see there are numerous ways to approach making art" and that it "will encourage young African Americans, or African Americans in general, to explore being visual creators."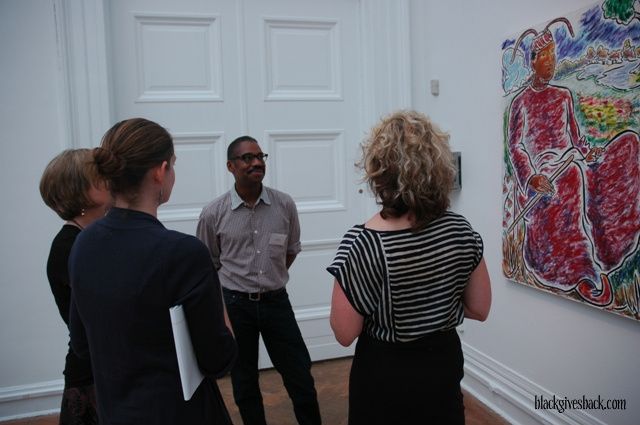 Bankston discusses his oil on linen piece "At The Crossroads."
Shinique Smith, a Brooklyn, NY artist with two pieces in the current reiteration of the collection, discussed with BGB how the Rubells personally connected with those whose works are represented and her process for creating the beautifully sculpted "Crone-Huntress." In addition to
30 Americans
, her art has appeared in selected solo and group exhibitions in the United States and Europe.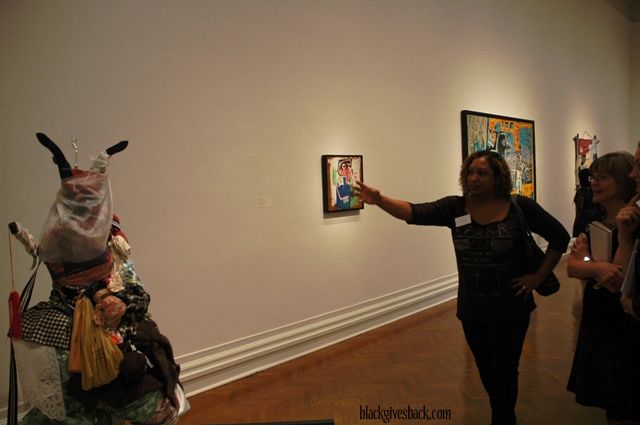 Smith shares her inspiration and method for creating "Crone-Huntress," a combination of wool, fabric, and mixed media.
Another artist at the press preview was Hank Willis Thomas, whose 'Strange Fruit' exhibit of twelve new, thought provoking photographs is premiering alongside
30 Americans
. His works were included in
Frequency
and
Black Is, Black Ain't
and are housed in the permanent collection at The Museum of Fine Arts in Houston, among others.
Thomas speaks to art students about Strange Fruit.
In addition to the exhibit, the museum is presenting Gordon Parks: Photographs from the Collection through January 16, 2012. Included is his iconic photo "American Gothic" and other well known images.
To learn more about
30 Americans
, running through February 12, 2012 at the Corcoran, read artist bios, and find out about special programming and admission costs, visit
http://www2.corcoran.org/30americans/
.
Photo credit: Stacey Trammel for BGB