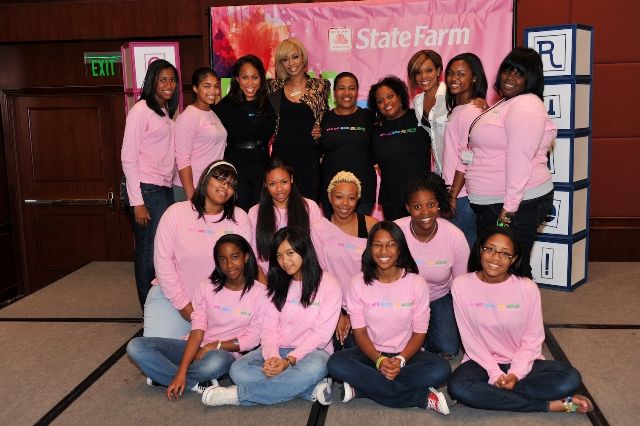 Starting third from left: Marjorie Harvey, President of the Steve and Marjorie Harvey Foundation; recording artist Keri Hilson, State Farm's Pam El, actresses Sherri Shepherd and Wendy Raquel Robinson are pictured with metro Atlanta girls at the 2010 Girls Who Rule the World Mentoring Weekend.
The Steve & Marjorie Harvey Foundation set to host 2011 Mentoring Weekend for metro Atlanta girls
Applications are now being accepted for the 2011 Girls Who Rule the World Mentoring Weekend hosted by the
Steve and Marjorie Harvey Foundation
to be held in Stone Mountain, Georgia on October 28-30th. The deadline to submit applications has been extended to September 12, 2011.
One hundred young girls from the metro Atlanta area will be selected to attend the three-day two-night program, designed to enhance the development of young girls and provide a forum to expose them to the benefits and the importance of positive self image, responsible personal conduct, respect for self and others via educational achievement, cultural enrichment and mentoring.
The weekend will feature nationally renowned community and political leaders, corporate and business leaders, entrepreneurs, celebrities, athletes, and media and communication professionals who will provide wisdom and resources that will help guide girls through the importance of financial literacy, balanced nutrition, proper etiquette, positive self-esteem and professional and educational development.
Eligible participants must be girls 13-18 years old. For application requirements and more information, visit
http://girlswhoruletheworld.org/
.
See our highlights from the 2010 Girls Who Rule the World Weekend
HERE
.
Photo credit: Alex Johnson III