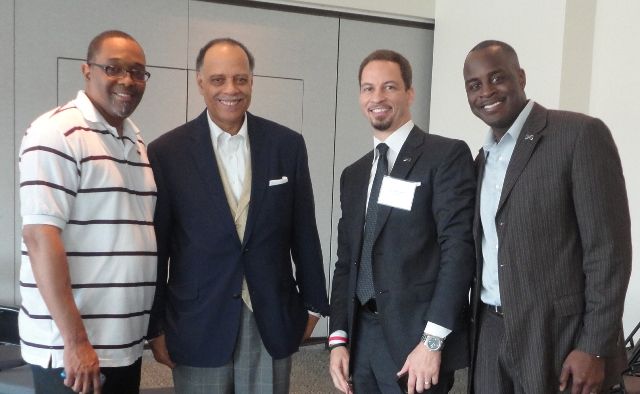 Kenneth Braswell, Executive Director of Fathers Incorporated; Haki Madhubuti, Third World Press; Chris Broussard, ESPN; and Stephen Powell, Executive Director of Mentoring USA attend an event at the Ali Center.
Chris Broussard to represent the efforts of the "Ties Never Broken" Blue Bow Tie Campaign; BlackGivesBack.com joins growing list of media partners
NEW YORK, NY, October 4, 2011– Fathers Incorporated (FI), a national not-for-profit has engaged in responsible fatherhood work on a national and international level since 2004. Recently, the organization began a multi-year cause marketing campaign entitled "
Ties Never Broken
" to raise the visibility of both Responsible Fatherhood and Mentoring. The organization is proud to announce that the U.S. Department of Health and Human Services (DHHS) has awarded Fathers Incorporated $7.4 million (over a 3-year period; contingent on continued funding) to manage the National Responsible Fatherhood Clearinghouse.
"This contract award allows FI to continue this critical work and great efforts of the White House, DHHS/OFA, and the National Fatherhood Initiative," says Kenneth Braswell, Executive Director of Fathers Incorporated. Braswell was recently honored for his work with fatherhood by 100 Fathers, Inc. during the Congressional Black Caucus Foundation's Annual Legislative Conference in Washington, DC.
The core of the clearinghouse contract will occur through social marketing and multi-media platforms, traditional communications, and product development. In addition, the contract calls for the support of national federally sponsored events, conferences and other activities.
Other announcements by the organization include the appointment of Chris Broussard of ESPN as spokesperson for the "Ties Never Broken" campaign and
BlackGivesBack.com joining the growing list of media sponsors
.
Broussard shares, "I am excited to serve in this honorable capacity of saving our children. I've spent my life striving to be a responsible father and man; and I find it unacceptable what's happening to our children because of the disengagement of fathers and able bodied men." He continues, "It is our hope to garner the support of other influential men in sports, entertainment, business, and in our faith-based communities to champion our efforts. Particularly those who have played impactful fatherhood roles in television and screen; as well as those who have a passion for elevating the image of responsible fatherhood and family values."
Fathers Incorporated is embarking on several projects in the next two years that include working with Chris Broussard's organization K.I.N.G. to inspire the participation of the faith based community of men; "Power Down," a campaign to encourage parents to acknowledge their children's technology habits and several other forums, events and activities to highlight the importance of father involvement.
For additional information on Fathers Incorporated please visit
http://www.fathersincorporated.com/
and the National Responsible Fatherhood Clearinghouse at
http://www.fatherhood.gov/
.