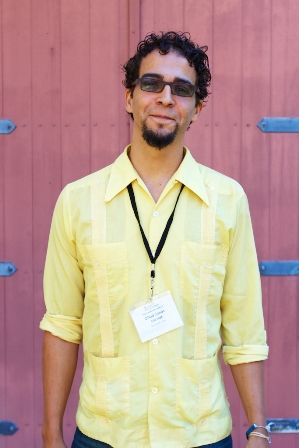 In cities such as Atlanta, Birmingham, Charlotte and Washington, DC, giving circles have been created to harness the collective power of individuals who desire to give back. In the African American community, the concept of collective giving is not new, but giving circles have emerged as a growing movement to harness individuals' time, talent and treasure to benefit causes important to them.
So who is leading this growing movement?
Meet our latest Insider, Chad Jones, executive director of the
Community Investment Network
(CIN). CIN has earned a reputation for inspiring, connecting and strengthening African Americans and communities of color to leverage their collective resources and create the change they wish to see. The organization supports a network of giving circles, providing technical assistance and donor education.
Chad's hire follows the recent tenure of Dionne Lester who co-­founded CIN with her husband,
Darryl Lester
. Upon his hire Chad shared, "Philanthropy can look differently and affect change profoundly in the 21st century, and the Network's expanding number of giving circles and donors of color are indicators of the transformative shifts occurring. I embrace this opportunity to work in concert with CIN's board, members and philanthropic partners as we make leaps and bounds forward, collectively as a catalyst for change in African American communities and across the nation's vast spectrum of communities of color."
Read on to learn more about Chad, the role of CIN in advancing black philanthropy and how your philanthropic social group can get involved.
Hometown
: Denver, Colorado
Education:
University of Colorado at Boulder and Macalester College, majoring in Economics and History
Previous positions
: Program Officer at the New World Foundation and Marguerite Casey Foundation; Consultant. Previous Co-Chair of the Board at Resource Generation which has spawned the "
We are the 1 percent" site,"
and stone circles at The Stone House
Honors/Awards:
Association of Black Foundations Executives (ABFE) Fellow, Coro Fellowship in Public Affairs
As the Executive Director of CIN, what are some goals you want to accomplish?
The mission of CIN states that we inspire, connect and strengthen African Americans and communities of color to leverage their collective resources. Consequently, one of my primary goals is to ensure that I intentionally engage and connect with our own members as the new senior executive of our organization. We are a national organization and it is my plan to conduct national conference calls, as well as make it a priority to visit each member circle as soon as logistically feasible. During that "Up Close and Personal" tour, I plan to listen intently, not only about the concerns, but also about the success stories of each circle.
Thus, I hope to creatively tell more of the stories about CIN members, giving circles and community philanthropy. Philanthropy in communities of color looks different and is less acknowledged even though Blacks and people of color have been doing it since arriving in North America – whether hundreds of years ago during slavery, or those who have come in the second golden wave of immigration since 2000. Undoubtedly, another one of my goals is to publish (through technology) the rich heritage of our families and institutions within the network, which will allow us an opportunity to inspire and strengthen each other.
What skills and education prepared you for this role in your career?
Since we are a membership association, I recognize that we already possess much of what we need within the CIN membership. Mutual aid societies embodied such a spirit 100 years ago. Within CIN, we are keeping such a legacy alive in these first decades of the 21st century. Our people are entrepreneurs, teachers, public servants, gardeners and farmers, leaders in their faith and community. We are veterans and students, too. So, I hope to tap the wisdom that lives within us; in each of our families. Sometimes this will require that I get out of the way, and know when to be silent and listen. We live in a culture that has difficulty with silence, and struggles with active listening – so, I have years of preparation in how to listen. In addition, developing the art of not only asking more questions, but also asking the right questions.
Countless elders and mentors (some of whom have been younger than me) have shared wisdom and support to contribute to who I am today. Professionally, the ABFE fellowship was a tremendous nine-month experience with a group that I viewed as a "black brain trust." Additionally, I sought out professional development experiences by serving on several nonprofit boards. Those learning opportunities have afforded me the best professional development, as I applied lessons about people, institutions, and most notably fiscal responsibility and accountability.
How is CIN helping to advance black philanthropy?
Most giving, or philanthropy, is done by individuals. And in Black communities, historically that generosity has been bestowed upon a family member, neighbor, or church in time of need. We are advancing philanthropy by focusing on social justice and addressing the policy (legal, financial and political) structures impeding Black communities and other communities of color. We engage people at the grassroots level, rather than dictate to people how benevolent they should be or what they should donate. We acknowledge that people know the immediate and systemic needs of their communities' best. So, we listen in order to share eight years of institutional knowledge appropriately.
We are building spaces and places that are predominantly people of color. We offer camaraderie and unity, and are equipped with powerful tools and a robust support system of colleagues. CIN members are strategic, empathetic, and an actively engaged group of people. Young and old.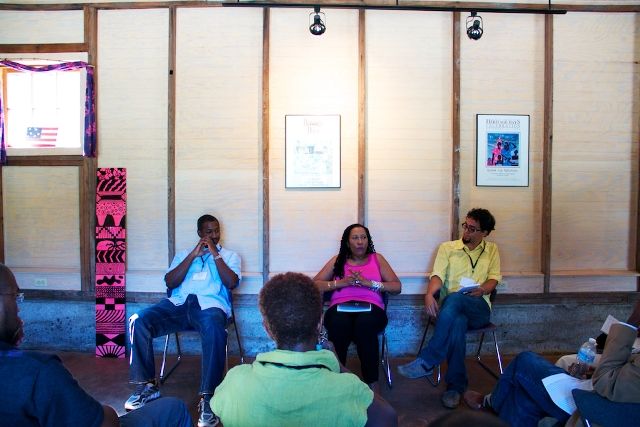 Chad Jones (far right) sits on a panel at CIN's Leadership Summit for giving circles with Charles Lewis (left) CIN Board Chair and Gladys Washington, Program Director of the Mary Reynolds Babcock Foundation on October 1, 2011 at St. Helena's Island, SC.
Giving circles are increasing in popularity as a way to give back. Can you share more about what a giving circle is and how I can join or start one in my community?
A giving circle is a group of people who pool resources to leverage social capital, financial capital and other resources to grow what we, in CIN, call the supply side of philanthropy. A giving circle offers better solutions since members of a circle come from that same community. You can start a circle by organizing a few friends and acquaintances to come together to address solving a common cause or community social need. Thereby, assembling periodically to have a series of discussions to figure out how, when, and where they will their pool resources (financial, social, political capital, etc) and share knowledge and resources in order to collectively have a sustainable impact on their community.
One of our mottos in CIN is "investing our time, talent, and treasure." People of all social classes collectively possess resources that can make a vital contribution to the quality of life for people. This is inclusive philanthropy.
I'm a member of a social group that raises funds and provides resources for organizations in my community. Are we considered a giving circle? If so, how can your organization help to support our efforts?
Absolutely. You very much are a giving circle. The benefits that CIN offers member circles include: a sense of community of Blacks and people of color who are strategically giving back in communities across the country; a menu of institutional knowledge and a dedicated crew who are addressing the challenges of launching, operating, and sustaining giving circles. Furthermore, CIN provides donor education; and travel scholarships to attend CIN events, and other events pertaining to philanthropy and communities of color.
As a result of being a part of our CIN family, we have a shared identity that comes with shared experiences and shared values. A collective identity fosters a sense of trust, connection and interdependence, minimizing the risk that no individual circle faces their challenges alone. CIN provides members with a regional and national perspective to complement their local experience.
What are CIN's upcoming events?
CIN's flagship event each year is our Annual Conference, which will be hosted in Birmingham, Alabama in 2012. However, this Fall 2011, we will launch a series of resources – webinars and blog posts – that are relevant and resonate with our members. Furthermore, each giving circle hosts events locally, such as trainings, monthly get-togethers, and fundraisers based on what they collectively seek to address and accomplish. We are enhancing our communication tools that will enable us to post our content and success stories on the social network sites, e.g., Facebook and of course our CIN website.
Anything else you'd like to share?
A vital research tool that I rely upon is the
Black Worker Report
, published by Steven Pitts. It is my desire that more Blacks and people of color create content and code, rather than just consume it, so that we become more adept at internet research and tech savvy as the internet evolves from web2.0 to 3.0 and beyond. I use sites that are compelling and user-driven like WordPress and Wikipedia (as well as Facebook). I have embraced the latest social media phenomenon, such as Twitter. However, I have used it not only for professional communication, but also for personal use in order to locate 21st century journalists writing about movements for democracy on the Arabian Peninsula, and roti recipes from a Trini cook and blogger.
Consequently, the internet has afforded me an increased flexibility in how I access information and research policy issues. As a result of this technology, I am an avid reader now more than ever. As an economist, I read the stories that highlight fiscal and budgetary policy. In addition, I frequently research the Business section of the newspaper, and study the traits of successful business leaders. Subsequently, this gives me an acute insight and business perspective on leading and managing organizations and people in turbulent economic times. This knowledge has immensely enhanced my approach to managing a nonprofit organization. I endeavor to use my business skills that I have honed over several years to lead CIN into our next dimension of growth and development. Primarily, as an organization that was only established during the first decade of our new millennium, it is amazing to reflect on how vast of an impact that our circle members have had on changing their communities and our world by focusing on where we live.
Visit the Community Investment Network's website at
http://www.thecommunityinvestment.org/
.
Related article: BlackEnterprise.com "
How to Start A Giving Circle
"