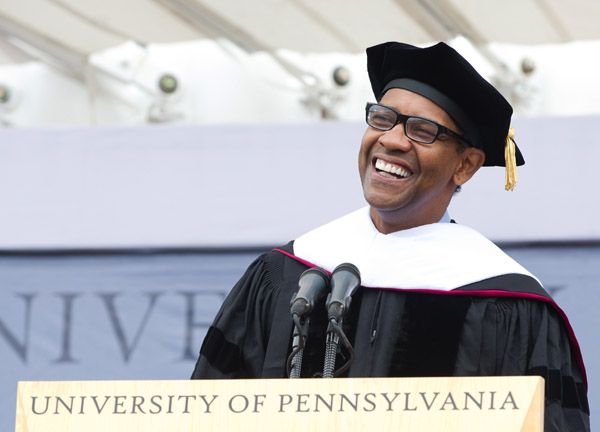 Oscar winner Denzel Washington made news recently for his $2 million dollar donation to his alma mater, Fordham University.
Via NY Daily News: "One lucky Fordham University student may someday follow in a certain actor's footsteps and star in an acclaimed movie like "Glory," "Training Day" or "Remember the Titans." In his first donation to his alma mater, Academy Award-winning actor Denzel Washington has given $2 million to Fordham to endow a Chair in Theatre in his name, and $250,000 to establish a scholarship for an undergraduate studying the craft." Read article
here
.
Photo: Wireimage
Missouri Philanthropists Establish Signature Scholarship Program
Dave and Thelma Steward Announce The Steward Scholars Program
Via the University of Central Missouri: "A $500,000 gift from Dave and Thelma Steward will establish a unique signature scholarship program in the Harmon College of Business and Professional Studies at the University of Central Missouri (UCM). University President Charles Ambrose announced the scholarship program during his inauguration ceremony on campus Oct. 6.
UCM alum Dave Steward (left) with UCM President Charles Ambrose
Ambrose called the new program "extraordinary." He noted that it will serve as a prototype for UCM alumni who want to create a legacy at the university by helping outstanding students achieve their education goals. This includes full-ride scholarships with added benefits such as international experiences and interaction with educators and professionals in their chosen field that go far above and beyond most scholarship programs.
Steward's gift, pledged over five years, establishes UCM's first business group of named scholars. The Steward Scholars Program will provide full tuition assistance for up to five undergraduate students pursuing Bachelor of Science in Business Administration degrees in computer information systems. In addition to the typical four-year curriculum, Steward Scholars also will have unique high-impact opportunities to interact with business leaders and key mentors, attend professional conferences and experience a focused international internship or study-abroad semester.
Steward is a UCM alumnus and founder and chairman of the board at World Wide Technology, based in St. Louis. In 2008, he received the National Urban League's Business Pioneer Award as well as the St. Louis County Economic Council Dr. William D. Phillips Technology Award. He has been voted by "Ebony" magazine among "the 100 Most Influential Black Americans." Mrs. Steward was recently named Variety Children's Charity 2012 Woman of the Year." Learn more
here
.