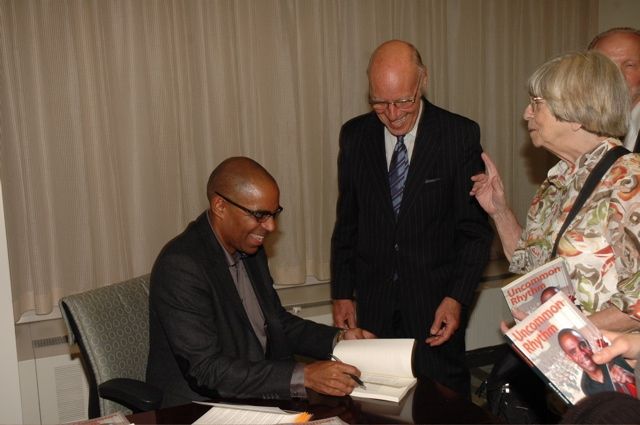 Dworkin signs copies of his newly released memoir, Uncommon Rhythm, at a private book release party on October 11, 2011 in NYC.
Aaron P. Dworkin has been changing the face of classical music for 15 years as the founder of the
Sphinx Organization
, a leading national arts organization that focuses on youth development and diversity in the genre. Named a White House Champion of Change, a former MacArthur Fellow and President Obama's first nominee to the National Council on the Arts, Dworkin has recently released his inspirational memoir,
Uncommon Rhythm: A Black, White, Jewish, Jehovah's Witness, Irish Catholic Adoptee's Journey to Leadership
. The publisher, Aquarius Press states, "
Uncommon Rhythm
is a harrowing yet moving account of Aaron's journey through social isolation and discrimination to found one of the nation's cultural jewels. The book is a tapestry of stirring narrative, precious photos and poignant poems. Aaron is driven by the single vision of "inclusion for all," and hopes that this book will inspire all people who have ever felt like outsiders to nurture their own gifts and make valuable contributions to society."
Branford Marsalis, Grammy-award winning jazz musician shares about the book, "Success is an amazing combination of talent, hard work, and good fortune. Aaron Dworkin is the embodiment of this troika, and his story is quintessentially an American one. As his book shows, he has made the most of opportunities presented to him, and his words show him to be a visionary in the promotion of American culture to its young citizens.
Uncommon Rhythm
is a very informative, and inspirational read."
On Tuesday, October 11th, a private book release party was held in New York City hosted by The BEAT of Viacom; Andrea Hoffman, Founder of Diversity Affluence, Blair Smith, Tara Shaw and Christal Jackson. Notables in attendance included Viacom Executive Marva Smalls, Executive Vice President of Public Affairs, Chief of Staff for Nickelodeon, MTVN Kids and Family Group and Executive Vice President of Global Inclusion Strategy, MTV Networks; Toby Tompkins of the 21st Century Foundation; John Stokes of Marvel Comics and Entertainment Attorney Howard Hertz.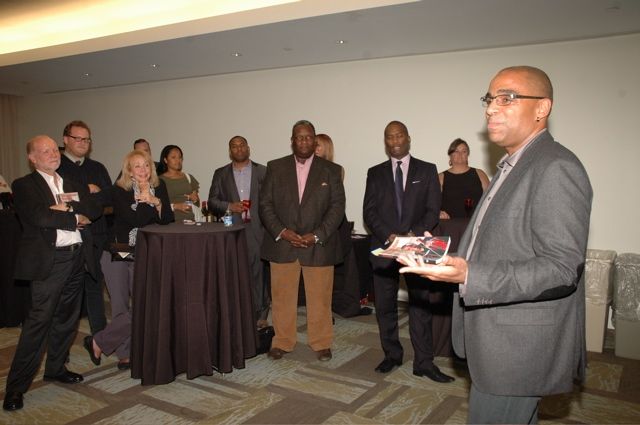 Dworkin with event host Andrea Hoffman of Diversity Affluence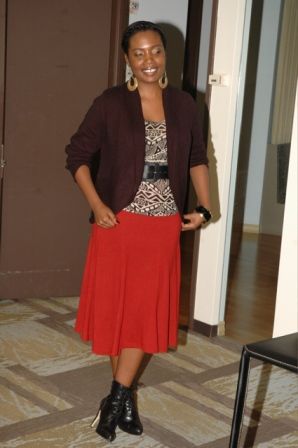 Event host Tara Shaw of Viacom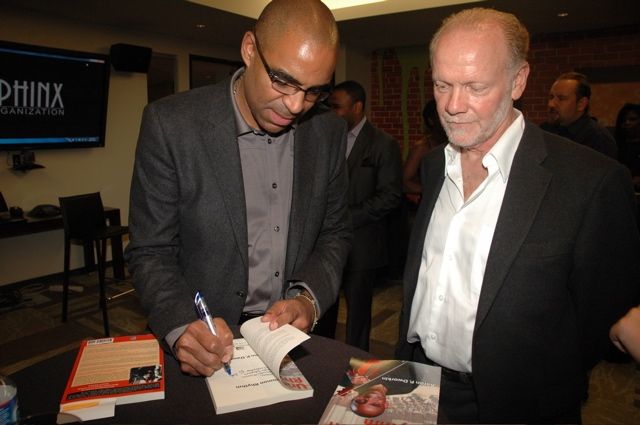 Dworkin signs a copy of his book for attorney Howard Hertz
Uncommon Rhythm
is available at
www.aquariuspressbookseller.net/uncommonrhythm.html
, Amazon.com and your local bookstore. For bulk copies or to inquire about ebooks for your school, email
AquariusPressBooks@gmail.com
. To learn more about Aaron, visit
www.aarondworkin.com
.
Photo credit: Stephen Knight