NEW YORK, NY - On October 13, 2011, Tamara Harris Robinson, Director of UNCF, Vice President of the Robinson Harris Foundation and chair of UNCF's "A Mind Is..." Gala welcomed special guest Dennis Walcott, New York's Education Chancellor for a private gala preview cocktail reception, "Changing the Face of Education." The reception, held at the Harvard Club, raised funds to help support students attending HBCUs. Pictured are Dr. Michael L. Lomax, Ph.D., President and Chief Executive Officer of UNCF and Tamara Harris Robinson.
Philanthropists, politicians and executives mingled as they learned about UNCF's mission and enjoyed a discussion about the changing face of education from New York Education Chancellor, Dennis Walcot, Dr. Michael L. Lomax, Ph.D and Tamara Harris Robinson. Attendees enjoyed an exciting evening and learned exactly how the UNCF intends to raise funds among young philanthropists to provide scholarships to more than 20 million students by 2012.
On Thursday, March 1, 2012, UNCF will host their annual "A Mind Is…" Gala at the Marriott Marquis in New York. Among last year's honorees was Vernon E. Jordan, Jr., advisor to former President Bill Clinton and civil rights leader who received the UNCF Lifetime Achievement Award. Previous attendees have included New York notables and celebrities within entertainment, education and philanthropy.
Funds raised at the UNCF gala will help to fund over 10,000 scholarships throughout the year by supporting the education of more than 55,000 students at 38 UNCF-member historically black colleges and universities.
In addition to supporting HBCU member colleges, UNCF provides support to students at approximately 900 colleges across the country – including Harvard, Princeton and MIT. Ticket and sponsor prices are $100,000 Chairman's Circle Sponsor; $50,000 Official Sponsor; $25,000 Major Sponsor; $10,000 Supporting Sponsor; and $1,000 Individual ticket(s). For ticket information, contact the UNCF Dinner Benefit Office at
uncf@hgnyc.com
or 212-843-1751.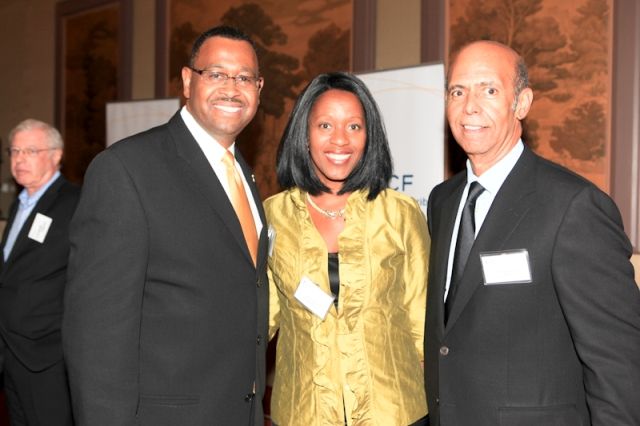 David Campbell, Vice President of Operations, American Airlines; Caronet Dunn, Account Sales Manager, American Airlines and Dr. Lomax attend the "Changing the Face of Education" Gala Preview Cocktail Reception.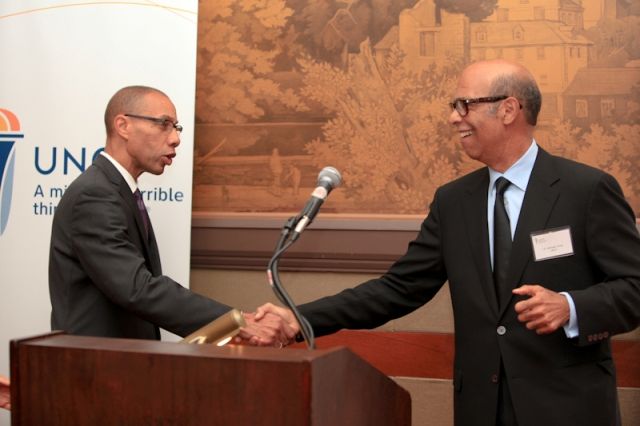 Dennis Walcott and Dr. Lomax
For more information, visit
http://www.uncf.org/
.
Photo credit: Regina Flemming/Regina Flemming Photography