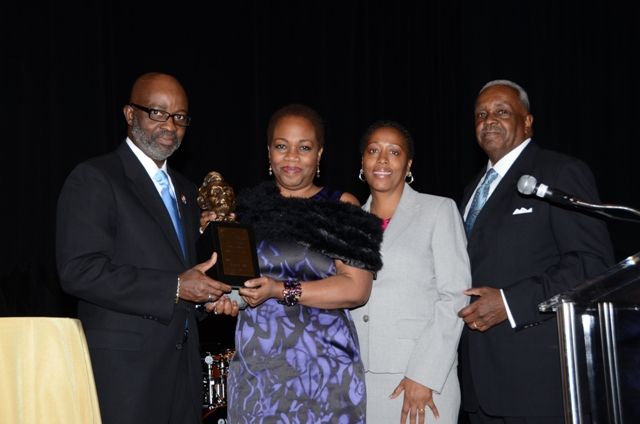 Katey Assem, Chairman of the Board of Trustees; Regina Taylor, Actress; Melanie Miller, Director of Child, Youth and Adult Services; Zirl S. Smith, President and Chief Executive Officer, Abraham Lincoln Centre
By Sandra C. Davis, Chicago Contributor
Chicago, IL - On Friday, October 21, 2011 a diverse mix of community activists, Hollywood elite, media legends, politicians, leading business and philanthropy executives attended the Abraham Lincoln Centre Annual Humanitarian Awards Dinner at the Fairmont Hotel Chicago to celebrate actress/playwright/director/activist Regina Taylor and Chicago's own Jennifer Hudson.
Master of Ceremonies, Art Norman, and renowned news anchor started the evening by giving a brief overview of the 106-year history of service that the Abraham Lincoln Centre (ALC) has had in the historic Bronzeville community. Katéy Assem, ALC Chairman of the Board of Trustees, set the tone for the night when he expressed his sentiments and echoed the ALC Awards Dinner theme: "The most valuable gift is service! Making a Difference to Last a Lifetime!" When honoree Regina Taylor stepped to the podium to accept the Abraham Lincoln Centre Humanitarian Award, she gave an inspiring acceptance speech. "I come from strong women who had visions for themselves, their families, and their communities. These women gave back…You can get an award for what you do for a living. Or, you can get an award for being the best person you can be," said Ms. Taylor.
Jennifer Hudson, actress/singer and founder of The Jennifer Hudson Foundation in honor of Julian King, was given special recognition for her commitment to service and her community. Last year, Ms. Hudson's organization led a toy drive that benefited hundreds of children on behalf of the Abraham Lincoln Centre. Ms. Hudson gave her acceptance speech via a pre-recorded video. President and CEO of ALC, Zirl Smith, told the award attendees that the Abraham Lincoln Centre cannot do this work alone. "We need more people to give to us, so we can give to our community," said Smith. After the awards presentation, in the tradition of great soul singers like Chaka Khan and Anita Baker, Terisa Griffin sang from her heart.
Abraham Lincoln Centre Dinner Guests
Dinner Guests
About the Abraham Lincoln Centre (ALC)
For over 100 years, the Abraham Lincoln Centre (ALC) has served communities on Chicago's south side providing programs for children, teens, adults, seniors and people with mental and developmental service needs.
http://abelink.org/
Photo credit: Jennifer Girard Photography