Multi-Platinum Recording Artist Ne-yo and National TV Host/NYC Radio Personality Egypt Sherrod celebrate the season of giving
Egypt Sherrod presents 2nd Annual Egypt's Give Back Tour: Charity Coat & Toy Drive
NEW YORK, NY - National TV Host/New York City Top-Rated Radio Personality and Philanthropist, Egypt Sherrod, continues to spread holiday cheer to the tri-state area's residents who are in need the most by embarking on the 2nd Annual "Egypt's Give Back Tour" taking place from November 28-December 3, 2011.
Created in 2010 as the inaugural activity of the non-profit, Egypt's Cares Family Foundation, Egypt's Give Back Tour is a 6-day coat, toy, and fundraising drive. The goodwill tour will be anchored by a daily 5-hour radio live broadcast originating from locations in Brooklyn, Bronx, Harlem, Queens, Newark, NJ, and Plainfield, NJ (heard locally via 107.5 WBLS-FM and worldwide via WBLS.com). With the support of the public last year, Egypt's Give Back Tour received thousands upon thousands of coat and toy donations for New York Cares, Jersey Cares, Hudson Cradle, and The Children's Aid Society.
"The goal for the Egypt's Give Back Tour is to inform the public of how we all have an opportunity to make a difference. Something as small as a gently worn or unused coat or a new toy brought someone happiness for the holidays. I thank the public for responding to the call of action and look forward to this years' Egypt's Give Back Tour being even more of a success!," says Egypt.
Egypt's Give Back Tour is scheduled to take place from Monday, November 28-Saturday, December 3, 2011 from 10 am-3 pm at the following locations:
Monday, November 28th-QUEENS, NY
Metro PCS-16201 Jamaica Ave., Queens, NY 11432-(718) 297-6727
Tuesday, November 29th-HARLEM, NY
Hue-Man Bookstore-2319 Frederick Douglas Blvd, New York, NY 10027- (212) 665-7400
Wednesday, November 30th-BROOKLYN, NY
Carver Bank- 1281 Fulton Street, Brooklyn, NY 11216-212-360-8887
Thursday, December 1st-BRONX, NY
Metro PCS- 2901 3rd Ave. (corner of 151st St.), Bronx, NY 10455-(718) 926-9386
Friday, December 2nd-NEWARK, NJ
The Spot Lounge- 45 Commerce Street, Newark, NJ 07102- (973) 848-9400
Saturday, December 3rd –PLAINFIELD, NJ
Two Fish Five Loaves-113 Watchung Avenue, Plainfield, NJ 07060 (908) 222-2000
For more information on Egypt's Give Back Tour 2011, please visit
http://www.egyptcares.org/
, or follow her on Twitter @EgyptSaidso and @EgyptCares.
Multi-Platinum Recording Artist Ne-Yo to Host Annual Compound Foundation Giving Tour
The Boys and Girls Clubs joins R&B Superstar Ne-Yo and The Compound Foundation to celebrate and bring joy to children of the foster care system
NEW YORK, NY -- Boys and Girls Clubs of Las Vegas, Chicago, Boston and Washington D.C. serve as the sites for The Compound Foundation's Annual GIVING TOUR, a celebration of giving. R&B superstar Ne-Yo, founder of The Compound Foundation, will kick-off the 4-city tour, highlighted by gifts provided by Toys for Tots, books, clothing and meals for 3,000 area children ages 3-18. The Compound Foundation, the Boys and Girls Clubs and its partners are working to drive community awareness and action as part of its campaign to benefit children in foster care and group homes. In addition to being one of the most anticipated events of the year, this Giving Tour will also serve as a platform to raise awareness for two important organizations, The Compound Foundation and The Boys and Girls Club of America.
"We are bringing the magical experience of Christmas to children that otherwise might not have an opportunity to experience it. I love this time of year and can't wait to see the wonderment in the eyes and the smiles of joy on the faces of the children as they come out and share in the holiday festivities," said Loraine Smith, President of The Compound Foundation.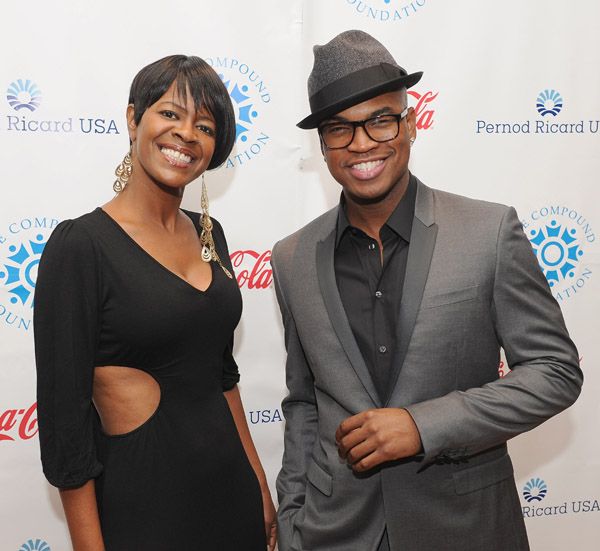 Loraine Smith, President, Compound Foundation with son, Ne-yo at a fundraiser benefiting the foundation in September 2011.
"The Giving Tour is rooted in our commitment to uplift youth growing up in the welfare system within underprivileged communities. The Christmas season is all about giving of yourself - that's the true meaning of Christmas. Helping those that are less fortunate than ourselves – that's what this time of year is all about" says Ne-Yo. For the second year, Angela and Vanessa Simmons will join the tour, taking photographs with the children and distributing products from their Pastry line.
The four-city celebration tour schedule is Las Vegas on Wednesday, December 7th; Chicago on Thursday, December 8th; Boston on Friday, December 9th; and Washington D.C. on Sunday, December 11th. The events are not open to the public.
About The Compound Foundation
The Compound Foundation was founded in 2007 by Shaffer "Ne-Yo" Smith and his business partner Reynell Hay to enhance the well-being of youth growing up in foster care and group homes. The Foundation's goal is to support bright futures for young people by helping them to forge healthy relationships, pursue education and training, and realize their dreams. For additional information visit:
http://www.compoundfoundation.org/
.