Arva R. Rice, President and CEO of the New York Urban League, was joined by "The HBCU Experience" panelists, who are all HBCU graduates. (Left to right) Simon Obas, Chistian Elloie, Arva Rice, K. Foxx, Ian Davis, Antoinette Miller
Over 60 Historically Black Colleges and Universities (HBCUs) Offer Fee Waivers, On-site Admission and Scholarships
NEW YORK, NY - New York City's Riverbank State Park drew a huge crowd of high school students on November 12, 2011. They weren't there for a concert or to spend the day at the ice skating rink. They were there for their future. Over 2,500 prospective college students and their families converged at the park to take part in the New York Urban League's (NYUL) 25th Annual HBCU Fair.
As tuition costs continue to rise, exploring college options for many has become cost prohibitive. For over two decades, the NYUL has leveraged their relationships with the HBCU community to bring schools and students together. Representatives from over 50 schools, including Hampton University, Howard University and Spelman College offered guidance to students with questions about their choice of majors, the application process and more.
The schools remain committed to assisting students with aid to ease the financial burden and Fair attendees applied for scholarships and application fee waivers, and completed the on-site admission process for schools of their choice. At last year's NYUL HBCU Fair, scholarships totaling $528,500 were awarded, participating schools waived application fees of $37,765, and 161 students were accepted on-site.
This year's Fair kicked off with a panel discussion on The HBCU Experience, where HBCU graduates shared their experiences and insight with the audience.
"I am always inspired by the students who attend the HBCU Fair each year. We are so honored to be able to provide New York City's students with the opportunity to connect with schools that would otherwise be out of reach. We are committed to providing the leaders of tomorrow with access to quality education," stated Arva Rice, President and CEO of the New York Urban League.
After the step exhibition by the sisters of Zeta Phi Beta sorority and the brothers of Alpha Phi Alpha fraternity, the NYUL HBCU volunteers and Hot 97 Street Team came together for a photo opportunity.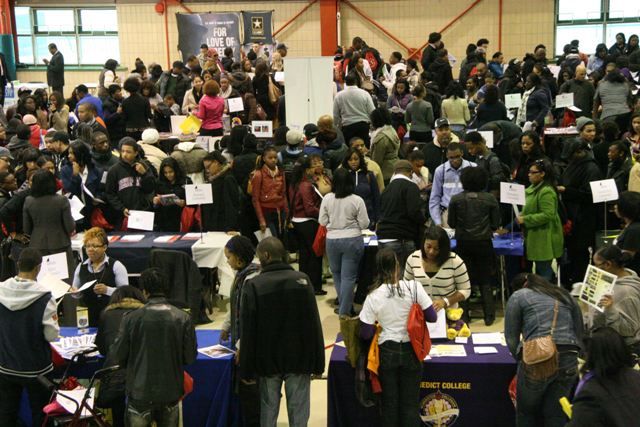 More than 2,500 attended the 25th Annual New York Urban League HBCU Fair at Riverbank State Park on Saturday, November 12th.
As part of NYUL's College Readiness Initiative, the organization recently released 'A Parents Guide to College.' The Guide answers common questions raised by parents at the HBCU Fairs. It was written for parents who are not familiar with college preparation to help them successfully navigate the timelines and requirements involved. All attendees of Saturday's Fair received a copy of the guide.
Partnering with NYUL for the 25th Annual Fair was Riverbank State Park, the NYUL's Young Professionals, the Malcolm Bernard HBCU College Fair, and Hot 97 and KISS FM. This event was sponsored by Ronald McDonald House Charities, McDonalds, and News Corporation.
About the NYUL
For more than 90 years, the New York Urban League (NYUL) has advocated on behalf of underserved New Yorkers to ensure equal opportunities in education, employment and civil rights. With a presence in all five boroughs of New York, the League seeks to eliminate those barriers that hinder people from improving their social and economic conditions. Since 1971, the NYUL has provided more than $20M in scholarship funds to help college hopefuls pursue higher education. The NYUL is one of the local affiliates of the National Urban League, a historic civil rights organization dedicated to economic empowerment in order to elevate the standard of living in historically underserved urban communities.
Source & Photos: Press release/NYUL