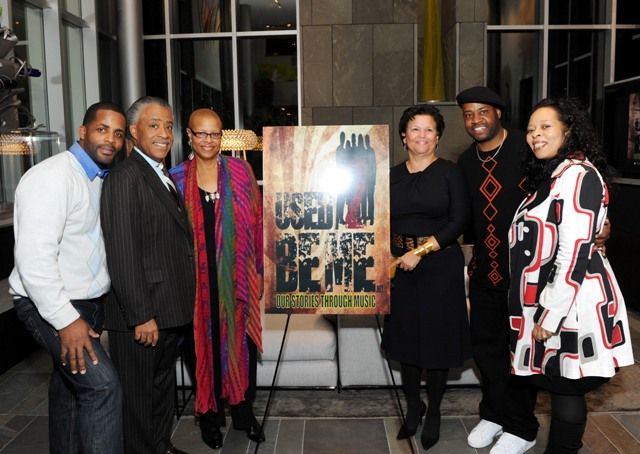 Xavier Artis, Co-Founder, Stay Strong Foundation, Creative Philanthropist;
Rev. Al Sharpton, President, National Action Network/Host, PoliticsNation, MSNBC; Terrie M. Williams, Founder, Stay Strong Foundation, Mental Health Advocate and Author; Debra L. Lee, Chairman and CEO, BET Networks; Dana Dane, Used 2 Be Me Spokesperson; Jennifer Jones, Executive Director, Stay Strong Foundation
WASHINGTON, DC ─ On November 1, 2011, Chairman and CEO of BET Networks, Debra L. Lee, hosted an invitation-only fundraising reception for the Stay Strong Foundation's (SSF) "Used 2 Be Me...Reinvent Yourself" Campaign.
Approximately 100 guests attended the event, including the Rev. Al Sharpton; Deputy Secretary of Education, Anthony Miller; Council Member At-Large ,Vincent Orange; The Honorable Thomas Motley; and Dr. Sharon Malone, wife of U.S. Attorney General Eric Holder. The event raised $125,000 for SSF's national grass-roots movement, "Used 2 Be Me," including a gift of $100,000 from Mr. and Mrs. John and Regina Kulik Scully, donated on behalf of The Phoebe Snow Foundation.
Lee, along with long-time SSF supporter, Rev. Sharpton, spoke movingly throughout the evening about the impact of co-founders Terrie M. Williams' and Xavier Artis' work in the community for more than a decade.
SSF's "Used 2 Be Me...Reinvent Yourself" Campaign, which made its national debut on BET's The Mo'Nique Show in February 2010, is designed to raise awareness of the physical, mental and emotional challenges faced by youth and young adults, aged 13-25 years old. The Campaign's "Entertainment Therapy" philosophy maintains the road to healing and prevention--and begins motivating others to thrive by sharing their personal stories of loss and triumph through music and creative expression. The Campaign provides a safe environment for participants to engage in open and honest dialogue. This, in turn, enables others to recognize the many faces of emotional distress and depression (what it looks like, sounds like, and feels like) -- and also lets them know that they are not alone.
Highlights of the evening included:
Chairman and CEO of BET Networks, Debra L. Lee, who hosted the fundraiser at her private residence and donated all of the expenses for the event, has also supported SSF's collaboration with the Substance Abuse and Mental Health Services Administration and the Ad council by running its PSA campaign entitled, Share Ourselves: Healing Starts With Us, campaign across BET's sister network CENTRIC. Lee also announced that mental health is a focus of CENTRIC and that it is exploring how the brand can address the ongoing mental health crisis in the Black community. BET's newest sitcom "Reed Between the Lines," which stars Tracee Ellis Ross and Malcolm-Jamal Warner, features Ross as a psychotherapist and tackles various mental health issues in each episode.
Rev. Al Sharpton, President, National Action Network/Host, PoliticsNation, MSNBC, shared his story of how, with encouragement from Terrie, that he began to examine the "why me" impact of being abandoned by his biological father, particularly his not attending his high school graduation and how his relationship with mentor and father figure, the late James Brown, helped heal much of that loss. It wasn't, however, until he was able to take his father, now in his eighties, to a recent honorary doctorate degree ceremony at Bethune Cookman University, that he was able to finally be at peace with their relationship. Said Sharpton, "No matter how far we go in our lives, we all need our mental health. Being in pain isn't your fault. It is your fault if you don't do anything about it." He added, "Terrie could have dealt with her mental health issue quietly and gone on to run her successful agency. She has instead chosen to share her personal journey with all of us and to lead us all toward healing."
Terrie M. Williams, Founder, Stay Strong Foundation, Mental Health Advocate and Author,
Black Pain: It Just Looks Like We're Not Hurting
, shared her own story of battling of depression while working as the high-powered head of her own successful, self-titled public relations agency, and the importance of the work of the Stay Strong Foundation. According to SAMHSA, in 2008 there were an estimated 9.8 million adults aged 18 or older living with serious mental illness. Among adults, the prevalence of serious mental illness is highest in the 18 to 25 age group, yet this age group is also the least likely to receive services or counseling. African-Americans as a group are more likely to experience a mental health disorder than their white counterparts and are less likely to seek treatment. Said Williams, "It is important that we continue to fight on behalf of our community and shed light on the mental health crisis that his slowly killing us."
Xavier Artis, Co-Founder, Stay Strong Foundation, Creative Philanthropist, debuted the "Used 2 Be Me" promotional video and introduced rapper/activist Dana Dane as a spokesperson for the movement. Said Artis, "Under the inspiration, direction and courage of Debra Lee, BET now represents "Barriers Eliminated Totally." She is fully committed and understands that it is only by sharing our stories across as many platforms as possible that we can break the silence of depression among our youth."
The Stay Strong Foundation (
http://www.thestaystrongfoundation.com/
) was founded in 2001 by Terrie M. Williams and Xavier "X" Artis in conjunction with the release of
Stay Strong: Simple Life Lessons for Teens
, the second book authored by Terrie Williams and published by Scholastic, Inc. A practical guide for youth, the book focuses on the challenges faced by youth and presents empowering, positive alternatives and advice to help youth rise above daily stresses to become dynamic individuals.
The Stay Strong Foundation launched "Healing Starts With Us" in 2007 as a public awareness campaign designed to educate minorities about depression and its negative impact on the community. An outgrowth of the overwhelming response to Terrie Williams' book,
Black Pain
, its goal is to reduce the number of minorities undiagnosed and suffering from depression, and to serve as a community network for awareness, dialogue, education and inspiration.
The Stay Strong Foundation believes that motivating a change toward social acceptance will decrease the negative attitudes and stigma that surround depression. Its "Used 2 Be Me...Reinvent Yourself" Campaign Series is designed to encourage teenagers and young adults to express and release their personal stories of struggle, perseverance, and resilience through music, audio books, and a documentary reality series. For more info, please go to
http://www.used2beme.net/
.
Source: Press release/Photo credit: Phelan Marc