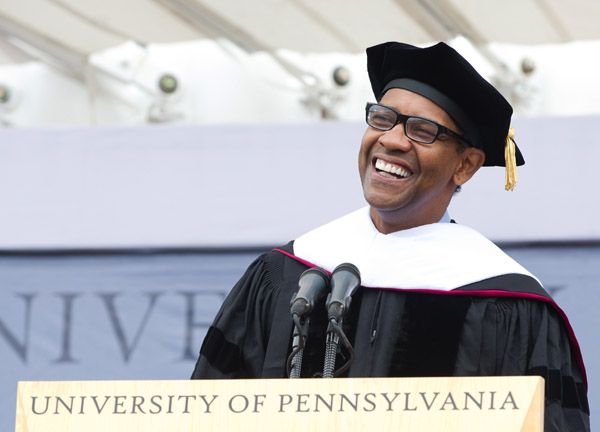 For the fifth year in a row, BlackGivesBack is pleased to present our annual top ten black celebrity philanthropists list! As 2011 comes to a close, we again highlight those making a significant impact in areas such as education, HIV/AIDS, mentoring, and supporting at-risk youth.
New this year, we've partnered with the Admiral Center,
http://www.admiralcenter.org/
an organization that harnesses the power of "celebrity" to better the lives of low-income people, to help us research those who were nominated and rank the final list. Here's how the list was created: We asked you, our valued readers, to vote for your favorite celebrity philanthropist and share comments. Admiral Center staff and a few of our BGB contributors then took those with the most votes and ranked them 1-10 according to their philanthropic and charitable contributions this year. Did your favorite celebrity philanthropist make the cut?
DENZEL WASHINGTON
Topping the list this year for the first time is Academy award winner, film director and producer Denzel Washington, who made philanthropic headlines this year for his $2.25 million donation to Fordham University, his alma mater, for an endowed chair of the theatre department. And this is certainly not his first substantial gift. In 2010, he generously donated $1 million to the Steve Harvey Foundation to support their work with mentoring young males, and in 2007, he donated $1 million to Wiley College in Texas, best known from the film 'The Great Debaters' to re-establish their debate team.
BlackGivesBack contributor Akira Barclay shares, "Denzel Washington's giving shows us the wonderful range of impact that a celebrity can have as a philanthropist. From leveraging his fame as a spokesperson for Boys & Girls Clubs of America, to quietly making gifts to support scholarships and families in need, we see him accept honors at benefit galas and not forget to "benefit" the organization with a personal donation. Washington and his wife Pauletta promote volunteerism and truly give their time, talent and treasure setting a great example for their children and the rest of us to follow."
STEVE HARVEY, The Steve Harvey Foundation
"The amount of work that goes into his mentoring weekends [for young men] across the U.S. is incredible. He is touching lives beyond the amount of money that he gives."
-- BlackGivesBack Dallas contributor Froswa' Booker-Drew
Comedian, author, and media powerhouse Steve Harvey knows how to bring the funny, but gets serious when it comes to committing his life to service. Evelyn Burnett of the Admiral Center states Harvey's commitment began early in his radio and comedy career and today, he is a vocal and committed champion of mentoring to support young boys being raised without their fathers. She shares, "His Mentoring Weekends provide boys with the opportunity to build relationships with strong male role models and helps them make strong positive male connections. Since its founding in 2009, the camps have served over 1,000 young men between the ages of 13 and 18.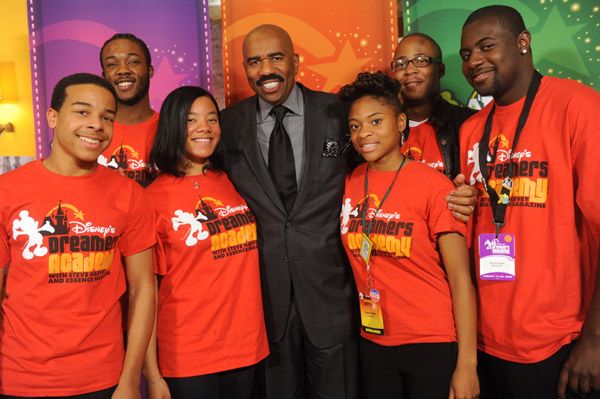 In addition to his work through the Steve Harvey Foundation, Steve partnered with Walt Disney World, to create the annual Disney's Dreamers Academy in 2009, a program mentoring 100 teenage boys and girls per year, inspiring and exposing them to a number of job skills and career opportunities. Steve has given nearly $4 million to charitable causes over the last 5 years and is committed to taking his passion for mentoring to more audiences. For all that he continues to do in the community, Harvey was named Humanitarian of the Year at the 2011 BET Awards."
JOHN LEGEND, Show Me Campaign
Recording artist and philanthropist, Legend has won six Grammy Awards and was named one of Time magazine's 100 most influential people. This year, Legend teamed up with Communities in Schools (CIS) to heighten awareness of the nation's dropout rate and to raise funds to keep youth in school. He shared about the partnership, "By teaming up with Proctor & Gamble and CIS on the GIVE Education campaign, I can further support a cause of great importance to me – ensuring that all kids receive a quality education, regardless of where they grow up. All students deserve the chance to learn and succeed, but not everyone has the same resources available to do so."
(Photo and source: CIS)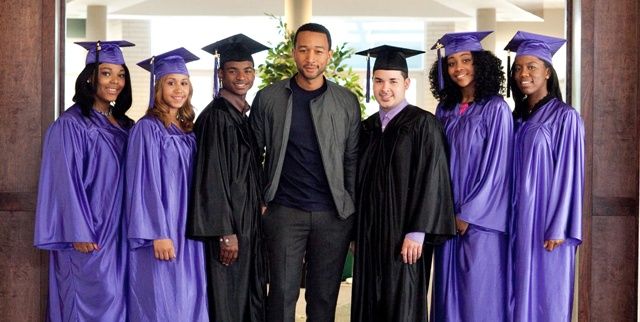 Throughout his career, he has worked to make a difference in the lives of others. In 2007, Legend launched the
Show Me Campaign
, an initiative to break the cycle of poverty by fighting for equal access to quality education in the United States. John, who has a deep engagement in improving education in urban and rural areas is also a member of Teach for America, the national corps of top college graduates and professionals who commit to teach for two years in underserved schools and become lifelong leaders in the pursuit of educational equity.
MARY J. BLIGE, FFAWN
2011 McDonald's 365Black Awards recipient Mary J. Blige (2nd from right) with McDonald's Men of McCafé Celebrity Ambassadors NFL Star Isaac Keys, TBS's Meet the Browns Lamann Rucker and TBS's House of Payne Lance Gross in July 2011.
Mary J. Blige's music continues to inspire many, especially women, who are the focus of her foundation,
FFAWN
(Foundation for the Advancement of Women Now). The mission of the organization is to inspire women "to reach their individual potential" by offering scholarships and programs to help foster self-esteem and career development. In 2009, the Mary J. Blige Center for Women opened in Yonkers, NY and in 2010, Mary sponsored an all-girls public school in the Bronx, NY. She shared with the young girls during a visit, "When you're educated, you're confident. You know what you're speaking about. You know who you are."
(Source: Oprah.com)
In May, Blige hosted her 2nd annual Honors Concert in New York to benefit FFAWN's scholarship fund, that honored their 2011 FFAWN scholarship recipients. Also this year, Mary was honored at the Variety Women of Power Impact Luncheon for her work with FFAWN, and in August, her newest fragrance 'My Life Blossom,' debuted on HSN with $1 from every purchase benefiting the foundation.
USHER, New Look Foundation
Usher Raymond created his
New Look Foundation
in 1999, with the goal "to give kids a "new look" on life." The foundation certifies young people in four leadership pillars: talent, education, career and service – to ensure their success as leaders throughout the world. New Look's process to certify youth in the leadership pillars was developed in partnership with Emory University's Goizueta Business School.
A powerful characteristic about this model is that it focuses attention both on an individual, through Education, Talent and Career, and on things bigger than the individual, through Service. This point of view is wholly consistent with the Goizueta's mission to create principled leaders for global enterprise.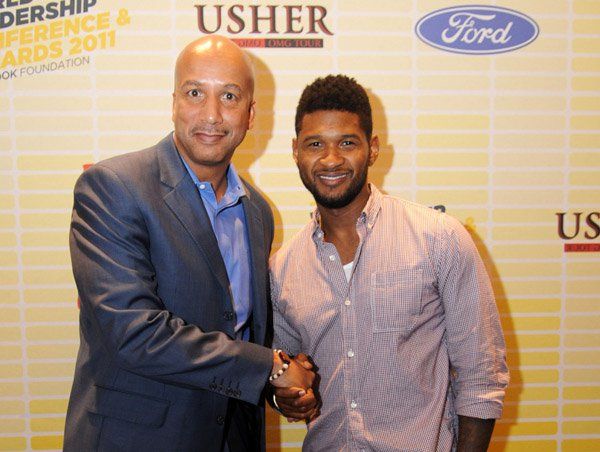 Usher Raymond (right) with former New Orleans mayor Ray Nagin at his foundation's Annual World Leadership Conference and Awards in Atlanta, July 2011.
This year, the foundation held its 2nd annual World Leadership Conference & Awards that hosted nearly 350 youth from the U.S. and around the world. The event provided youth leaders with a real world platform to sharpen and display their skills as leaders and work with their peers from around the world to develop global solutions to local problems. Also this year, Usher was a recipient of The Freedom Award, that recognizes individuals who work for justice, equality, philanthropy, civil and human rights and humanitarian causes.
ALICIA KEYS, Keep A Child Alive
Grammy award winner Alicia Keys is known for her HIV/AIDS advocacy as much as her music. As the co-founder and global ambassador for
Keep A Child Alive
, the organization provides treatment, love and support to individuals affected by HIV/AIDS in Uganda, Rwanda, Kenya, India and South Africa. In November, she hosted the organization's annual Black Ball in New York, that raised 3 million dollars. The Black Ball has generated over $17 million since 2004.
This year we also saw the songstress delve into Broadway, as the producer of
Stick Fly
, a story about an affluent Black family. She shared, "This is a story that everybody can relate to. I'm passionate about this play because it is so beautifully written and portrays Black America in a way that we don't often get to see in entertainment."
CHRIS PAUL, CP3 Afterschool Zone
NBA star Chris Paul is an All Star on and off the court. Paul's CP3 Afterschool Zone presented by Chase currently serves 140 students at KIPP Central City Primary School in New Orleans. The program has increased the number of students served this year by 30% and is an enrichment–based model that gives youth the opportunity to pursue classes and opportunities ranging from Martial Arts, Yoga, Zumba, Music Production, African Drums and Dance, Visual Arts, Videography, International Cooking and more.
Students participate in monthly assemblies, which has hosted guests such as the Mardi Gras Indians and African Drum and Dance performances, providing the students the opportunity to display their skills. Assessments consistently show that the program provides strong, positive relationships between youth and instructors, and organized and challenging activities for students.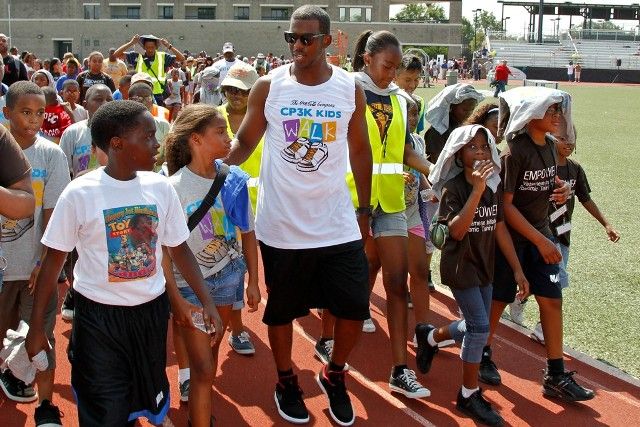 NBA All-Star Chris Paul hosts his first CP3K Walk for Kids presented by The Coca-Cola Company on June 30, 2011 at Tulane University in New Orleans, Louisiana
DWYANE WADE, Wade's World Foundation
"The reason I selected Dwyane Wade is because he is an inspiration to my team, he shows that even in their [youth's]environment, if they work hard and stay out of trouble, they too can chase their dreams and become successful."
Brandon, H.S. Basketball Coach, South Carolina
He's won an NBA title, was named Sports Illustrated Sportsman of the Year and one of People Magazine's 50 Most Beautiful People…..but to Dwyane Wade, his ultimate dream is to "leave the world a better place than I found it." Through his
Wade's World Foundation
and countless appearances, signings and donations, he is fulfilling his goal….one step at a time. The Wade's World Foundation provides support to community-based organizations that promote education, health and social skills for children in at-risk situations. Dwyane was inspired to start the foundation because he wanted to give back to underserved communities and support issues of purpose. "I can't just let basketball define who I am and what I am supposed to become," said Wade. "Like my mother always tells me, '[My life] is bigger than basketball.'"
Wade visits Chicago public schools as part of the Wade's World Weekend on August 26, 2011 in Chicago, Illinois.
This year, Wade hosted Wade's W3 Weekend in Chicago, that featured a father and son basketball camp, a benefit dinner, visits to local schools, a youth summit and a talent show to raise funds for the foundation and Chicago based organizations. Since 2003, Dwyane and his family have been dedicated to giving back to their core communities in the Chicago and South Florida areas through a variety of community outreach programs.
BIG BOI, Big Kidz Foundation
"Antwan Patton is a phenomenal artist who has always given back to his city of Atlanta!"
-- Shenell, Atlanta
Making the list for the third year in a row, Antwan "Big Boi" Patton of the famed hip hop group Outkast continues to enrich Atlanta youth through his
Big Kidz Foundation
. Created in 2005, Patton had a desire to provide youth with much needed development in the arts and humanities. Through the foundation's programs: Big Voices, Big Moves, and Big Talent, children ages 11-18 are allowed to express themselves by using art as an outlet. Throughout the year, the foundation hosts several signature events, including an annual Halloween fundraiser, which attracts Atlanta's celebrities and notables for a good cause.
On December 14, the Big Kidz Foundation ended a stellar year by celebrating the holidays with youth participants, supporters and the founder by giving a $1,000 scholarship to Charles Bennett, a college freshman (pictured below). "We are especially proud of Charles Bennett and the work he has done with the foundation. It is our pleasure to help support this bright young man with his future goals," said Dr. Joi Edwards, Chairperson of the Big Kidz Foundation.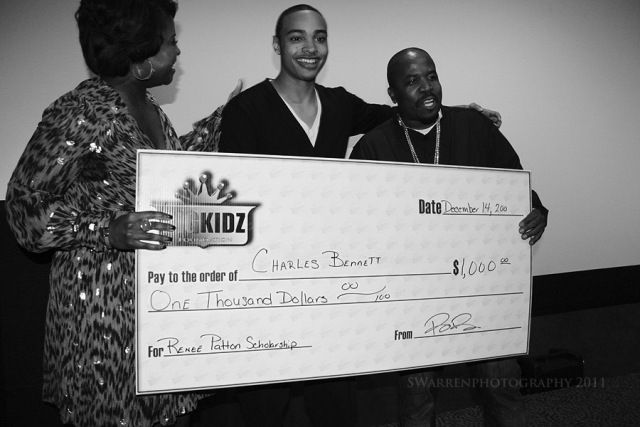 Special holiday performances by Douglas High School, Tri-Cities High School (Big Boi's alma mater) and the Coretta Scott King Girls School entertained over 200 guests that included CNN contributor and foundation supporter, Clyde Anderson and Atlanta City Councilwoman, Carla Smith of District 1. "Having the opportunity to touch the lives of our youth through the arts is our mission" says Jennifer Lester, Executive Director of Big Kidz Foundation. "When we say we are saving lives through the arts, we mean it; our youth need the arts to live successful and passionate lives."
JAY-Z, Shawn Carter Scholarship Foundation
Making his inaugural appearance on our top ten list, hip hop legend Shawn 'Jay-Z' Carter established the
Shawn Carter Scholarship Foundation
in 2003 along with his mother Gloria Carter. Now approaching its 9th year, the foundation has awarded $1.1 million to date to 750 scholarship recipients. The foundation is unique in that it offers scholarships to single mothers, children who attend alternative schools, students who have earned a GED, students with grade point averages of 2.0 and students who have previously been incarcerated, etc. but desire a higher educational opportunity.
This year, Jay-Z held a carnival themed fundraiser in New York to benefit the foundation, and announced plans to host two benefit concerts at Carnegie Hall in February 2012 to support his foundation and the United Way of NYC. He shared, "It's every artist's dream to play a venue as legendary as Carnegie Hall. The fact that I can use the arts and my talent to benefit the education of the next generation of artists, entrepreneurs, and great thinkers makes for a legendary night."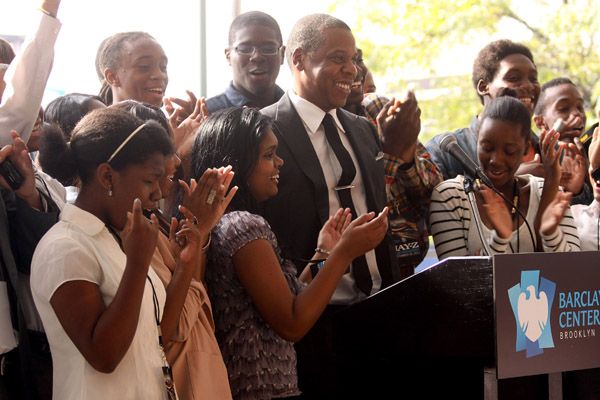 Shawn "Jay-Z" Carter at the Barclays Center press conference at Atlantic Terminal on September 26, 2011 in Brooklyn, New York.
Jay-Z's past philanthropy includes raising awareness of and combating the global water shortage, and pledging $1 million to the American Red Cross' relief efforts after Hurricane Katrina along with Sean "Diddy" Combs.
HONORABLE MENTIONS
LeBron James,
LeBron James Family Foundation
James recently changed the name of his annual King for Kids bike-a-thon, which he started in 2005, to Wheels for Education, an expansive partnership with Akron Public Schools to provide hundreds of kids about to enter third grade with the tools and resources they need to achieve academic success. The name change is an outgrowth of James's involvement with the 26 Seconds Campaign, a public awareness initiative sponsored by State Farm that addresses the concern that every 26 seconds a young person drops out of school. "The bike-a-thon is something very personal and inspired by my own life experiences," says James.
MAGIC JOHNSON,
The Magic Johnson Foundation
The Magic Johnson Foundation, founded by Earvin "Magic" Johnson in 1991, works to develop programs and support community-based organizations that address the educational, health and social needs of ethnically diverse, urban communities. Since its inception the foundation has had a significant, impact towards positively changing the face of urban, minority communities. Their programs and services are dedicated to harvesting an affirmative effect on community revitalization by eliminating negative cultural barriers; advancing economic and social equality by engaging minorities in every aspect of their communities; increasing academic and innovative achievement; raising HIV/AIDS awareness, treatment and prevention; the creation of positive emerging leaders; and promoting collaboration and alliance among all sectors of the community.
Didn't see your favorite celebrity on this year's list and you know he or she was involved in considerable charitable efforts in 2011? Then keep us updated on their giving throughout the year via Twitter (@
BlkGivesBack
, @
BlkGivesBackNY
, @
BlkGivesBackCLT
),
Facebook

,
Linkedin or comments, and remember to vote next year!
About the Admiral Center:
The Center, which harnesses the power of celebrity to better lives of low-income people, was founded by David Robinson, former NBA star and philanthropist. David and his wife Valerie opened the doors to
The Carver Academy
, an elementary school in San Antonio focused on inspiring students to become men and women who exemplify the principles of leadership, discipline, initiative and integrity – which was made possible through their personal donations of more than $11 million to the school and the community. David is the namesake of the NBA's Community Assist Award which has the inscription "Following the standard set by NBA Legend David Robinson who improved the community piece by piece."
We wish you a happy, healthy, safe, prosperous and charitable New Year!
BGB contributors Akira Barclay, Froswa' Booker-Drew, Stacey Trammel; and Evelyn Burnett of the Admiral Center contributed to this post.