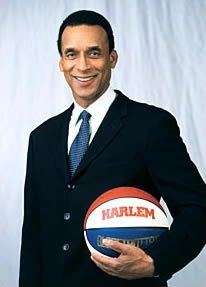 As reported by the Wall Street Journal (WSJ), the Museum for African Art in New York has received a generous gift of $5 million dollars by Mannie Jackson, business executive and Chairman of the Harlem Globetrotters. The gift will fund a gallery dedicated to Nelson Mandela in the museum's new building, scheduled to open in late 2012.
Jackson rose from great poverty to become one of the nation's most powerful and influential black corporate executives. A former Harlem Globetrotters player, he left the basketball organization to work at Honeywell, where he rose the ranks to become the company's highest executive. In 1993, Jackson purchased the Globetrotters as they were nearing bankruptcy. He revived the team and tripled its revenue in just three years.
Mrs. McCabe Thompson, President of the Museum for African Art stated, "The Museum for African Art is pleased and honored by Mr. Jackson's gift; not only because of its size, but because it is given by an individual who shares our values and commitment to championing the best of Africa's rich art and cultural legacy with the people of the City of New York City and with people around the world. We are particularly pleased that Mr. Jackson has given this extraordinary gift in honor of one of the most remarkable men whom world will ever know - - a man who made forgiveness an integral component of his national policy - - Mr. Nelson Mandela. We are deeply grateful to Mr. Jackson for his generous and important gift. It is an unprecedented investment in the Museum's future."
Mr. Jackson stated, "I am extremely pleased to support the growth of the Museum for African Art and humbled to play such an active role in exposing the world to the beauty and historical relevance of African art and culture. I believe in the power of art to have a positive impact on the lives of all people, regardless of their background. The Museum for African Art will serve as a wonderful, new beacon of diversity and discovery atop Museum Mile."
The WSJ article, "
Globetrotter's Goal: Extend New York's Museum Mile
," states that as Jackson traveled with the Globetrotters around the world, he witnessed poverty that made him determined to give back, particularly to educational causes. To date, Jackson's family giving has totaled $25 million dollars.
Read more about Mannie Jackson's historic gift to the museum
HERE
. (Note: Subscription may be required to view).
Related post:
Detroit Institute of Arts Names African American Gallery in Honor of Black Philanthropists
Sources: Wall Street Journal; Museum for African Art press release