CENTURY CITY, CA - Fitness trainer Jeanette Jenkins, health fitness champion Laila Ali, actress Kim Whitley and television host Kevin Frazier wrap gifts at Jayneoni Moore's Holiday Children's Wrapping Party, where celebrities wrapped gifts for young children living in the Los Angeles foster care system. Toys were also donated to the Jenesse Center, Los Angeles' oldest shelter for women and children escaping domestic violence. The toys were collected via The Jayneoni Moore Toy Drive.
Jayneoni Moore (center) with Jenkins and Ali. Also present was Chad L. Coleman from FOX's "I Hate My Teenage Daughter." Photo credit: Tara Rochelle Photography
PHILADELPHIA, PA - Community College of Philadelphia President Stephen M. Curtis, center, with celebrity photographer Whitney Thomas, right, and acclaimed TV chef G. Garvin, who recently hosted fund-raising events for the College. Thomas hosted 'Exposed,' a party in the new Pavilion Building on the College's Main Campus on December 3rd, and Garvin prepared a $100-plate-dinner for fifty guests on December 2nd to support a scholarship for the College's Culinary Arts and Hospitality Management students.
In October, the College was awarded $2.9 million in grants to enhance and expand innovative programs that are currently improving the educational outcomes of African-American males, a group with high college and high school dropout rates. The Center for Male Engagement and Project Achieve programs are enhancing efforts to increase the graduation rate of African-American males. Of the 144 students who participated in the Center during its first year, 90 percent were still attending classes in 2010 — more than double the normal 41 percent fall semester-to-fall semester persistence rate for new African-American male students at the College. African-Americans comprise 53.2 percent of the College's overall student population, and the College is the largest single point of entry into higher education for minorities in Pennsylvania. Photo credit: Community College of Philadelphia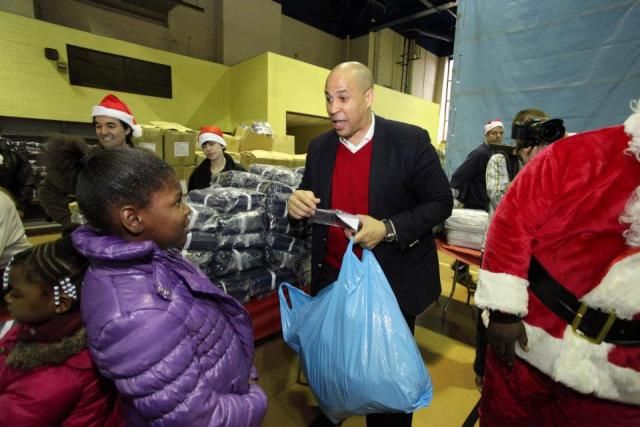 City of Newark, NJ Mayor Cory A. Booker helps to distribute coats and gifts for the organization Newark Now during the holiday season.
NEWARK, NJ - On December 17, 2011 at the JFK Recreational Center, Newark Now partnered with Burlington Coat Factory and the Bass Foundation to provide over 2,000 new coats, toys and warm clothes to families in need for the holiday season. Since 2003, Newark Now's Brighter Holiday has supported and empowered over 10,000 families through this initiative.
"Newark Now is proud to have partnered with Burlington Coat Factory, Standard Charter Bank and the Bass Foundation for our 2011 Brighter Holiday Campaign this holiday season," says LaVar Young, CEO and President of Newark Now. "During these extremely difficult times we are happy that we were able to provide families with the essentials for the holidays. The holiday season is a time for family, reflection and setting goals for the New Year, and at Newark Now we work daily to close the gap and truly provide a Brighter Holiday for the families we serve."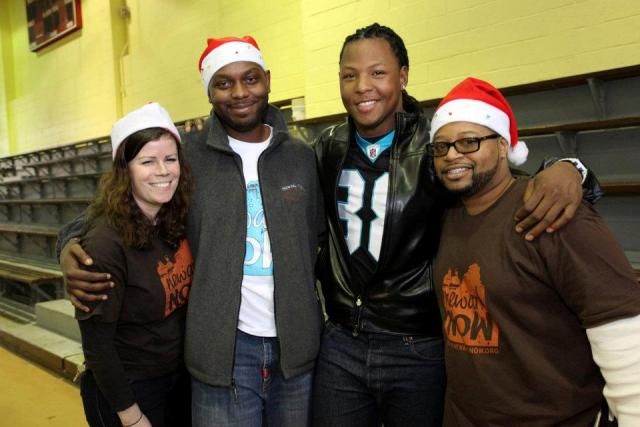 Newark Now COO, Michael Anne Kyle, Newark Now VP, Darrel Finley, NFL Player Rashawn Jackson, Newark Now CEO & President, LaVar Young