Artists heed the call to close achievement gaps in education
A transmedia project aiming to change the way Black men think about themselves is brewing. It's called
'Question Bridge: Black Males'
and its story is being told on art exhibit venues, on a robust website, and in classrooms. Question Bridge: Black Males aims to facilitate a healing dialogue among black males in America and offers them a platform to represent and redefine their identity. Recently accepted to the first ever Sundance New Frontier Story Lab, the team is composed of accomplished artists, thought leaders, and producers including:
Chris Johnson
, creator/co-director, who originated the Question Bridge concept with a 1996 video installation he created for the Museum of Photographic Arts and the Malcolm X library in San Diego, CA.
Hank Willis Thomas
, artist and co-director, whose work has been featured in the
Rubell Family Collection
, the Studio Museum in Harlem, Oakland Museum of California; the Smithsonian; National Museum of American History; and the High Museum of Art, among others.
Bayete Ross-Smith
, producer, a noted photojournalist whose work has been featured at the 2008 Sundance Film Festival, the Goethe Institute (Ghana), the Zacheta National Gallery of Art (Poland), the Leica Gallery, Rush Arts Gallery (NYC), the SF Arts Commission's "Art at City Hall" and the Oakland Museum of California.
Kamal Sinclair
, producer; six-year cast member of STOMP, founder of Universal Arts and director of The Beat and Post Traumatic Slave Syndrome. She is a consultant for Strategic Arts (clientele: High Museum of Art, Atlanta Symphony Orchestra, Alliance Theatre, Young Audiences and SCAD), and graduated from NYU's Tisch School of the Arts (BFA) and GSU's Robinson College of Business (MBA).
Innovent
(Antonio Kaplan & Elise Baugh), the project's transmedia partner, will drive the website, mobile application, museum patron interaction strategy, and community "HotSpots." Innovent was founded to affect socio-cultural change by using technological innovation that extends traditional storytelling delivery.
View of the website's education tab.
The project's recently launched educator portal offers a ten module curriculum for educators, teaching artists, and mentors working with high school-aged youth. Once registered, the online learning community of educators can view or download the curriculum modules, enroll in live or online training sessions, and take part in the educator's wiki. The curriculum uses the art exhibition as a catalyst for a significant learning process in complex identity frameworks, conflict resolution communication, and developing environments of inclusion. It addresses issues related to the crisis of African American male achievement and the global achievement gap.
The Question Bridge curriculum is in use in six schools and programs this semester through the 'Manhood Development Program' of Oakland Unified School District's 'African American Male Achievement Initiative,' Urban Arts Partnership (NYC), ACORN Community High School (Brooklyn), the Brooklyn Community Art & Media High School (Brooklyn), and the 100 Black Men of Atlanta's learning initiatives (Atlanta).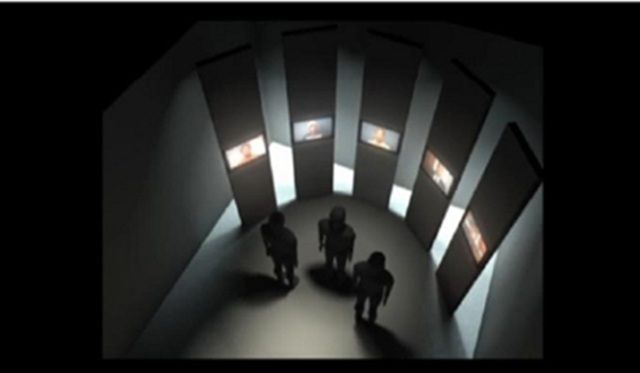 Artist rendering of the art installation.
Upcoming educational alliances for Question Bridge: Black Males
The
Brooklyn Museum
and the
Oakland Museum of California
will co-present Question Bridge: Black Males art installation to point to the national significance of this project that cuts across age, geography, and socio-economic conditions. The installation will be on display at the Brooklyn Museum from January 13 to June 3, 2012 and the Oakland Museum of California from January 21 through April 21, 2012. Both museums will host
accompanying discussions
for educators to present Question Bridge's curriculum, and for youth and community leaders.
Dr. Jabari Mahiri and the UC Berkeley Graduate School of Education will be assigning graduate-level education students to facilitate the Oakland pilot program. Berkley Graduate School will use Question Bridge's content in courses aimed at developing cultural literacy for pre-service teachers. Question Bridge is being incorporated into other university courses around the nation, including Portland State University (Dr. Joy DeGruy), Eastern Michigan (Dr. Chris Robbins), and the California College of Art (Professor Chris Johnson).
Camille Russell Love, Director of the City of Atlanta's Office of Cultural Affairs, envisioned a comprehensive program for animating the youth of Atlanta Public Schools for leadership and achievement with the Question Bridge project, which launches this spring. It includes a media installation at the Chastain Art Gallery, field trips of 2500-3000 youth through their Cultural Experience Program, and a Blueprint Roundtable Discussion between 4,000 youth and their community leaders at the Atlanta Civic Center.
Through an alliance with AVID (Advancement Via Individual Determination), a 31-year strong college readiness non-profit charged with college preparation for grades K-12 with programs in 4500 schools in 48 states, the Question Bridge curriculum will be promoted across the nation.
Upcoming releases include additional question and answer story arcs, mobile technology, a library of user-created videos, and data visualizations of an identity map of Black men in America. Visit the website at
www.questionbridge.com
and on Facebook
HERE
.
Question Bridge: Black Males is a fiscally sponsored project of the Bay Area Video Coalition and supported in part by a grant from the Open Society Institute: Campaign for Black Male Achievement, The Tribeca Film Institute, the LEF Foundation, The Center for Cultural Innovation, and The California College of the Arts.